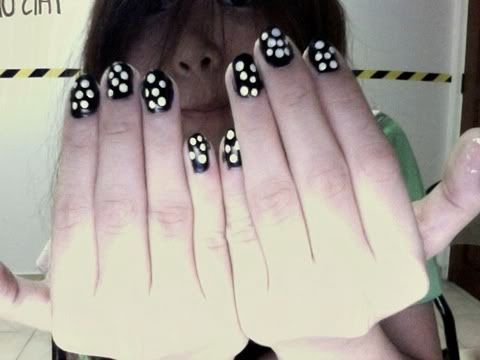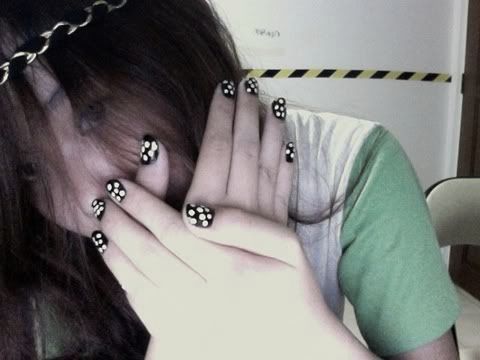 so this is how my nails look like now. polka dot nail's probably the easiest nail art ever. it's cute and really easy, took me less than fifteen minutes for both nails. anyways, i recently came across
this site
, and it features quite a number of different nail art and tutorials for beginners, just so if you're as interested as i am, you might want to check it out.
so this week's pretty good so far? spent every single day with sean, ever since his POP thingo last saturday. cheers to the ten days break!! i bet the boys who graduated from bmt last weekend are all enjoying and having so much fun now. oh but sean fell sick somehow though, and that i meant he was very sick, i think it's food poisoning kinda thing..? my poor boy, couldnt even consume something decent. well, so for the past two days, we just stayed in all day, on his couch, watched dvds and what not. but thank god, he got well really soon after medication and things are now going as planned initially! i'm so so so excited for tomorrow especially. we're going to the universal studios! been wanting to go there since march or april when it opened, and finally... i have to use this word again, excitementgasm much. :)
i should be able to post something here again over the weekends, i hope?
okay here's a cover i did just now, after i got home. somehow this song just cannot get out of my head, and i had to..... and yes i know my strumming aint amazing, yup. the whole thing sounds pretty raw though.
oh i know how i sound like already. i think i sound like i'm having some breathing difficulties kinda thing lol