so i've been a boring person lately. got a new job just two weeks before school starts again. 9-6pm, office bound job. so my life revolves around nothing but work
(and lots of fast food + processed food because i dont wanna eat alone during lunch time so.....).
but yeah i need money so badly and desperately needed a job. so immediately when joanna offered me my current job, i agreed to it rightaway. sigh, i feel so depressed everytime i think about my financial status, oh well.. but work's considerably fine i guess? data entry, and some checking and editing of existing data, calculations here and there, just pray hard i dont key in the wrong amout, or incorrect payment invoices. oh and it's kinda fun dressing up in formal attire everyday. talking about formal attire, i had a hard time looking for affordable working attire, and sean brought me to this shop at wisma, and i loved everything there. my boyfriend knows where to get clothes better than myself, shame on me haha. and i'm sorry for neglecting this little space once again
(umpteen times alr i know)
, i've been trying to post something but i get so tired atnight every single day, and i even fall asleep right after dinner?! which is seriously, quite fucked up, especially coming from me.
this post's gonna be lengthy, i have so much to say.
firstly, sean's no longer a recruit! i attended his bmtc grad ceremony thingo w his family, at marina's floating platform the other day on the 2nd of oct, i spent so long playing the "spotwhereissean" game w his mom haha. the whole graduation shit was.... i dont know, touching? i mean, people like myself, actually felt like crying after witnessing the whole parade. maybe i was just so excited too see my boy? and you know these four months aint easy, especially when we only started dating, going out, and getting together after he got into army.... so half of the time, no actually, more than half of the time, he's in tekong, w a bunch of guys and not me. we both cant help it anyways... but still, so many things happened and he still managed to make me happy everyday :) i thought about how he still surprises me w cute random messages even though he's not allowed to text, and that he still calls me every night before he sleeps even though sometimes he cant, he'll make sure i'll be able to hear him for at least, at least a little more than five minutes, and how could i forget our short and long texts!
(we're cool like that... our sms-es goes up to initially 48, then 64, and then more than a 100 texts at one shot. i dont know how that even happened..... i cant even fill up one whole text while talking to some lol)
we just have so much to share, i guess. and the days when he had to stay in the weekend! not that he wont have to stay in at the new campsite, but at least, things are not looking so bad since it isnt so strict anymore. also, i feel so proud of my boy. sean's not athlete-built, neither is he sports inclined or super fit, so obviously, things are tougher. and i'm so proud of him that at the very last minute, he managed to pass everything! oh and i thought about how he lost five fucking kgs there. hmm oh well im so grateful that tekong phase is over, thats the toughest part of the two years national service i guess.. haha fuck i think i sound like a mom now.
i have some pictures here. grabbed the first two picas from cyberpioneer's fb album, and the rest are from my camera,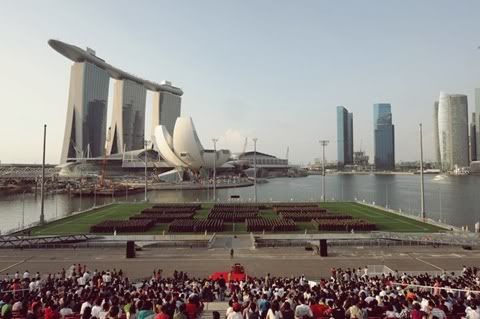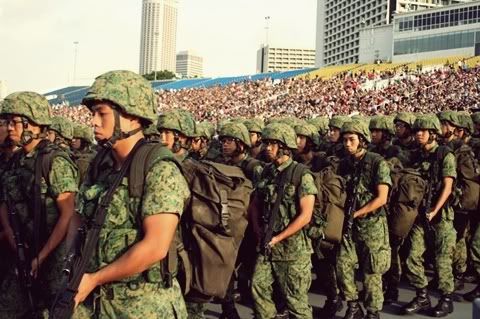 spot him!!!!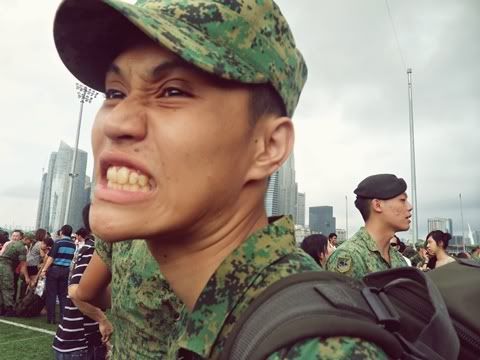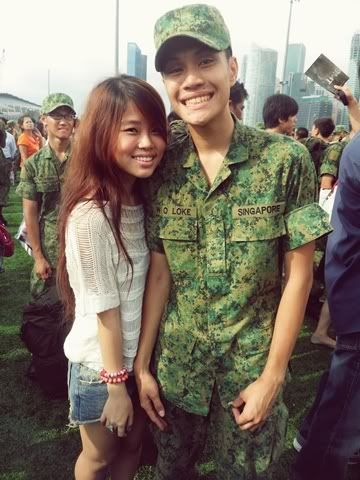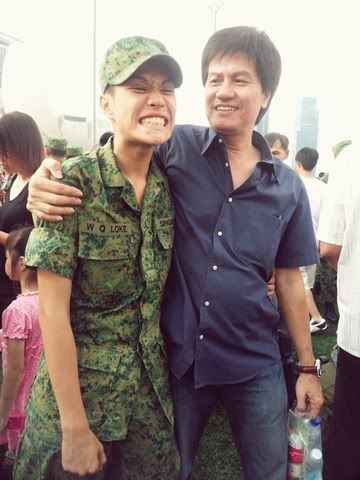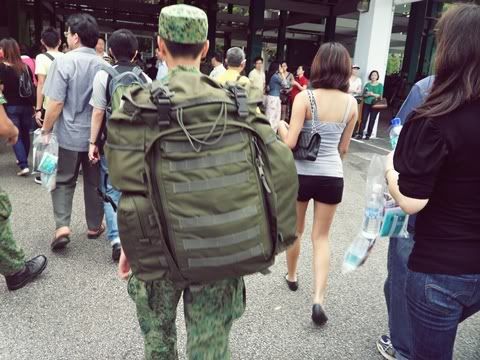 my ninja turtle haha
and that also marks the start of one happy week! nine days-break
(i was wrong, it's nine, not ten. a ten would be too kind...)
everyday felt like a weekend, and it could not have been more perfect. i guessed he felt the same, or even more, he dont even have to book in at all haha. nine days. nine consecutive days spent with you was really great and i can't wait to spend so much time w you again, though that would only happen in a few months, yes yes because army took my boy back again after the break. am looking forward to the weekends, as always..
initially, we planned to dine at ikea
(swedish meatballs @ 4.90$!)
and gelare
(half priced waffles)
on tuesday, but sean fell sick. so plans were called off, but we still managed to spend time tgt since i head over to his place everyday haha. he got well and we finally managed to head out on wednesday. scape's sakae was so quiet, we sat in for two hours and surprisingly, we were the only customers throughout the two hours. no one else came in, hmmm. anyways, i had three chawanmushi and a bowl of miso soup to myself, tgt w seven plates of sushi and fried sides haha.
the next day was mad awesome. we booked tickets to universal studios, and it was.....fun! we spent over eight hours there and had over two hundred photos taken, tried really hard to capture the whole wonderful sight but unfortuantely, my camera died a few hours into the trip
(!!!!!)
, so i have some grainy picas from my blackberry as well. i was pretty sad when my cam died, like seriously, i did charge the night before and i want to take as many pictures as i could there, but sean reminded me that i shouldnt let that ruin my mood, especially when both of us had so much fun together that day. true, true. thank god it's a weekday and it's also the exam period now, so we didnt have to queue up that long for the rides. the longest we waited was... half an hour? for the canopy flyer ride over at jurassic park, oh jurassic park has the nicest rides. somehow i still love kiddy rides. haha love that carousel ride at madagascar. my favorite section's new york, followed by far far away
(i brought a gingerbreadman home!!)
haha. mr puss-in-boots rejected taking photo w us twice, bad luck huh? the 4d film was interesting, high tech seats and other cool effects - like oh there's water sprayed at us when the donkey sneezed.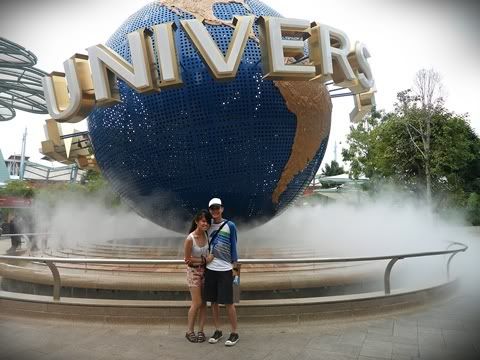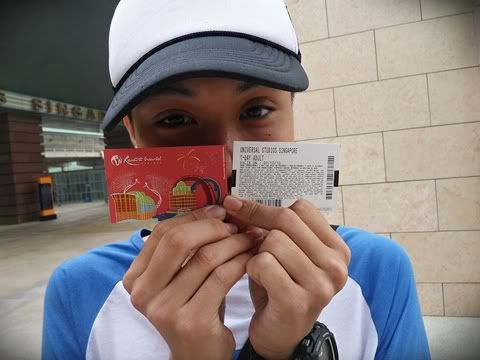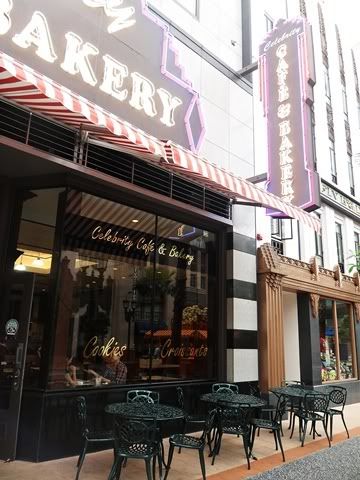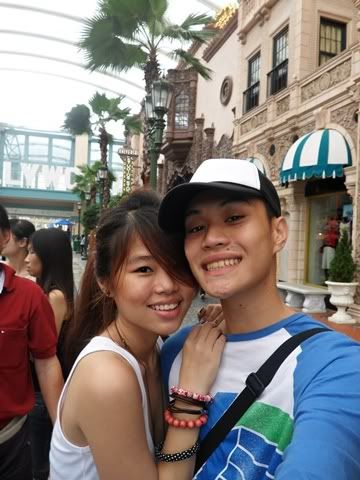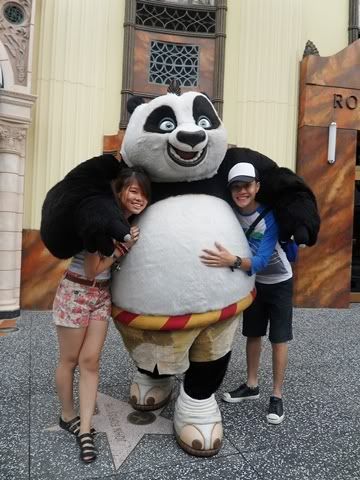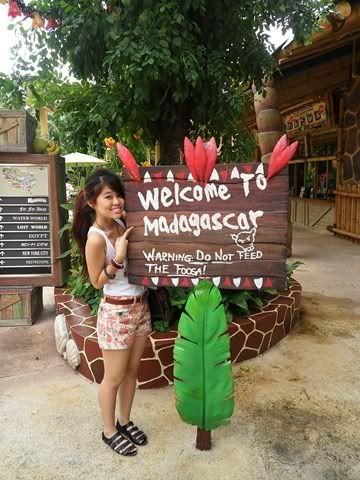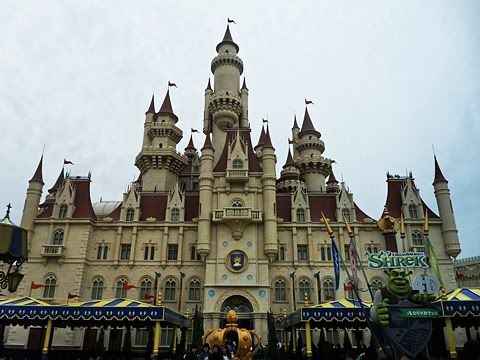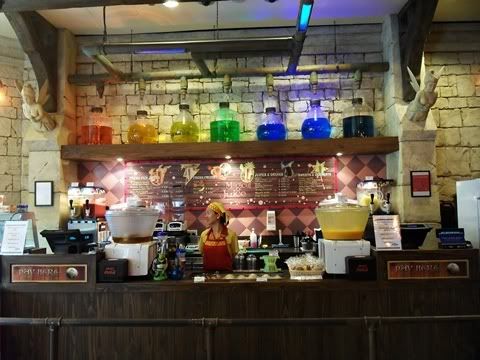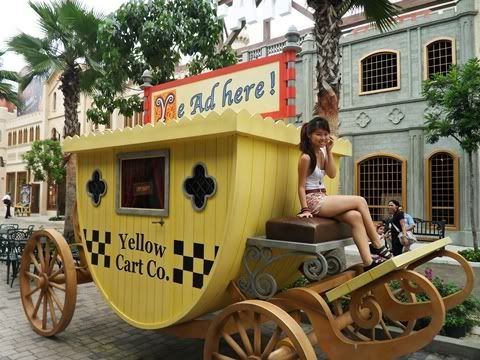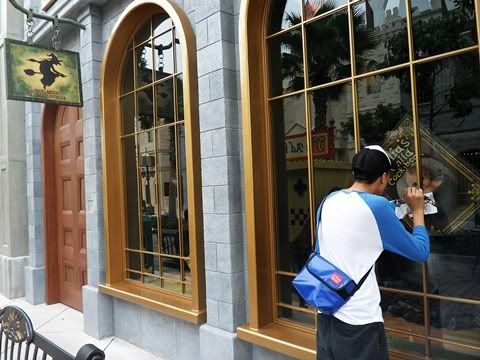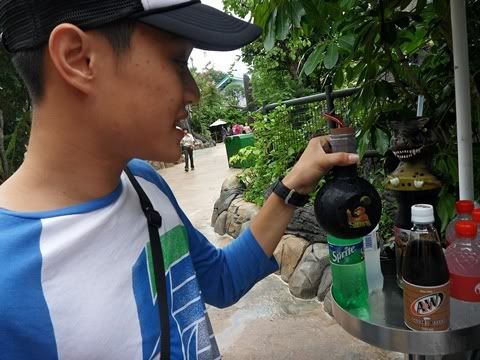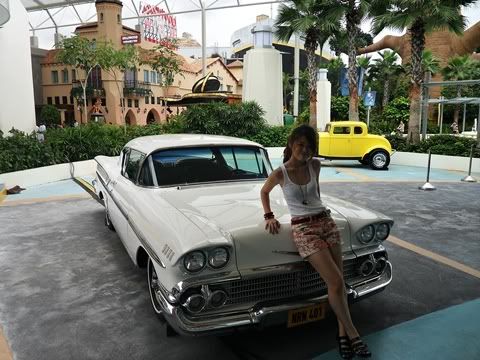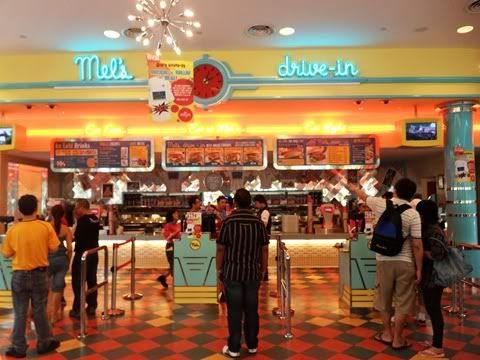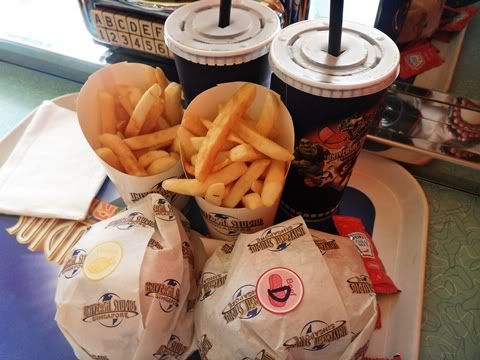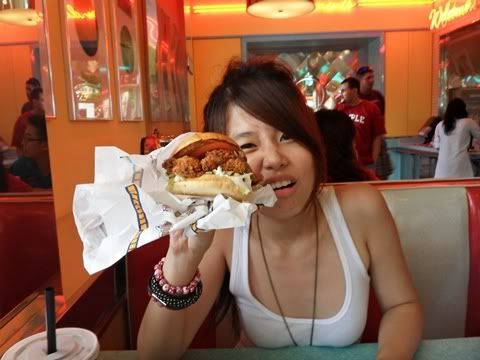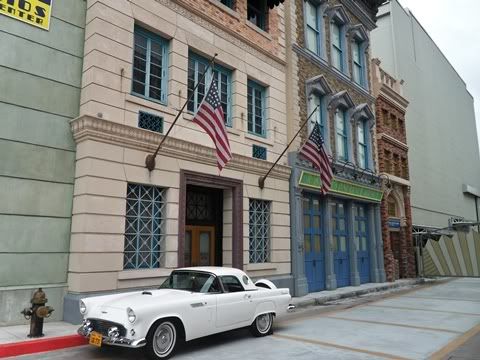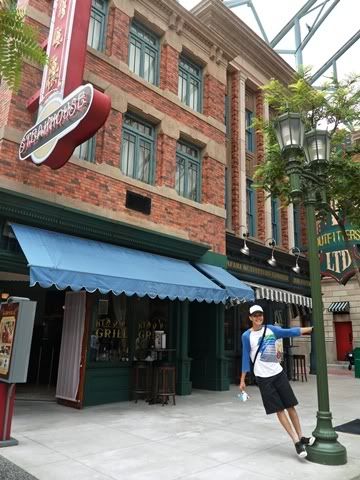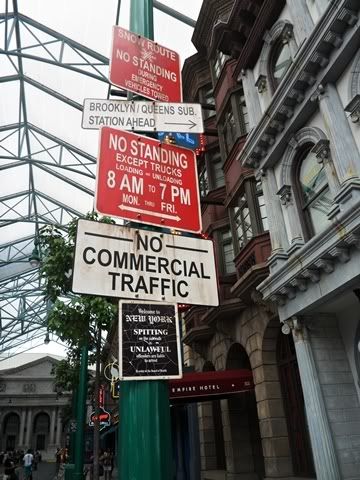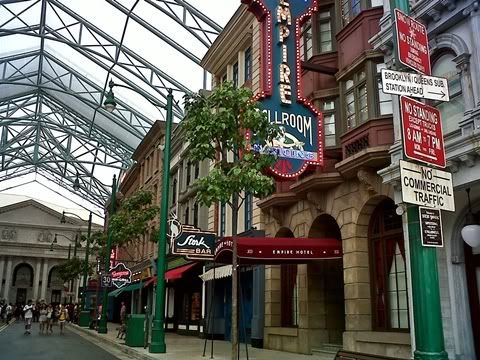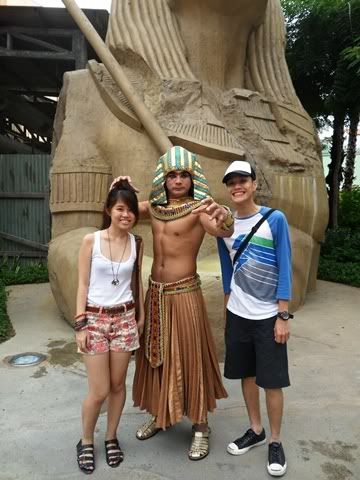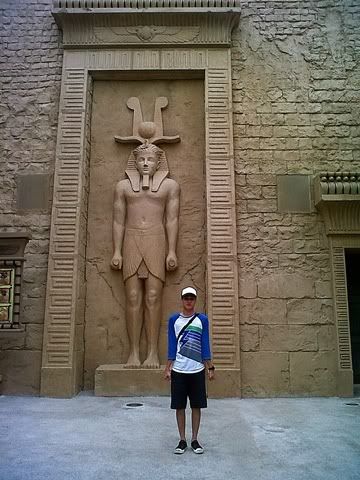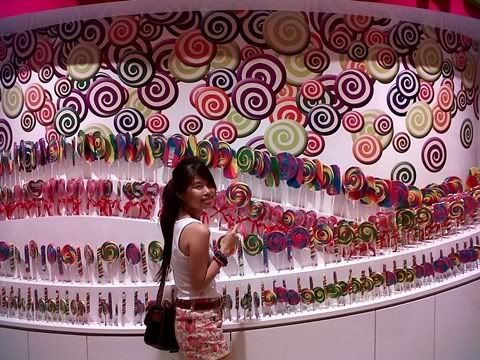 i like the egypt place too, i love how the structure turns out. sean dared me to the revenge of the mummy ride, which is an indoor roller coaster that raced through complete darkness. and guess what, i cried. hahahahaha! frail heart. i told him, i cant take roller coaster rides! i think it's more like my mentality kinda thing, that's why i didnt even enter the amusement theme park in genting highlands :/ but he pulled me closer and gave me a hug after the ride.. :) well actually i wont mind sitting on the ride again, in exchange for hugs like that hahaa. and what i love about hollywood at uss, the food!! haha mel's really good! i'd love dining there again but i'd have to pay 66$ to enter uss just to dine that? but the food's really good, no doubt. plus the whole restaurant's so oldschool, i like.
i must say uss's really nice! i havent been to other universal studios, so i dont actually know how they are like, comparatively.
that night, we went camping too! super fun.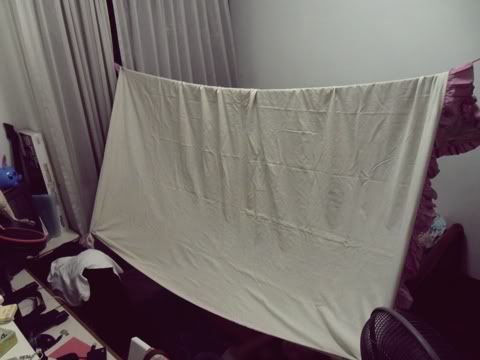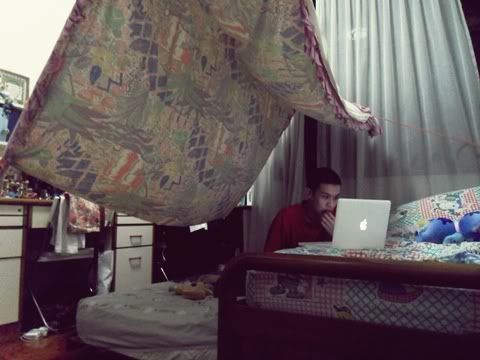 i loved indoor tents when i was smaller, or anything tent-liked. i remember how my sis and i would lay a mattress on the floor, with another mattress over our head
(we tried to dent it and put it against the wall, it somehow stood as it is)
, cheap thrills but we had so much fun..and i was just telling sean the other day about how i loved indoor tents, have always thought of making one for my grown up self, but it never once happened. then the next minute,
"let's go camping!"
and i couldnt stop smiling, i mean i thought he would think that i'm childish or what. but instead, he told me about his own little tent w his sister when they were younger.. how i love this boy :) so that's how our first very own tent looks like! wished we had the materials to build a more presentable one, like a larger blanket perhaps haha so to shape it up you know. but well we made do with what's available at his house. and i loved how our tent turned outs, looks amazing isnt it? well it is. sean did everything! i just laid around and watch him tie the knots and all haha. like i said, super fun.
the next day, uhm friday, we had a relaxing afternoon lunch at pool grill, an alfresco restaurant at marriott hotel. you get the idea from it's name, so that's like a restaurant right next to a pool. we were there to celebrate three happy months together haha, so we kinda actually make it a point to dine at somewhere nicer on every monthsary. asked sean how did he know that place, and.... well thanks to army. lol when ns burned his weekend off, he got to read 8days in camp, and the magazine somehow did a review on poolgrill, yeah.... sounds funny haha, but that's really how he got to know that place.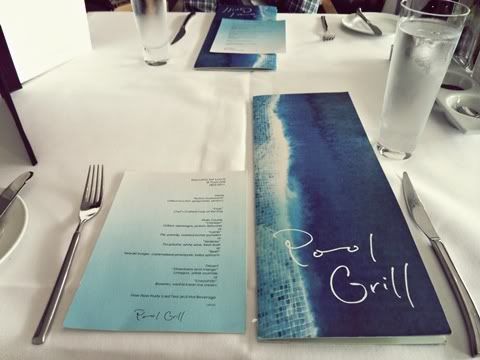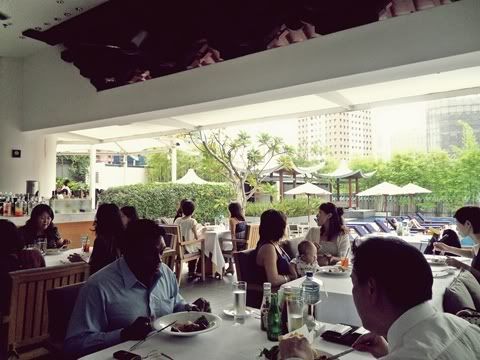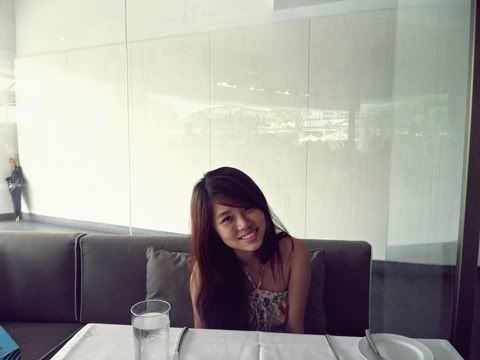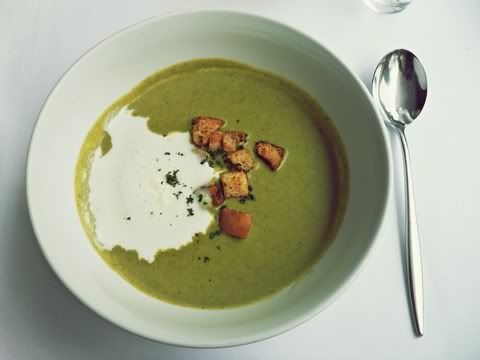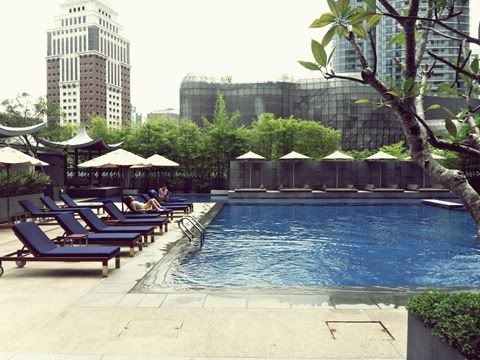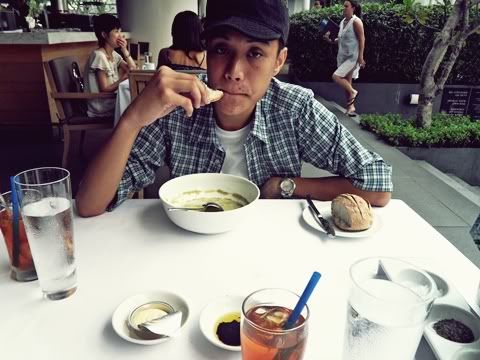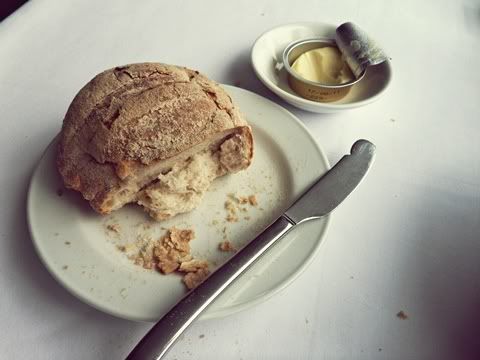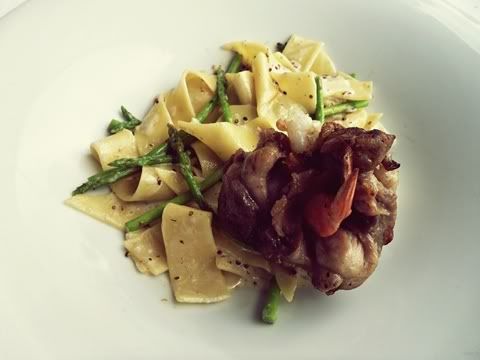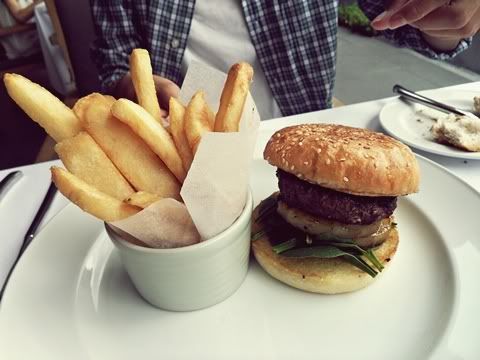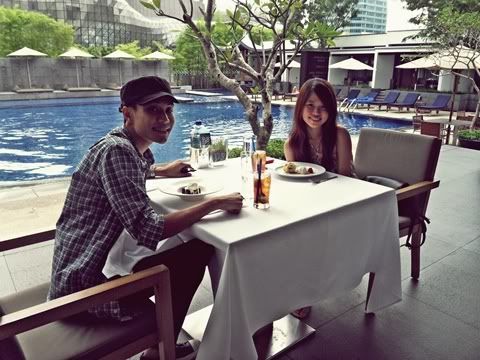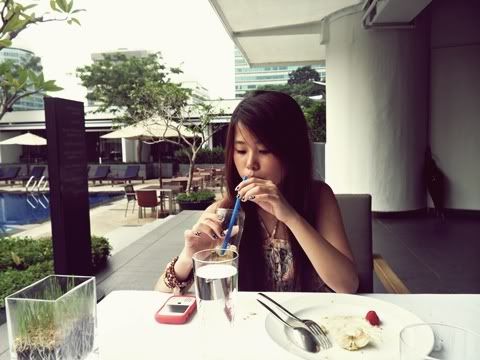 yes, we requested the table nearest to the pool. food aside, i really like the idea of dining next to a pool, in the open air, and i had my best company with me, it was all the more perfect. everything seems good that day; the food's good, the weather's good, service was awesome
(they are seriously, absolutely, very well trained)
all in all, i had a wonderful experience..
sean met up w his tekong friends on sat, and brought me along. steamboat!! i dont have pictures though, but it was so fun listening to their interesting
(no, but it's really funny)
stories. i had a good time laughing at the boys. and two days later i had steamboat again w jm cj and hy! i dont have pictures for both days though. sunday was good, i played l4d after a long while! like about eight months? wow, eight freaking months. sean killed me in one of the game though, heartbrokenzxzxzx. the screen says "prawn killed meow"!! hahaha love you still my prawn.
so that kinda summed up my amazing week. i'm finally meeting sean today after a week! meeting him in an hour or so, town i guess? then we'll head over to jiahui's twenty first birthday party, and it's a theme party! i love theme parties. we're gonna wear pink/grey!!