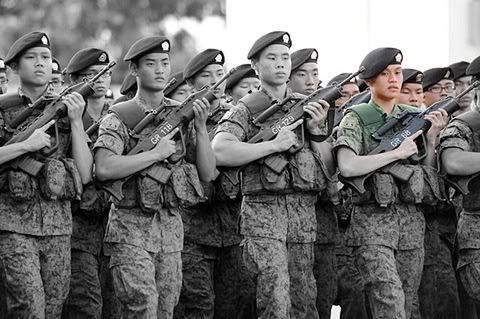 look at my mr three stripes! the rest's in grayscale in case you guys cant spot him, or in case you guys are blind. hahaha sorry i kid. i managed to spot him while he's marching...!! my eyesight's v power i know, HEHE. uncle tommy and auntie betty
(sean's parents)
says, it's the power of LOVE hahahahahaha aw :') dude right at the far left, that's tawei, my ex bandmate! apparently he's in the same camp as sean, though they dont know each other personally.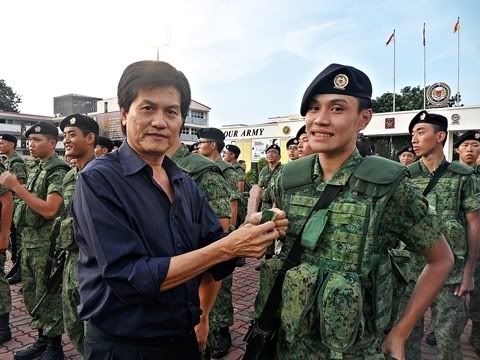 ♥.♥ !!!!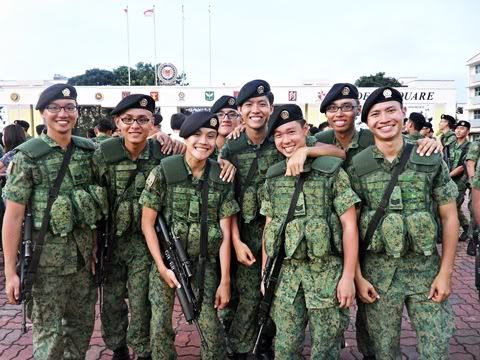 dudes in green, hehe sean's closer mates in camp!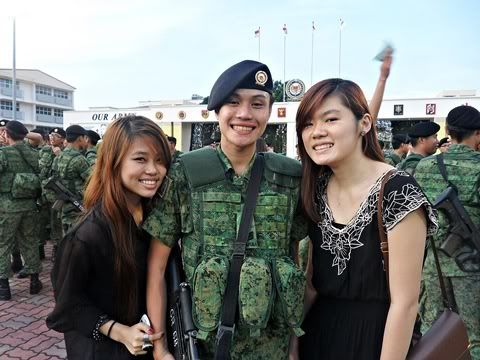 sean was like, "pic w tallfren" LOL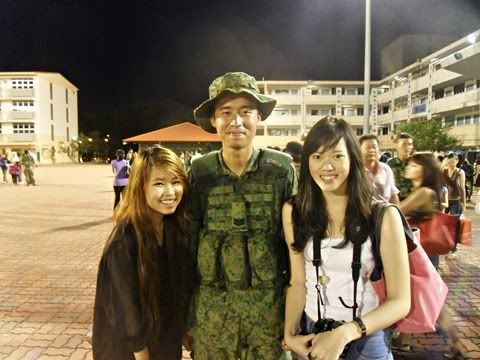 w gx & judith! hehe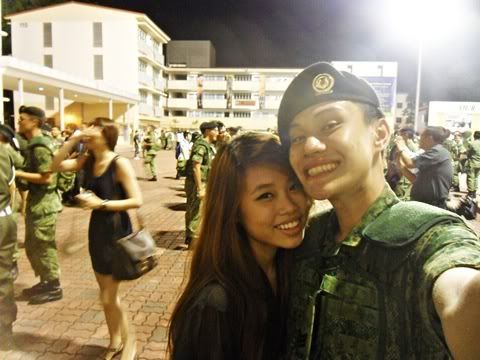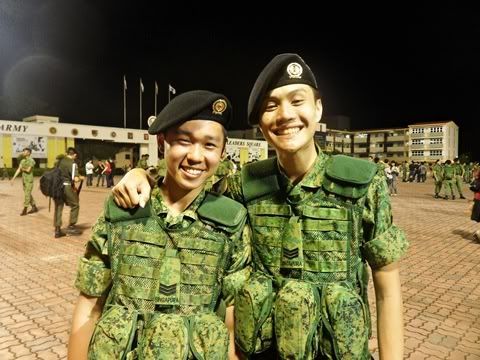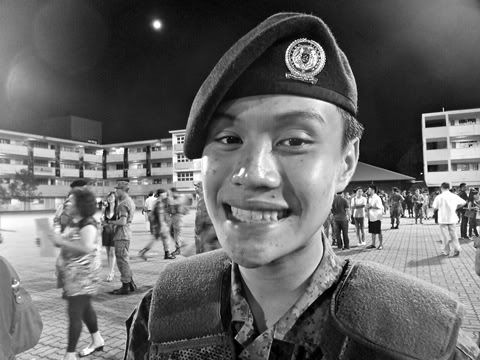 aiyo my handsome boy again :$
attended my boy's passing out parade last friday w judith
(gx poped the same day as well!)
, hehe my sergeant lokey!! there's another one coming up either in mid april or in mid may, i cant remember. his next POP would be at sungei gedong
(and sean hates that place so much)
, passing out as an armour specialist?? er truth is i'm not too sure either, i'm one unreliable source. but i'm mostly excited to see lots of armour tank, why because my boy has license for that k! he can drive a tank va va vrooomzzzz.....hehe. oh i didnt get all emotional like how i did at his bmtc's POP, i remembered i teared or something, because it wasnt easy at all. for him, for the both of us, but for him especially. he had to suffer both physically and mentally, i dont have to physically.. okay i should stop speaking like a mom. so i played the same old game i played during his previous parade, the 'spotwhereissean' game, but this time round w judith helping me out!! though she's more like playing her 'spotwhereisgx' game hehe, it's really quite tough k especially when all of them look the same. but why do all army guys look the same!?
(no it's quite scary actually)
and it's so heartwarming
(er actually more of funny!)
to actually see everyone running high and all taking out their cameras when their son/bro/friend/bf march past the stands.
@odeons towers,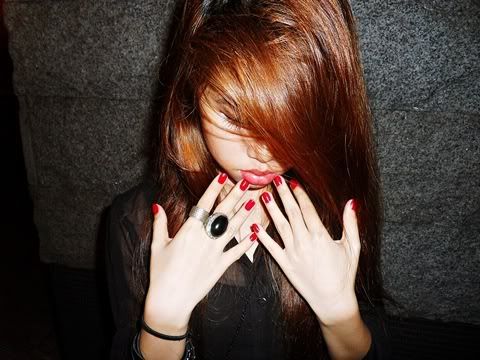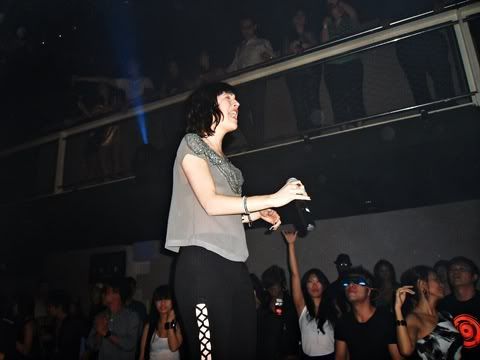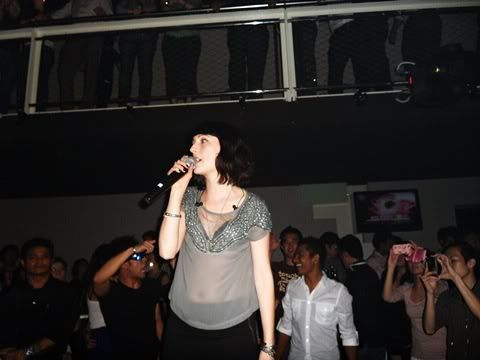 the same night, sean's dad sent us down to soul
(the old supperclub)
because sarah howell's in town and i wanted to catch her so bad, oh my reverie! i had no one else to ask
(le sigh)
so i pulled sean along even though i knew he was mad tired from all the heat, marching and such. he had a long day.... and apparently, i took part in some q&a contest and i won myself the chance to get an instax w sarah howells
(they told me so)
! i was overjoyed. arrived at soul, the management staffs made me wait for four hours, i waited for nothing. fucked up management, i mean i dont mind not being able to snap a picture w her, but they told me 'i won it', so im actually 'supposed' to, and the fact that day texted me to be in the club at 9.30pm
(who the fuck clubs at 9.30pm?? - so i had nothing to do in there)
, and made me waited till 2am. they didnt reply my call and text after that anyways, oh well so i decided to just go grab a bite and head back to sean's crib. what lame pieces of feces.
other than this piece of shitnews, sarah howell's set was good, i love her jam! i'm actually singing to out of the sky right now, hehe i love it. it's a pity there arent much people, that explains why the crowd's pretty horrible..
saturday and sunday that followed were great, i love waking up to my boy....he looked so cutesy i cant even help myself but to plant a kiss or two on his face everytime, or to just take lots of picas of him w my mobile
(i have plenty HAHA)
. oh and i love to mess his hair up, im only allowed to do that anytime i want at his crib, he doesnt allow me to do that when we're out obviously, i mean which guy allows!? i wouldnt like it if he mess my hair up as well
(even though it's messy most of the time, but still NO means NO)
LOL it's good that we're both so.....vain. back to saturday, sean snatched my pillow away when i got up to pee, then i was forced to wake up!! he stole it subconsiously though, apparently he'd rather hug his pillow than to hug me lol, i made him wake up anyways because i was starving.... i wonder why am i constantly hungry, it's scary. we had lunch at sean's, before heading out for some shopping, i got my hands on avril's new album!!!! i'm so addicted to it, been playing on repeat since the day i got it. and my boy got me a pair of cheap mondays, as well as a package from kinokuniya, that includes a cupcake stand, spatula and cupcake recipe book! :) i hope i'll be able to bake something nice for him someday huh, hehe :)
we made our way to wild rocket for our monthsary dinner,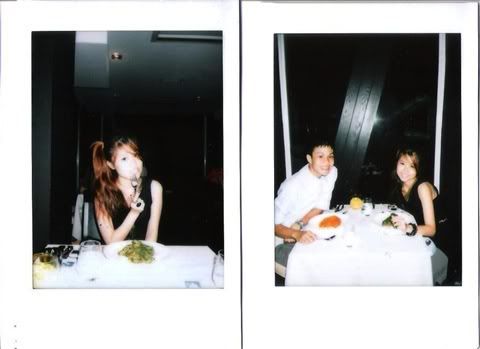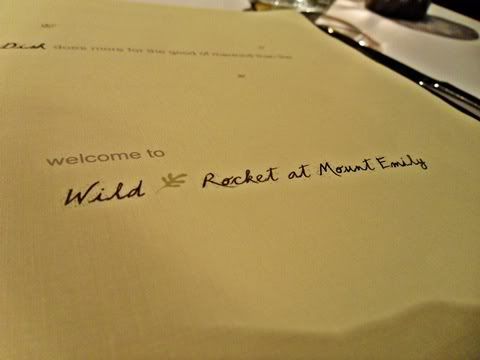 we had a little trouble getting up emily hill
(we were at oldschool and we lost our way)
, so we got down in the end, landed at selegie before making our way up upper wilkie road again, by foot. it's not that far from each other actually. cool location though, so we found out it's located in a hotel. what i liked about this place is, it's tucked away from the main part of the city, not somewhere we would usually go. though it would definitely do some good if we had a car, but none of us can drive.... anyways, we'd always take turns to decide where to dine at, and this time round's my turn to! i had three other places in mind, but eventually decided on this fusion restaurant, and we were pretty satisfied w the food.
i ordered the legendary laksa pesto pasta, and i personally has not much love for it.... it's quite an interesting dish though, i mean laksa, and pasta, seriously? i stared at my boy, while he took a mouthful of his crabmeat w chilli tomato cream pasta. he knew i didnt like mine, and immediately he switched our plates... sweet gesture, he was attentive as usual, but i feel bad though. i mean he might not like it as well, had no intentions to exchange w him, but apparently, he told me the laksa pasta's actually not that bad, and that he preferred it over the crabmeat one
(i think he just didnt want me to feel bad lol, but i'd trust him anw....)
on he other hand
,
i thought that the crabmeat pasta was perfect. i love how the striking colors make the pasta look so inviting, hehe yumbo! for desserts, we had molten chocolate lava cake
(nothing special)
, as well as salted egg icecream w eggtart. yes, salted egg ice cream! we scanned through the menu and the moment we saw this, we knew we had to order it. were both curious how would salted egg ice cream taste like, sounds pretty weird right? and wow, it was so good. there were even bits of salted egg hidden in the ice cream, yumz.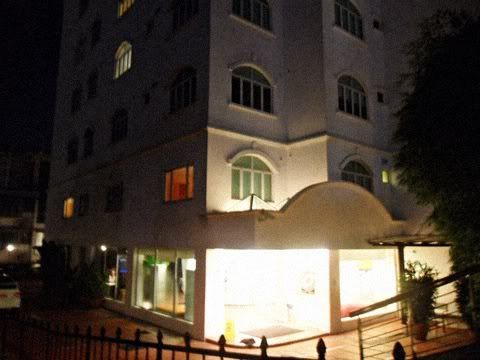 and sunday starts in the afternoon as usual. had lunch w sean's dad, then we spent the whole afternoon cuddling and watched the last episode of skins, as well as blue valentine, before heading for some drumlets' fix! and as usual, i ended up w tears after the film :/ i asked myself a couple of times, and i cant actually name a single movie i watched, er without crying. so the film's about a married couple, or i say the modern married couple, who began to grow apart after a few years of marriage. they were just really unhappy. and i felt so sad. two individuals who fell head over heels for each other when they were younger, got married, and they ended up falling apart. definitely something very common in real life, but still, they were so in love... cant help but wonder why must some things turn out the way they do?
xx