i've been on a food trail lately, everything i blog about's related to food, and somehow, more food...... it's good i guess? better than posting all sorts of unnecessary
(and boring)
rants coming from my stupidly crazy mind, making my space gloomy. but i foresee them coming in soon since my semester break's coming to an end.
am not exactly looking forward to the new semester, i say that every time before a new semester starts lol. but here i am contradicting myself since i even made a trip down to the book store last week to get new stationeries for school.... i mean really, whatever.
@wild honey,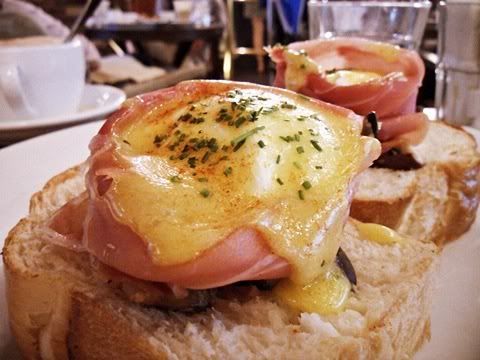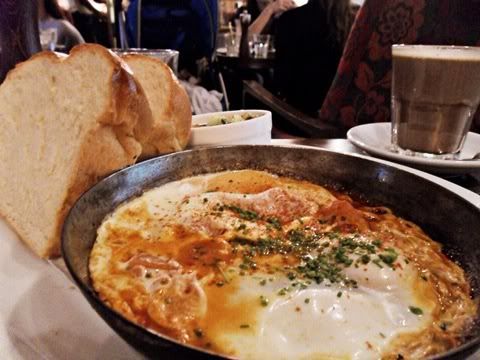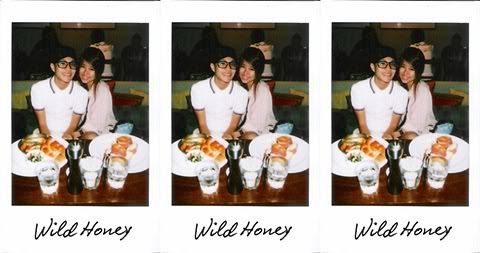 last monday, we made our way to wild honey
(finally)
after much procrastination. we've been wanting to dine there for the longest time, but the crowd on weekend's horrible. so this time round we made a trip down on a weekday, at least there wasnt any queue. we were given the sofa seats, and i thought our seats were the best seats available at the restaurant. i dont know about everyone, but for me, i prefer sitting next to sean, on the same side, to sitting across when we dine. i dont know, that's just uh personal preference.. i like it more that way. i'm also perfectly fine with sitting across, much easier to talk and make eye contact, just saying. it didnt take me that long this time to decide what to order, even though everything on the menu sounds delish. i knew i had to order the european breakfast set as we checked out the menu on the board, they even had an ipad at the counter where we can refer to the pictures from the menu. wild honey's version of egg benedict it said. sean went on ordering the tunisian breakfast set, the picture from the ipad looked too good not to try, and i conclude, our breakfast was....... yumazing!!
(yummy and amazing)
really enjoyed every single bitez.
everyone seemed to be relaxing too - either reading a book or just good friends meeting up and chatting over coffee. we had a really comfortable experience there; think sipping a cup of coffee each, talking about nothings, and having absolutely delicious brunch w your other half... hehe, close to perfect :) i think we spent more than an hour and a half at wildhoney.
@carl's junior,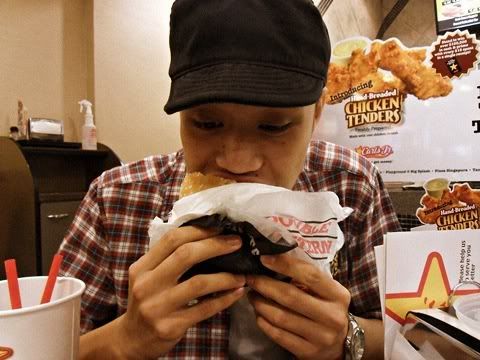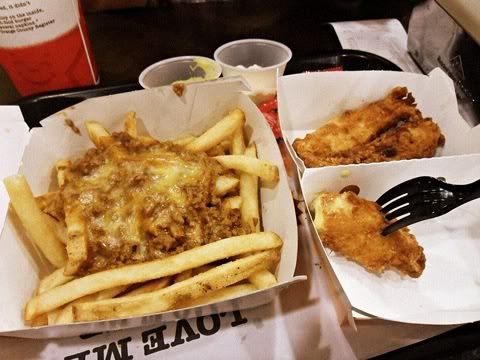 so after checking in, foursquare alerted me that the last time i've been to carl's jr was in november 2010. that's quite sometime........ carl's jr isnt my favorite place to have fastfood - i'm not a big fan of burger, so the only reason i'd go there, would be for those chili cheese fries. i love chili cheese fries, just so you know. my typical weekend lunch would be a two-piece chicken set meal either from kfc or popeye's, or a mc wings meal from macs, so the closest i could get from carl's jr would be chicken tenders and w chili cheese fries, woooooweeeee
(and the chicken tenders were yummayeeee)
yes that explains where my flabs come from.
@cafe epicurious,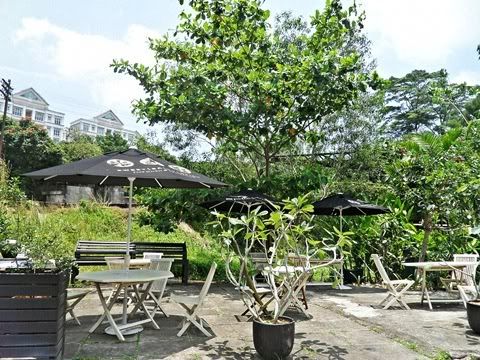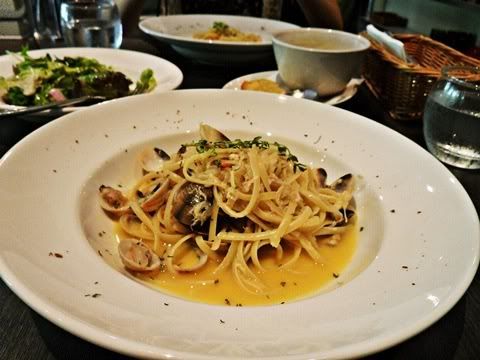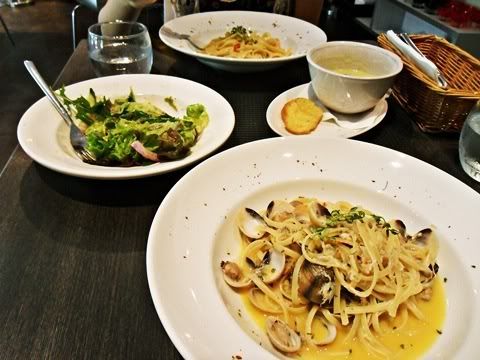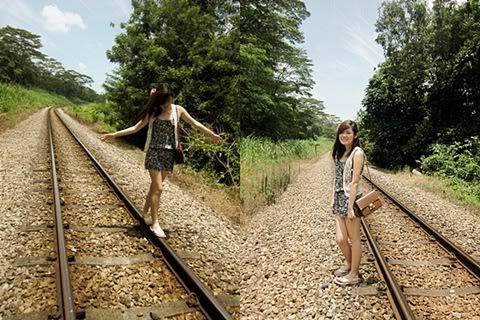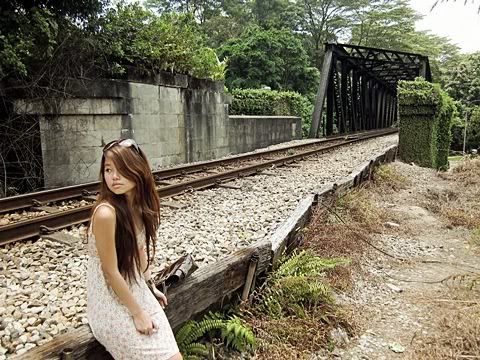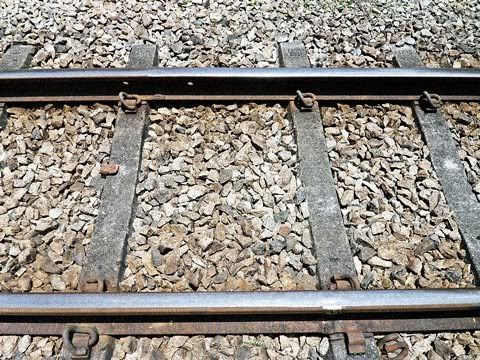 @cixian
and i went on a little lunch date, hehe our goodfren outing once again. well lunch at cafe epicurious, super worthy i would say. our three course set meal cost us only $18!! made the wrong choice choosing salad as an appetizer though, i couldnt finish my greens, but my white chocolate cheesecake was really good!! we also went up to the railway tracks, intending to snap some pictures for the sake of keepsake, we did in the end, pretty satisfied also, but it was SOOOO dangerous!!
(okay also partly because i i'm exceptionally timid lol)
we were happily snapping away, and there we saw the train approaching.................. so the train driver honked like mad
(i guessed he couldnt stop the train)
and i also screamed at the top of my lungs manz. we had time to move the fuck out and hid by the sides, actually there were ample space by the sides. still, thank god we were keeping a lookout constantly. shall elaborate no more, but it was really scary :( i'm one timid girlz because my hands remained shaky for a while even though the train left and we suffered no injuries. then, we realise it's not a wise thing to do to get on the railway tracks just for some pictures, we might end up getting killed, well unless you use the abandoned railway tracks instead, not too sure where it is.
i also made another trip down to cafe epicurious for a dinner date w judith, that makes it two impromptu trips down to cafe epicurious in a week! love the fact that it's located so near place, just a few bus stops away. we were looking for a dinner set
(i rmb there is????)
but we couldnt find it..... oh well, good food still! well i'm actually really thankful that she's willing to meet me up, felt so much better after talking to her and realizing we had quite a lot in common, we could pretty much relate to each other on certain issues. i dont remember talking to or even, knowing her back in sa. funny how we only started talking after we graduated, not that it hasnt happen before
- same thing for some of my friends back in secondary school -
but i'm just thankful for having friends who are really genuine and i must say, sweet. i think we touched on quite a bit that night and our conversation made me think a lot about my relationship w many people, not just w sean, actually in particularly, w my family. i love deep conversations that leaves me thinking about things like that, it makes me reflect.. much much better than being all alone at home, and feeling sad over nothing, definitely not a good time now especially when the boy's away.... i was pretty down the previous night, feeling lousy all over again. weijie immediately texted me and met me up over a little booze, hoping that i feel better. sean's mom also texted me to check if i'm coping well, and if sean's stuff
(i stole many of his things over for the three weeks lol)
were keeping me well companied. and my girlfriends are keeping me busy, talking to me online, on twitter, texting and whatsoever..
i have the sweetest friends around, what more can i ask for?
sean took this, when i was asleep lol...........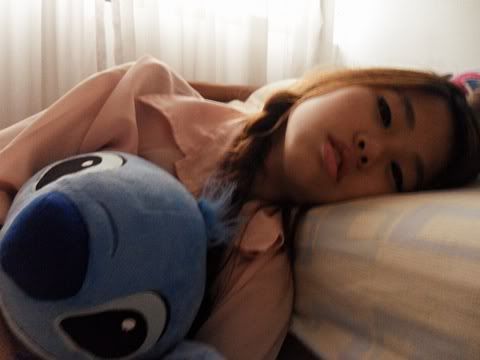 goodnight, i'm sleepy.
probably hugging stitch to sleep, just like how i did in the picture.
xx