so exactly a week ago, the boy turned 22!!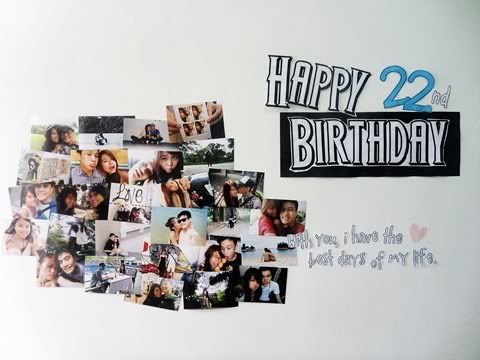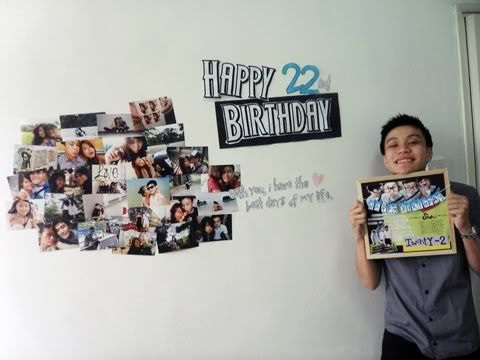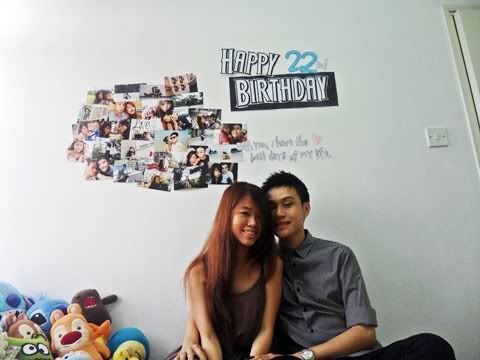 the original plan was to stay away from home for a couple nights, say a little getaway, but with sean's shitass army schedule, that wasn't going to work. also, it was my common tests' week and i had a paper the following day too.... well, things clashed. but i had other plans in mind. i contacted sean's mom and made a trip down to his crib earlier that week to put this up on his wall, a little surprise for him! because that would be the first thing he'd see when he get home from camp
(before meeting me),
i had only an hour to put this up, so i'm pretty satisfied how it turned out. i also made a little gift for him using chalkboard and other paper materials before his birthday, and managed to send him a picture of it while he's stucked in camp, thought it cheered him up a little, really do suck to have field camp on
your
birthday, you get what i mean. my boy was indeed surprised when he first saw them on his wall after he booked out on friday night, and he liked it! i assumed so because now he refused to remove the pictures and that quote off his wall heh heh!! stayed over that night to prepare for the next day.
prior to that, i did a lot of research on places to dine at, especially because it's really expensive to dine at somewhere nicer during weekends, and most places offer a different breakfast/brunch menu on weekends, not quite my idea of a birthday lunch. i'd love to splurge on my boy at this particular fine dining restaurant, but i do have some budget constraints.. wished i was rich. liked i mentioned before, i feel that food is really important in a relationship and i wanted to treat him to somewhere nicer especially on his big day, so i was really delightful when i found
pamplemousse
. i like their concept of offering only set menus instead of an ala-carte menu. made a reservation beforehand, as well as contacted their manager for a little birthday surprise at the restaurant, and of course, sean was unaware of it.



made our way down to pamplemousse and was greeted by their friendly staffs, they were also v helpful. really friendly and efficient service. they even offered to snap pictures for us, and started asking us about our instax camera. i also loved the intricate details of their decor, and i'd totally loved the atmosphere more if it wasnt raining that day - because my plan for that night requires perfect weather!! back to pamplemousse, we managed to order their signature dishes because i alr knew which were the ones upon our visit, i've been spying on way too many blog reviews.... you know, for the sake of quality assurance. also, we seldom dine at french restaurants, in fact it was our first time? we've tried all kinds of food - chinese, malay, italian, mexican, european, japanese, blah, but not french. i love anything french, and i'm so glad sean loves the food too :)

complimentary bread w butter, i like how they actually served us coffee/tea right after our main courses. really thoughtful.


and i really love the presentation of this tagliolini.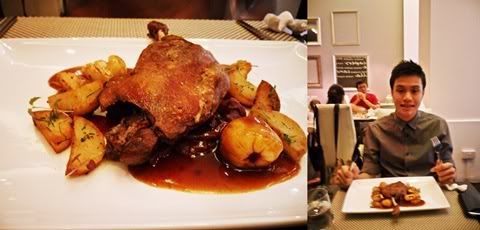 shortly after our main courses were served, the staffs came out w this birthday dessert that i arranged
(i didnt know they were coming right after main courses lol)
, the staffs, including the manager, came over and wished him happy birthday. i was waiting for something to happen, like maybe a birthday song? but it didnt, and i was quite lost actually, sean should be the one, but our roles somewhat switched lol, i just kept smiling to the manager. even though they missed out the word "sean",
(i actually wanted "happy birthday sean" to be written on the plate),
i'm still happy w their arrangement hehehehehe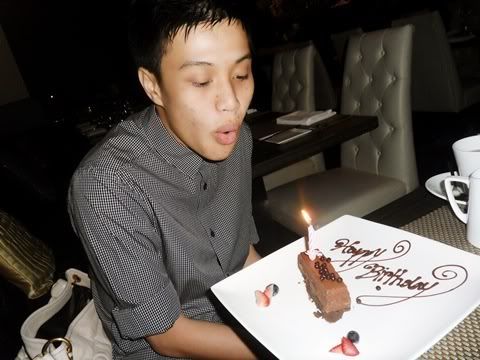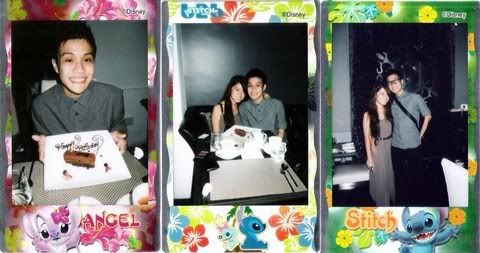 we carried on w our creme brulee and rice and tea dessert before leaving the restaurant.
have not got him any practical present yet, and i planned to get him a shirt. so we spent the next few hours searching for his birthday present, but we cant find one that suit him, and he's really picky when it comes to clothes. so, right now, i still owe him a present............... hopefully i'll find something that looks really flattering on him. we made our way to the theatres for x-men first class, our first movie that day(we caught two others on dvd that night) and it was so good! i watched all x-men series, and i really love this one.

we made our way to taka to meet my mom right after the movie. yes, my mom. i actually baked sean a birthday cake that friday afternoon, and prepared some utensils and champagne glasses, and asked a favor from my parents if they could send them to me at town on saturday. so thankful for my parents, they actually agreed to fetch them down for me, and my mom actually packed the utensils pretty professionally. she wrapped the silverware w tissue paper, and folded them nicely. also, she knew i'd forget to bring a lighter and she threw in one of those. i fucking love my mom.

we started shopping for the picnic mat, drinks, and food. got ourselves some pasta, bratwurst sausages and rosti from ambush, and doughnuts from sapporo petit doughnuts, tao kae noi, as well as TORI-Q!!! how could we forget tori-q?! thought i should get more 'REAL' food, if you know what i mean by that, mains. we made our way to the botanic gardens for a night picnic. it was meant to be a surprise, but sean managed to have guessed it all right... from meeting my mom to getting food and all. but not the last part, he didnt guessed right about the night picnic. i wanted too add a romantic tinge to it, so i bought candles, LOL. we relaxed a lot, had all the time to ourselves, talked about everything... surrounded by hues of yellow, it was close to perfect. i love hanging out with my boy, and i'm utterly happy i could plan him a celebration, and spend his special day with him. as for the birthday cake, i actually researched for a cake recipe that includes milo powder because sean likes milo a lot, i knew he's one fucking big fan of milo and wanted to make him something milo-ish. unfortunately, the cake looked really awful because i added too much chocolate ganache, so it tasted really rich and heavy.... in a bad way. too much of it makes me sick.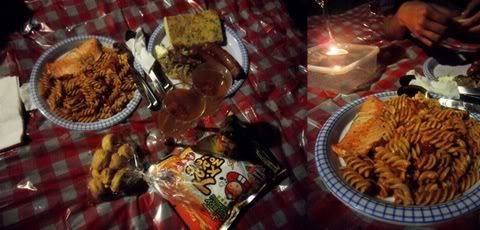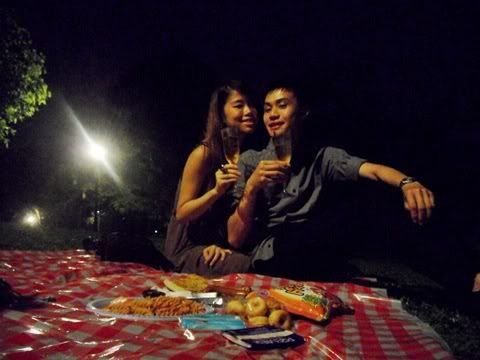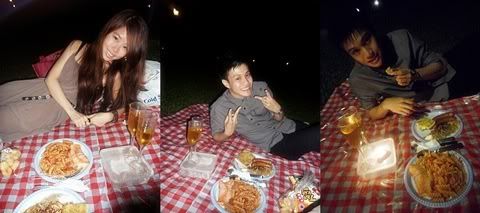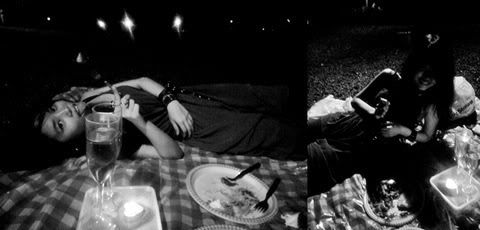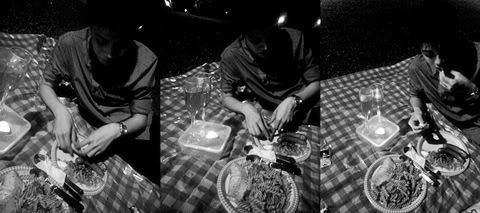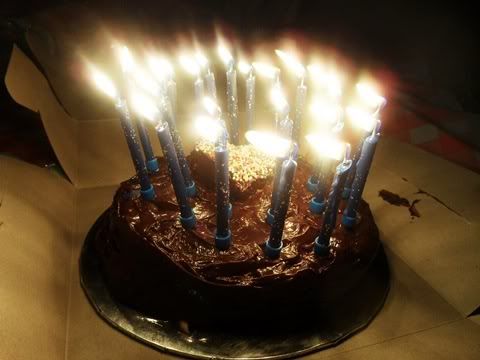 twenty two candles, each for the last twenty one years i did not spend w him hahahhahahahahaha idk why i always sound so cheesy when i'm next to him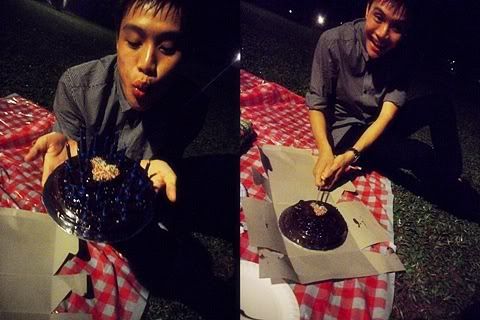 heh heh so cute.
we got back to his crib and ended the night with dvds!


sean's birthday dinner @ peperoni pizzeria,



take that XXL pizza!! i'd love to conquer one of those w sean one day, or anyone else, just two person. i wanna give it a try!!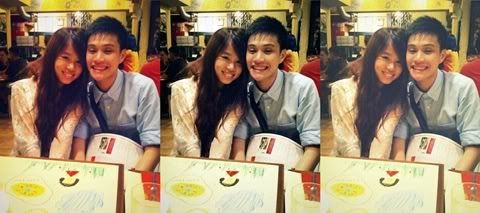 also, crayons were provided for us to scribble on the paper table cloth hahaha. what a good way to kill time, and here's my master piece,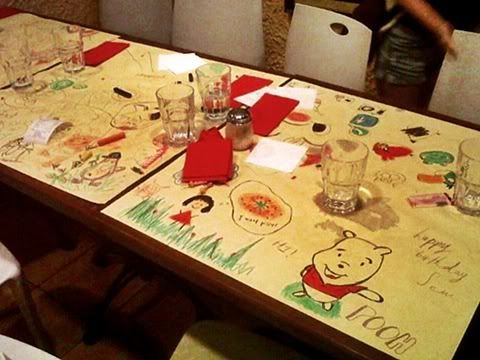 hi from an almost twenty years old lady. lol and we had angry birds too!
(opp where i was sitting)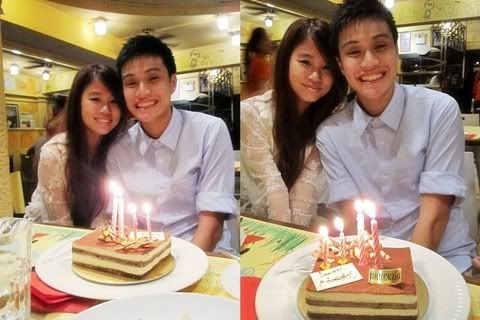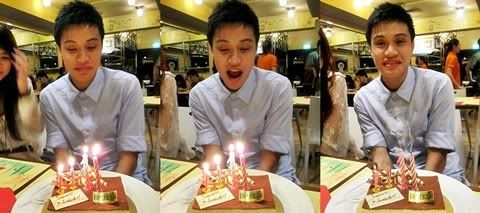 so on sunday, we met up his friends at peperoni pizzeria off greenwood avenue for his birthday celebration. tian drove us that night, it's pretty inaccessible without a car! i must say their pizza's really good, but we had to wait for half an hour for one of that XXL pizza. we ordered two pizzas, and two sets of pasta. i got sean a birthday cake from bakerzin! i rmb reading from somewhere, i think it's emma's blog, saying a cake's entitled to three wishes. i didnt know that! this time round, i got sean three cakes, and so, he got to make nine wishes!

happy birthday again sean, thank you for being the bestest boyfriend, the guy i can always count on. i hoped you had a wonderful time w me because you deserve no less, i wished i could do much more though.. so glad to have met you even though we are several years late, but they say good things are always worth the wait. ♥