counting the ways - kate voegele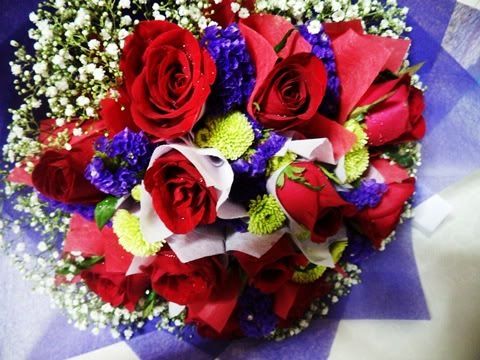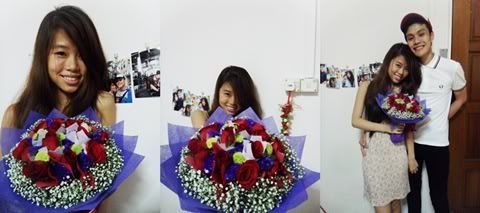 sean showed up at my doorstep and surprised me w a bouquet roses on monday!! he lied about booking out later, when he was already out there getting the flowers and then waiting outside my door, such a sweetheart. had a simple dinner nearby since the boy had to book in again later that night.
we will celebrate our first year's anniversary sometime next week since he had to be in camp last saturday as well.
*chants* army oh army.......
but i'm pretty sure next weekend's going to be fantastic.
i love flowers, all kinds of flowers. i can still remember my dearest girls
goodfren, wenshit, kaishit, ma
and
mins
were the ones who gave me my first ever bouquet three years back.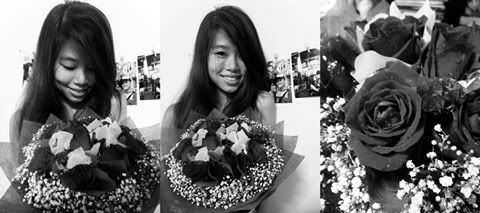 i'm really thirsty lately. probably due to the crazy weather huh? or i might just be really tired. but it's been really annoying, because i'm always drinking, i have to run to the toilet few times in an hour. ok but charmaine still owns. caught a couple of movies and dvds over the span of two weeks, my favorite would be x-men first class indefinitely, and maybe the private lives of pippa lee which featured robin wright penn and blake lively. just booked tickets to transformers' tomorrow, and i seriously have some high expectations because i've been anticipating for this one. please dont(try not to) fail me.

my cdc module's boring the shit out of me. content's fine i guess, i'm more than interested to complete my assigned tasks, ok basically, i just want to complain about having this particular lesson four hours straight. how to stay awake you tell me, better still, i'm all alone. cant fucking wait for six weeks to whiz by, sit for my exams(not that i'm prepared, i just want to get it over and done w), and here comes close to two months of holidays! but i should be working.. poor fuck. let's just hope sunday would be productive for me, or at least i get my reporter's assignment done.

also, i've set up a little selling post, not too sure if anyone's interested. but i'm sure i want to get rid of these items haha - so it's really cheap!! (less than $20) mostly brand new items, bought them a long time ago but have put them aside since then. do check it out!! email me if you're interested x.

SHOP AWAY
SHOP AWAY
SHOP AWAY
SHOP AWAY