it has been a long week so far, and past few days has been pretty rough. bad mood every now and then, feeling down over absolutely nothing, or just revolving around my usual self pity. rough, it has never been easy coping alone, but i'm just so glad it's over. at least for now.
so the week before last, sean and i celebrated our first anniversary, or perhaps it should be post anniversary. i know i know, major time lag but yes here i am trying to keep this space updated. it was a great weekend, we spent a relaxing weekend at
moon hotel
, a boutique hotel somewhere off bugis/little india. it was our first anniversary together and i was really excited!! this boyfriend of mine definitely spoiled me so much....... he surprised me w so many gifts. other than that bouquet of flowers, he got me a couple of photoframes w our photos in there
(he'll put it up on my wall after he paint my wall in this weekend haha)
, then there's this chain clutch from f21 that i wanted since forever
(it's perfect)
, he also made me a giant card especially because he knew i love handmade cards and i have to say it's so nicely done... he's a genius. we had an amazing time together, in short, we had a romantic dinner, perfect night stay and definitely a whole lot of quality time together and i really cant ask for more. cant help but to tear a couple of times throughout the whole day, i'm one lucky lucky girl..
dont know where to begin, so i'll just post pictures. sean's mom drove us down to moon after our late breakfast,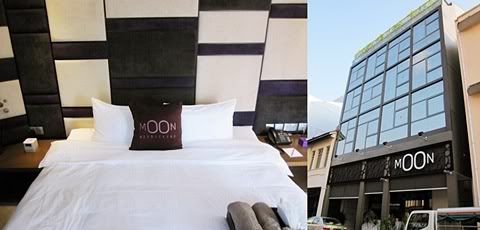 here's the lobby. we checked in in the afternoon.

our room for the night! if you are wondering why
moon hotel
? i had been researching quite a bit on hotels in singapore, mainly boutique hotels actually. wanted to throw sean a party on his birthday last month, or maybe just a nightstay at the hotel w him, but obviously it didnt work out. sean knew i liked stuff like that, and decided that we will do it to commemorate our anniversary instead. so the other day, we were browsing through rooms and suites together, and decided on moon's moonlight suite. there were mixed reviews though, but we were both pretty much attracted to the outdoor bathtub..


the room wasnt as spacious as i thought, but not too bad, i mean it's just two of us.... and we are not giant-sized lol
1.bathroom 2.outdoor bathtub 3.seats by the balcony 4.boy who cant live w/o television 5.magazines from all over

the amazingly comfortable bed. and so we roamed round the room, check what we were provided, this and that.. there were free drinks in the fridge, that was a bonus. we didnt touch it at all though, am not a fan or sprite/coke/sparkling juices. we figured we should start making full use of the bathtub,

i love how the bathtub looks like a mini pool in the room huh, or i'd like to think so. and yes this bathtub takes forever to fill itself up, we ended up watching tv
(we watched shows from this gossipy channel and i got to know how much prince william spend on each trip, and how much princess beatrice spent on her birthday LOL and also, the rock and classic fashion icon - fergie and anne hathaway, life of the kardashian family... haha interesting)
and snapping pictures.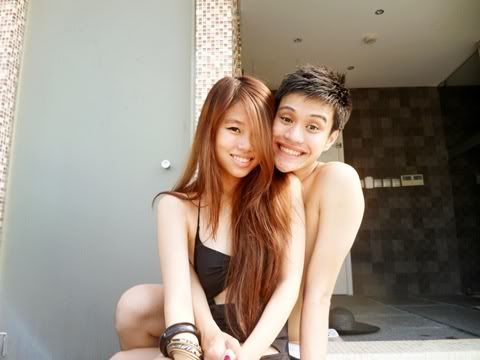 hahaha sean looks so cute in the first pica haha so cutesy


we soaked in the bathtub for about an hour or so after making reservations for dinner that night. sean chose to dine at
au petit salut
, and that's because i wanted to dine there since forever and i once told him so, obviously, he listened and remembered.. funny thing is that he called the restaurant up and the guy on the line told him that the place's fully booked till after 9pm, so we didnt reserve any seats because we'll probably finish eating at maybe 11plus, just slightly before midnight LOL. i decided to call back two minutes later, and there, they told me the same thing, it's fully booked but well seats are still available at 6pm. LOL i really think the staff on the line liked my voice more. haha well one thing we dont understand's their definition of
fully booked
. the restaurant wasnt even half full. but we enjoyed the food nonetheless.

vain vain vain

and so this is us, all ready to head out for dinner,


outdoor alfresco dining and their indoor dining. love both settings!


our eats at
au petit salut
:
plat de fruits de mer - millefeuille of alaskan king crab, smoked french eel and salmon tartare
crispy french duck leg confit, sautéed potatoes, bacon, mixed greens and walnut dressing, lobster risotto with truffles, green asparagus and parmesan shavings, oven baked apple w light calvados custard cream, vanilla and crumble, choux buns with vanilla ice cream, warm chocolate sauce and sliced almonds.
(yeah i just ripped off the menu from their webpage)


i had duck confit while sean had the lobster risotto, our oven baked apple and choux buns looked really horrible from my camera so i didnt post photos up, but the choux buns were absolutely mindblowingly
(lol)
delicious! i would definitely recommend this one, it's really really really good. go on, google
"choux buns au petit salut"
and take a good look at it! we had a really quiet and slow paced dinner, that's what i love about dining at a french restaurant. good service, quiet, food looks pretty, nobody's rushing you to leave - and we took about two hours plus to finish our meal.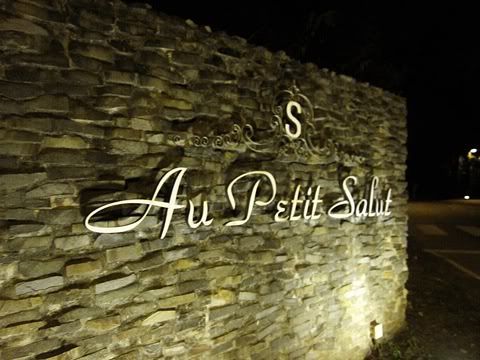 took a stroll along tanglin road, and to traders' hotel before cabbing back to the hotel. a caucasian couple offered to help us snap some pictures, how sweet!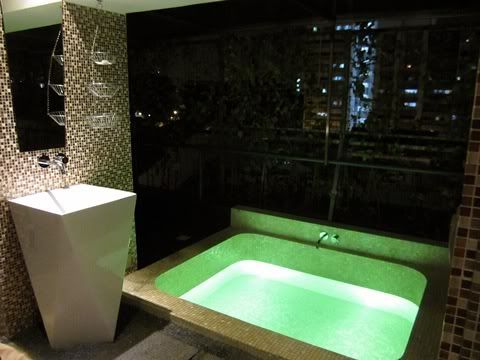 so this is how the bathtub looked like when we got back to the hotel.
oh and we popped open a bottle of red wine, since sean brought a bottle along to the hotel. we ended up chilling at the living room/wine bar area,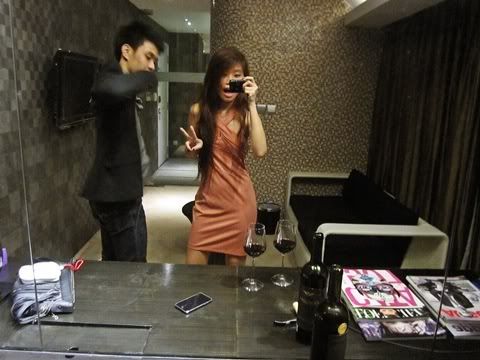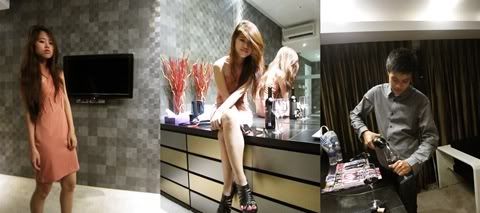 i love how he handed over the glass of wine to me, and that look of his..... really, i thought i was featured in some tv drama LOL, this boyfriend of mine really know what i fancy and know how to impress his lady.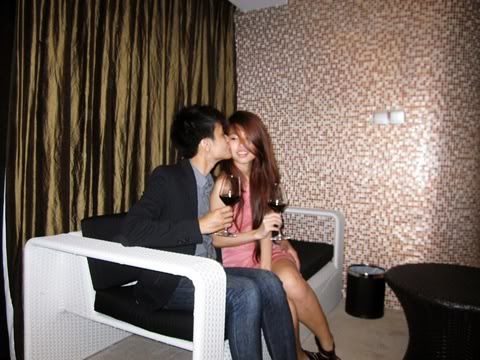 managed to take just a few pictures to dictate that night before my cheeks turned red and before we were all emotional. so here are the only three successfully attempts. i also loved how this boy looked me in the eye as we exchanged toasts, i couldnt stop smiling. what a way to mark a new phase of our relationship :')

decided to head back into the bathtub before it gets really dark,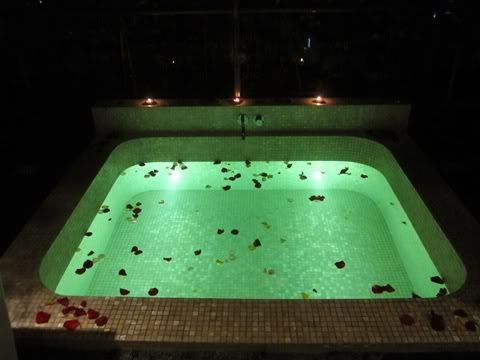 so i brought candles along w me, and i lid up the place. threw in the petals we got from the tanglin mall, and the sight was breathtaking - as usual, my photos do no justice to how pretty it looked. this was probably the most memorable part of our night's stay, well at least i feel so. think soaking up the moon beams in our own private little pool/tub after a romantic dinner, bliss. we spent the whole night soaking in the bathtub, w a glass of red wine each,
(we also realise that day that filled wine glasses actually floats)
pouring our hearts out, playing, kissing, talking and taking trips down the memory lane - remembering what we did together, talked about every single detail of our relationship, future plans, and how much we loved each other. i hate how this sounds mushy, but it sure was good to spend time w this boy of mine, just know that every single thing he does, is for me and our future... he spends so much on me, he spoils me, he pampers me. he does everything to make me happy, and he wants me to have good life. how he has never been the fittest dude, yet he strive to at least get a ranking in army so he could use his pay on me... and so much more, ok i'm not going to say every single detail but i'm just so... grateful and thankful for sean. he really dotes on me, loves me so much, and want the bestest for me. i couldnt stop smiling, but i ended up crying as usual. really dont know what i've done to deserve him.

we got up say, four hours later or so, past midnight already.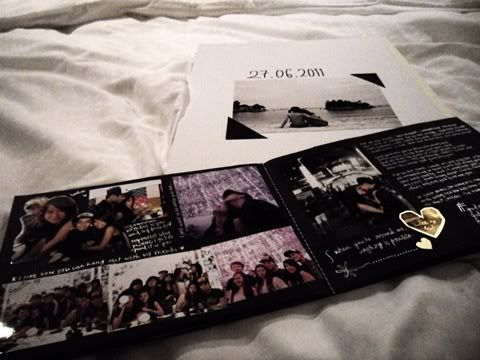 our handmade gifts for each other against the bedsheets, so this is one of his favorite pages haha.
the next day, and yes we almost couldnt wake up in time for breakfast,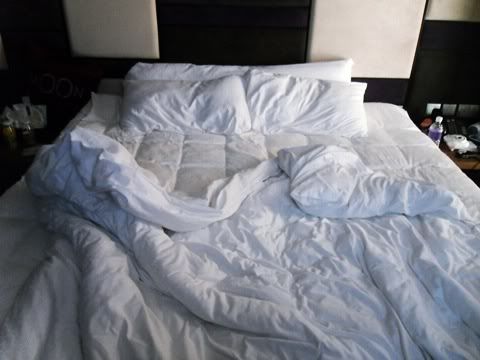 the morning light's really pretty, we drained the water away the previous night, so we got to fill it up again since we decided to soak up again after breakfast.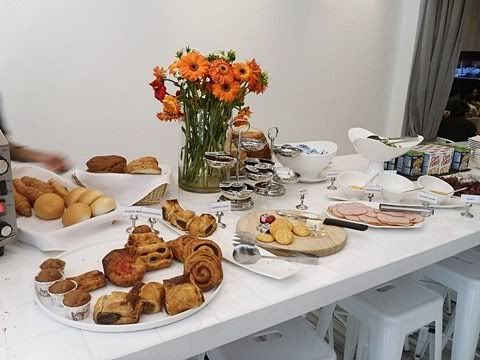 breakfast at the lounge, i love how the food appears so good w the white backdrop lol. but it was just adequate, the normal and essential things a normal person would eat for breakfast. but we had no complaints because we knew they didnt have a restaurant or anything like that in the hotel, so it was not too bad for catered food.

and back to our room,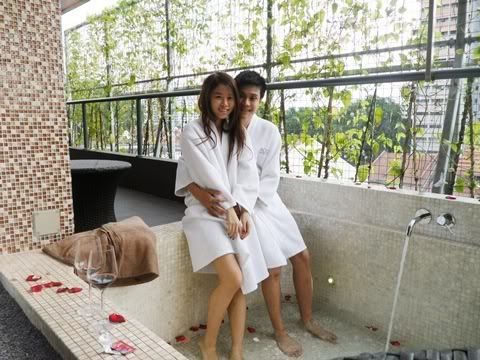 we took advantage of soaking in the bath tub when the sun's at it's brightest, had a amazing time - definitely a different experience compared to the previous night, and our pictures turned out pretty good too.


sunlight, timer, and our little tripod = work wonders.
i absolutely love this happy face haha and i think he should smile more :)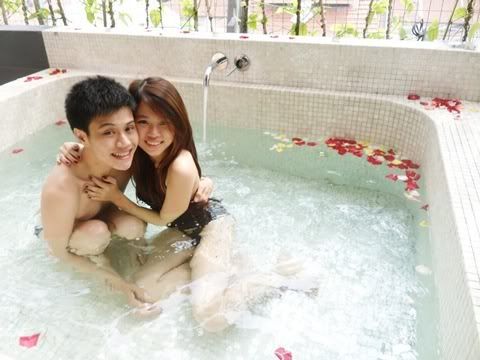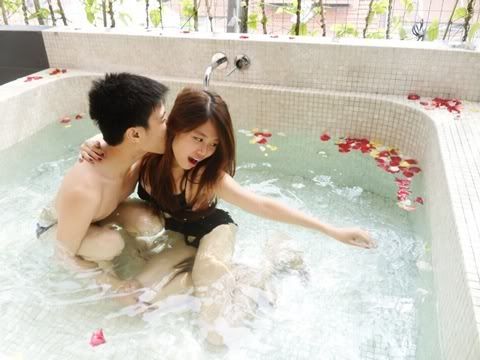 we checked out before lunch! sean's mom picked us up, we had lunch tgt w his family, and headed down to church in the evening. such a fun weekend, the stay turned out wonderful - relaxing and fun at the same time.
brunch @ spruce,


LOL stroke face on the right hahahaha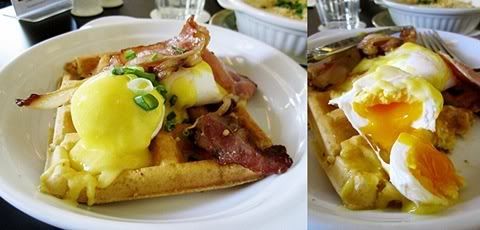 eggs benny w corn waffle and leg bacon
the spruce big brekkie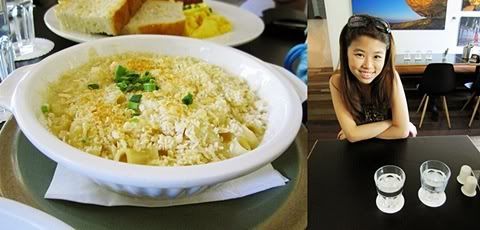 creamy macaroni and cheese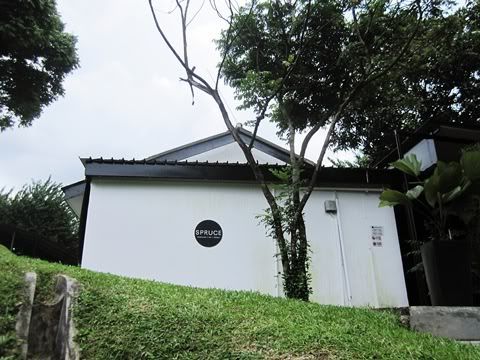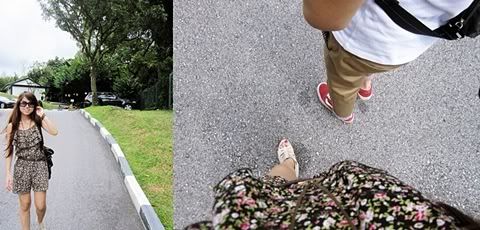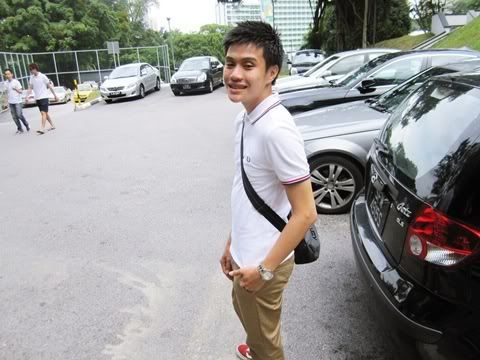 the weekend prior to our anniversary, we headed to spruce for a wonderful and hearty brunch. we didnt make any reservations, and were lucky to even get a table! i (in fact, both of us) had a hard time deciding what to eat, everything seems really good you know, it's so hard to pick a favorite. the food was really good, and we were so satisfied! yumyum


i am so thankful to have spent the past year w sean, as the girlfriend of this amazing boy. we endured some tough times, but still, we have grown so much together as a result. i am extremely thankful, i wouldnt even want to imagine a day without him. i am not always eloquent in putting my feeling into words, it just made everything sounds cheesy, mushy, wrong intentions argh whatever. but i just wanna say i'm really thankful for everything, for a relationship that is full of laughter, respect, fun and love. it's such a fun adventure w you, sean. i wouldnt give up the past year with you for everything.