the cab - endlessly
there's a shop down the street/ where they sell plastic rings/ for a quarter a piece i swear it/ yeah i know that it's cheap/ not like gold in your dreams/ but I hope that you'll still wear it
yeah, the ink may stain my skin/ and my jeans may all be ripped/ i'm not perfect, but i swear i'm perfect for you
and there's no guarantee that this'll be easy /it's not a miracle you need/ believe me/ yeah i'm no angel/ i'm just me/ but i will love you endlessly/ wings aren't what you need/ you need me
there's a house on the hill/ with a view of the town/ and i know how you adore it/ so i'll work everyday/ through the sun and the rain/ until i can afford it
yeah your friends might think i'm crazy/ but they can only see/ i'm not perfect, but i swear i'm perfect for you

i must say my sept/oct holiday was pretty fruitful. i got myself a job
(need to use that money to pay for my trip and to learn driving)
, met up w my girls every now and then, and went on many little adventures w the boy. i managed to engage myself w lots of me-time, and i love it. i like being alone sometimes. oh and there was ATL!! best night of my life. still, quite satisfied w myself even though i did not check the whole list from the
list i made previously
, at least i did complete more than fifty percent of the activities stated. i love making lists.. man i do feel good now.
some recent picas as well as overdued ones to share - last two days of work,

a small part of the registry, i work on these documents.. and probably few hundreds more of those. i also got my three colleagues and supervisor a little something before i left.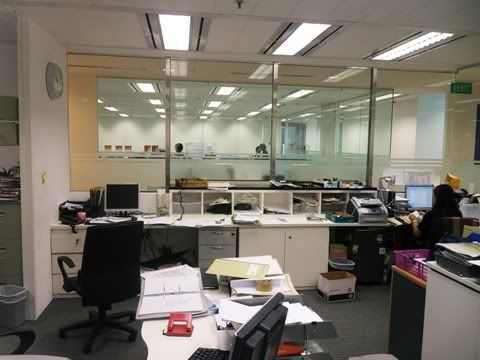 and here's how my work place looks like. i like my job because it's not deskbound, i get to travel every single day - up and down the whole building collecting mails, as well as in and out the office, to the museums and to the post office. admin isn't as boring as you think it is! or maybe just what i was doing. but i sure had had some fun.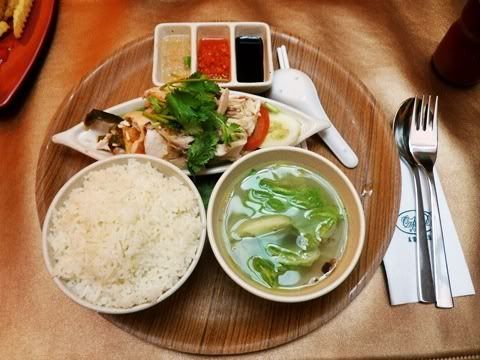 philo treated margeret and myself to lunch! margeret's leaving two weeks after me, both of us are temp staffs on contract. chatted over lunch and that was when i found out so much about their lifes and some of our colleague's life - about how much they love their parents, their husbands, and of course, their children. how they watched their children grow and now, all obtaining their degrees, masters, getting married this and that. i think it's really amazing, and i can sense how much love they have for them, they feel proud for their children. such lovely people out there. also, i cant help but to get all teary while listening. haha im so bad at this, cant hold back my tears haha, but such love... makes me feel lousy again. really should do something about my life. sigh this is what happens when you work w people much older than yourself.... so much to learn from them. also, thank you uncle gabriel for the marks and spencer's goodies! he got me so much goodies, and before i handed him my access card and left,
"just remember me when you take your first bite"
hahaha why so cute.
random night at butter w the girls
(after idk how long)
,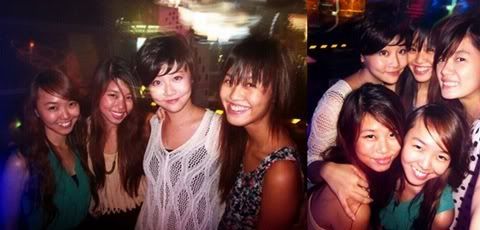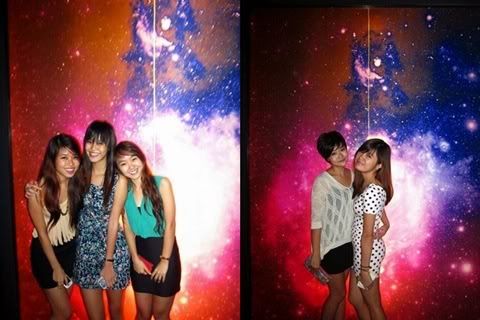 really pretty galaxy backdrop, had to snap a pica for keepsake
still managed to head to work the next day, and only more awake.
hari-raya openhouse at wati's,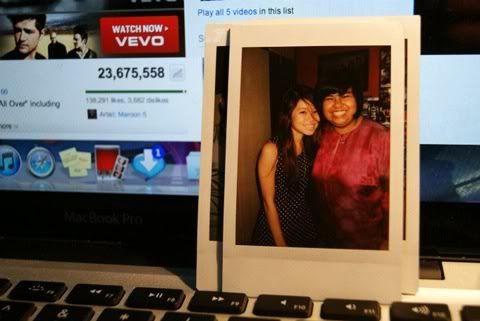 wati/gayfriend invited me over to her place for hari raya celebration, so good to see her after so long!
porn's sexy thai food w jm, hy and cj,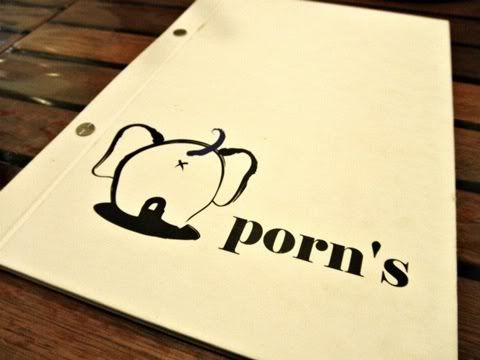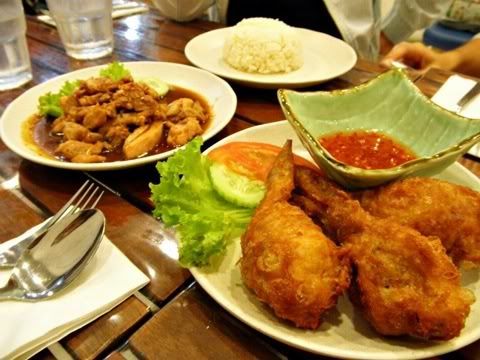 stuffed chicken wings, kangkong, some random chicken dish, tomyam pot, and red curry
gosh i love thai food so much.... cant wait to have a taste of authentic thai food at bkk. also, i'm gonna bring sean to jai thai
(sher's mom's restaurant, hehe really good)
one day man.
shwenz's 18th,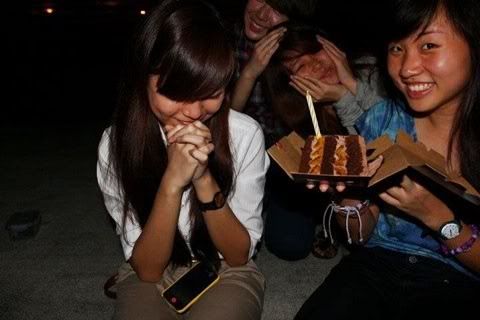 met these girls for dinner on a random friday night, and celebrated shwen's birthday! hehe we looked so happy here, looking forward to the new sem w these girls
(tgt w jp who cant make it that day)
and on the same night after shwen's, supper at 126 w my girls! sean turns into seanlina for a few hours heh heh,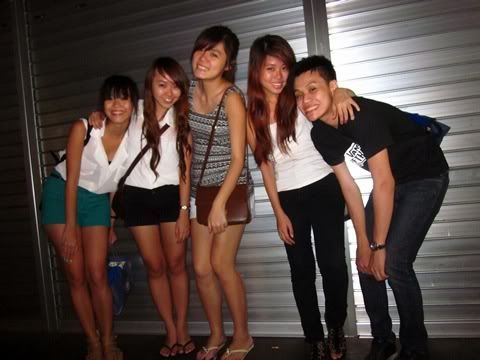 picas of food at
cx
's, i'm lazy to resize all of them before posting up. love the dimsum there, the cheecheongfun was so goooood!!
will do a separate post on atl's and the weekends w my boy sometime later, i have like four weekends worth of photos to post on my little space here... well, looking forward to dinner w the boy later. he's booking out in a jiffy :)