here's to another round of shameless vid of myself,
i always sound so awkward when i talk in front of the lens.
@ sean's cousin's wedding dinner two weeks ago,

my first time receiving poker cards as wedding door gift, there was a giant pen along w it too. so cute isnt it?

l: sean and myself, tgt w the chosen one.... green lantern srsly just appear from nowhere.
r: pearlyn
(sean's sis)
and her bf, teck.
and we have another wedding dinner to attend tmr, another cousin of sean's getting married!
newayz, all time low on 6th oct was rad even though there was a huge storm that night.
i blogged about how much i longed for it
, and i had no idea it was going to be like this because i didnt know there were so many ATL fans in singapore srsly. they were relatively unknown when i started liking them few years back. the crowd was insane, i was insane. havent headbanged and jumped so much for the longest time, really partied like it was my civil right
(haha lyrics from i feel like dancin')
plus i even crashed my cam. got to repeat i was so stoked when their show's announced officially, afterall i've waited for years just to watch them play my favorite song. got into wavehouse a little after 6pm, and it started pouring so bad, the crew threw ponchos from the stage
(which we didnt find it helpful at all)
, everyone didn't give a damn about having a poncho or not, especially when we couldnt stand those things blocking our sight. the rain did not stop afterall, we stood for close to three hours in the rain before the opening band, TDR played their set to warm us a little. i hate how we have to wait so long before every gig, and three hours was just too long! got so restless and almost went into my sleepmode. but i'd like to think that i've waited for a few years, three hours is nothing. haha i'm pretty delusional like that.
the lights were dimmed for the second time, and yes we knew that was the moment when art of state blasted through the speakers. note, it was still drizzling but it didnt dampen our mood. ATL started off with do you want me dead, damned if i do ya damned if i dont - and so on. in fact, i've alr memorised the full set list before heading down that day lol. somewhere into the show, fangirls threw bras up on stage just like any other ATL show. what's an ATL show without bras, sex talk and boobs? jack hanged those bras on his mike stand, and had 'nice boobs' written on his guitar. my favorite part of the show was definitely during jasey rae, coffeeshop soundtrack, remembering sunday, therapy and dear maria
(ok sorry i know that's a lot of favorites)
. notice all these are songs from their older records. i loved all of them. now even sean's obsessed w ATL's older record
(he keep quoting me lyrics from their songs!!!)
i love how he make it an effort and take note of my favorite songs. all in all, last thurs was just one hell of an experience, a show that i'll never forget. my life, complete.
w kenneth, the oc guys, and friends: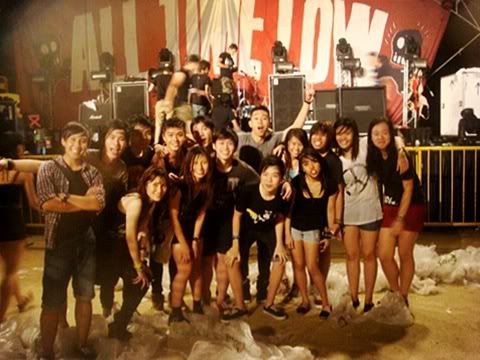 the only decent pica from my cam before my cam died on me, the set when alex's singing remembering sunday: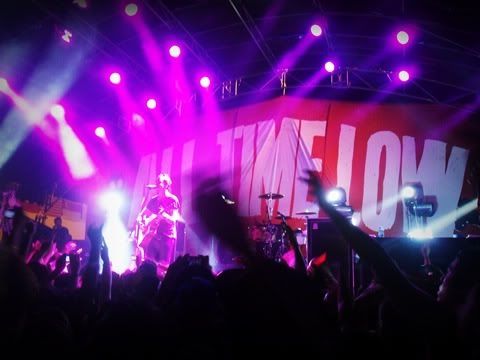 check out
glenn's page
, he was so lucky to be able to shoot atl backstage!
hi jack haha
xx