after much proscrastination
(i was busy alright)
, it' finally time to relive the memories of our bangkok trip!! got to do this one before 2011 ends. i just want to say we've been extremely lucky that things went smoothly, we both had a good time at bangkok - people there were looking so good, and the thais were nothing but wonderful to us. oh and how could i forget about all the yummy food we had, esp thai iced tea?
i've gotten quite a number of questions on my fs asking about where to head to, as well as if i'm gonna post my itinerary on my blog. to be honest, there were lots of changes to my pre-planned itinerary, but it was all good. our trip's pretty much more of a leisure trip, so it's more of shopping than sight-seeing. i'll try my best to jot down as much as i can.
day one
my dear boy was so tired but still, he managed to squeeze out some time to go on a trip w me because he knew i wanted one so bad. he touched down singapore from aussie at 6am, three hours later, took another flight w me to bkk. we took the same flight as hector and gf, as well as xiong and his friends
(bumped into them at the airport wow how coincidental)
.
first photo of my boy after three weeks :')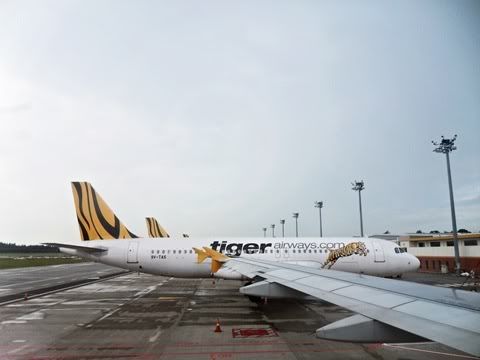 bear w me, it's my first time on the plane after five years
(i feel sad for myself)
, my family dont travel together at all and i have to save up to go on a trip myself. maybe that's why i'm constantly seen travelling to the east/north of sg just so that i'm not stucked within my small estate. traveling again after so long, so i had to snap, and i cant stop snapping. lol but dont worry i'll make up for what i've not done these few years - i'll travel as much as i can now that we all have some savings.


travelogue/travel booklet i made for the both of us, yes i'm that excited haha.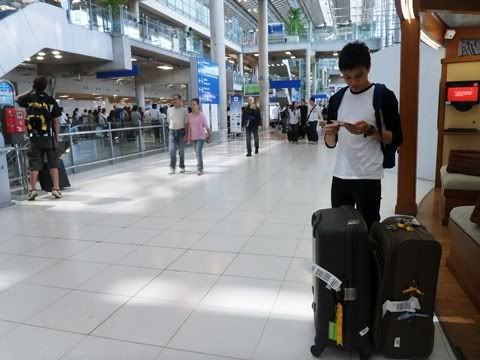 the plane touched down in the afternoon. we got our bkk prepaid sim card from the airport before making our way to get a cab. well i guess it's mostly due to the 'flood' situation, the airport wasnt as packed as what i thought would be, though we still got to queue for quite some time at the counter. we arrived at the hotel
(baiyoke boutique hotel)
that we prebooked from
tigerairways
at around 2pm, it was much better than what we expected! i mean, we only paid about 48sgd/night.. plus, we were granted privileges to access baiyoke sky's facilities since both hotels are managed by the baiyoke group of hotels. the bellboys were really friendly and helpful too, and they spoke really good english.


we left the hotel and had our first meal at bkk, some eatery along ratchaprop road, before heading to check out platinum fashion mall.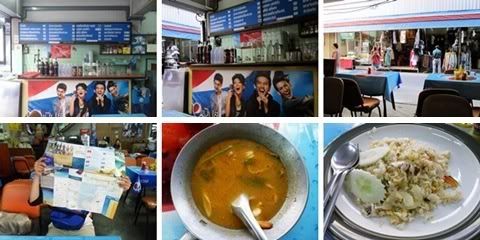 tomyam soup w rice, and fried rice (about 100baht each)
we took quite some time navigating and getting used to reading from a map. i love it though, i'd always love navigating my own way out. our first day wasnt that much about shopping, it's mostly on checking out and exploring the area around our hotel. i love how 7-11s are everywhere. oh and street side food,

and i missed these, i can have them all day. these cup corn w extra butter, sugar and condensed milk's only 10baht/15 baht, i cant remember. but it's less than 1sgd fosho. and we all know we cant find 1sgd cupcorns in singapore.


we got these potato balls! mad cheap too. but it wasnt to my liking...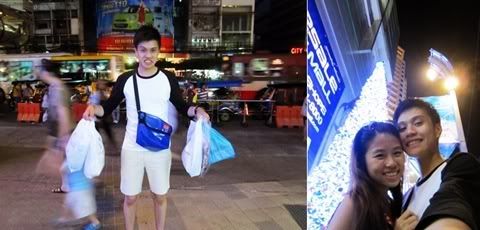 loots from the first day, and w the christmas deco outside platinum fashion mall x

headed back to our hotel to drop off our loots before checking out the night markets along khao san street.
khao san's quite a distance from our hotel though so we took a cab. in fact, we traveled mostly by cab throughout our trip. the cabs are really affordable so we dont really see a point taking the train
(which we might end up getting lost)
but i thought it would be a good experience to. well since cabbing in bkk's considerably dirt cheap compared to singapore, we chose to go on w it.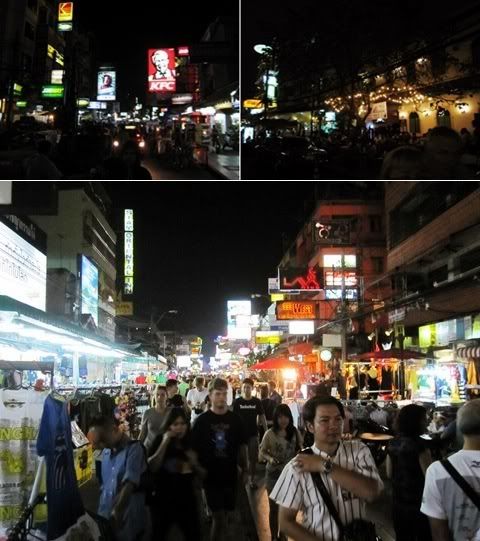 khao san's mostly filled w caucasians since it's centre of the backpackers' alley. i love how music began blasting from streetside sound systems, and where people started singing along, dancing, etc. spells nightlife, there're so many bars here, and they're all safe - not in a sleezy manner.
and of cos, i love the food here so damn much. fyi i had phad thai at 3 different places out of our 4 days trip, and the phad thai we had here was the cheapest
(35baht only!!)
, yet the nicest of all.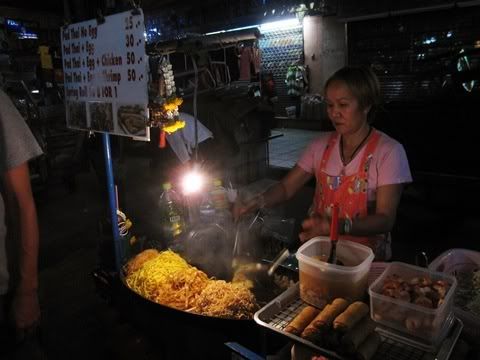 yumyumyum phad thai!
in fact food is nothing to worry about when you're in khao san.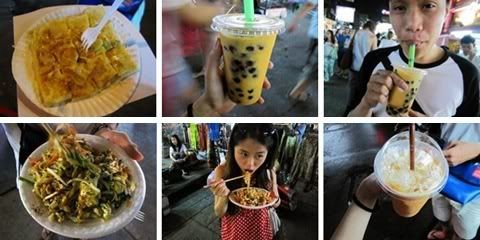 we also tried the
banana pancake, w condensed milk, various bbq meat etc.
and of cos,
thai iced tea (from the streets ranging from 15 to 30baht)
. and we had like five cups a day?


no we didnt get to try it, haha i dare not.....

there are people dancing on the streets etc.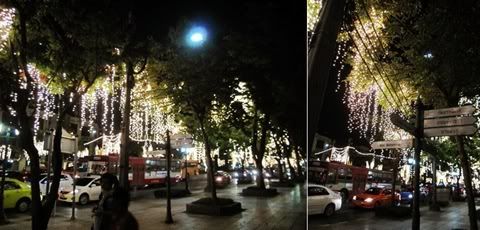 khao san's probably my favorite place right after chatuchak weekend market.
took a cab back to our hotel, and we called it a night.

day two
since we brought empty luggages over, i didnt have clothes to wear the next day! woke sean up as soon as i did lol, dragged him down to go shop w me since i've read that the thais start their day pretty early. and it's true, so many makeshift stalls were set up!! i heard it happens every morning, but anw i got myself few tops and a romper
(and got ourselves some streetside food for breakfast).
got back to change and all before taking a cab to the chatuchak weekend market.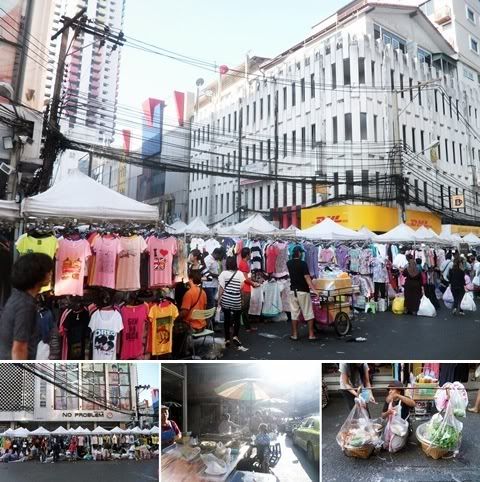 this was around 7.30/8am.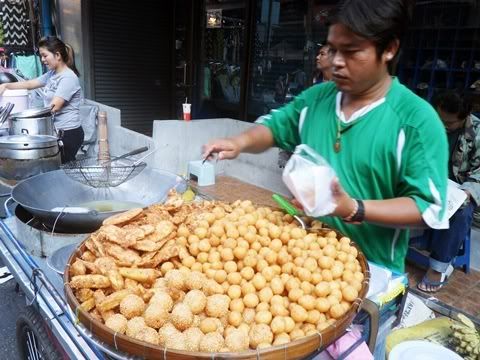 probably the best shit ever, hahaha. we had these little fried balls three days in a row. so good!!
chatuchak weekend market,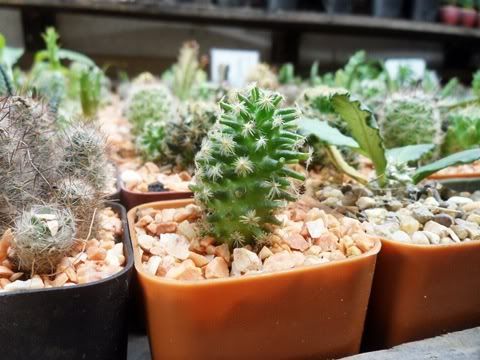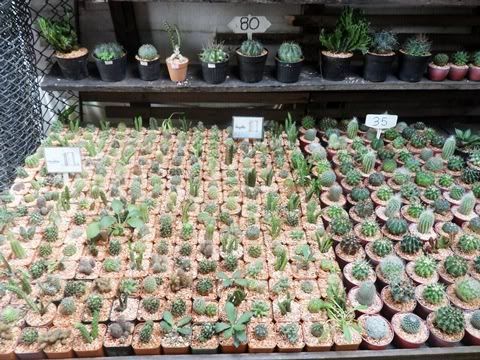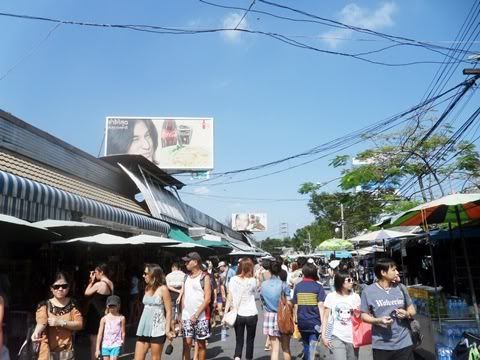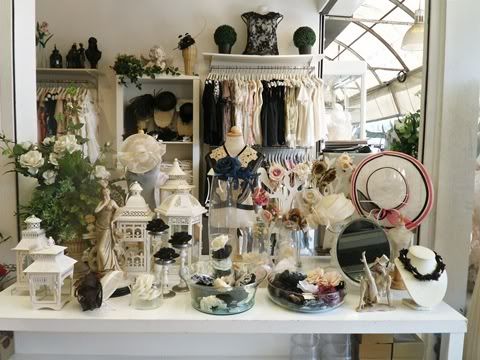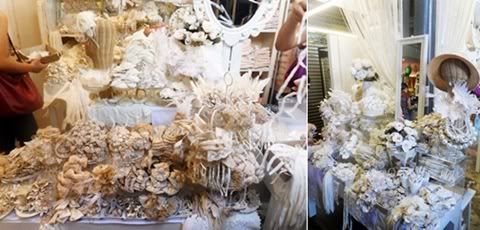 v pretty decos, i guess you can use them for weddings and tea parties. so pretty!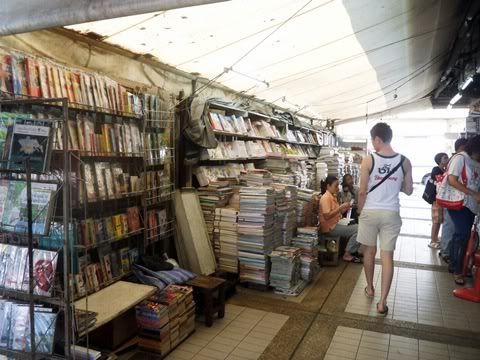 random book store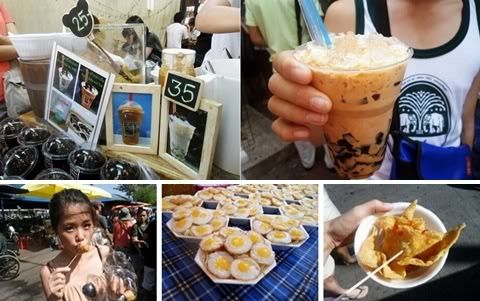 thai iced tea w grass jelly, quail eggs w soy sauce, fried wanton, sausages wrapped w bacon...... there were so much snacks we couldnt stop snacking even though lunch time was near.
i love this place. i really do. they have all kinds of things here, and i mean ALL kinds of things - clothes, accessories, household stuff such as porcelain and plates, toys, pets, food of course, footwear, furniture, flurry animals -
everything
! i was reading online that there are supposedly more than 10,000 stalls at the weekend market, and i thought to myself, what is this bragging all about, 10k stalls seriously? lol but after seeing it for myself, it's clearly no exaggeration.... it's impossible to comb every single stall, the lanes are like mazes.

coconut icecream, w two toppings of your choice.
i cant remember if this was 25 or 30 baht, but either way, it's less than 1.50sgd. a must-try.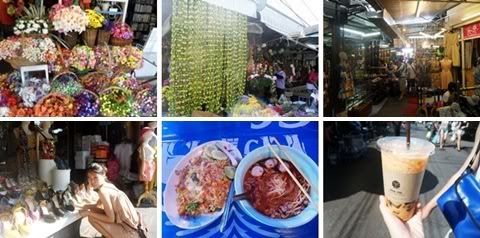 and more shops on the way, we stopped by for lunch instead of grabbing snacks from the streets.
fried rice
and
tomyam noodles
. it was a tad more expensive, but it was really bad. also a proof that you dont always get what you pay for.

cupcakes~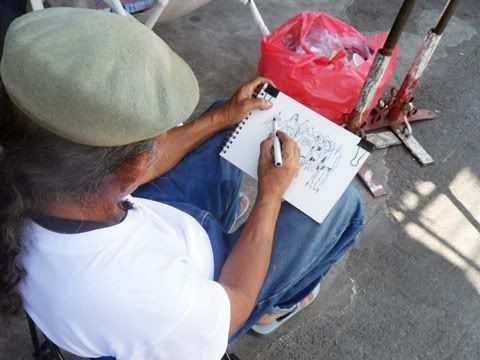 i'm sure every girls own at least a pair of denim high-waisted shorts from
'the dude'
?? okay maybe not all, but most of the girls! i have two pairs myself. guess what, i found the store at chatuchak! grabbed a pair myself of cos!
we spent half the day at chatuchak, bought so many things!! should have spent another day a there though. decided to give chinatown a miss, i'm not sure but i read that there is nothing much at chinatown
(unless you're heading there for some yummy dimsum/chinese food)

took a cab to siam - the central shopping district - where we spent the rest of the day exploring siam center, siam discovery centre, mbk centre and siam square. siam paragon's actually just next to siam center, didnt know that mbk centre and siam square was also just directly opposite the road till we reached siam station itself. we found out that central world was also nearby but we planned to head there on our third day, so we delibrately gave it
(and siam paragon)
a miss, in case we had nowhere to shop on our third day.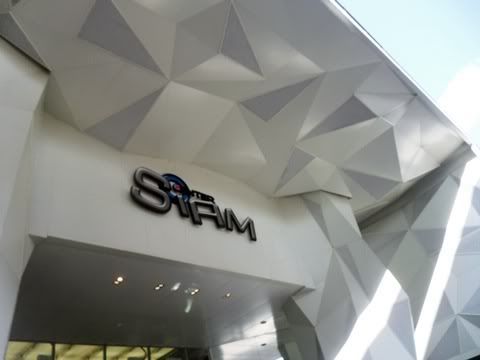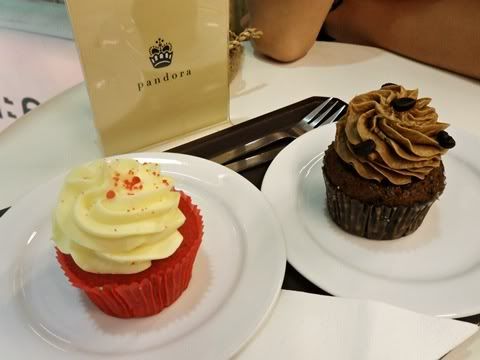 pandora's red velvet and irish coffee cupcakes.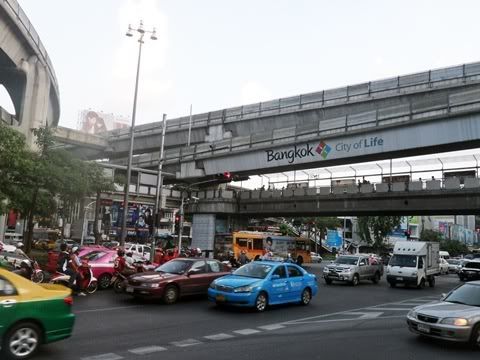 bangkok art and culture centre,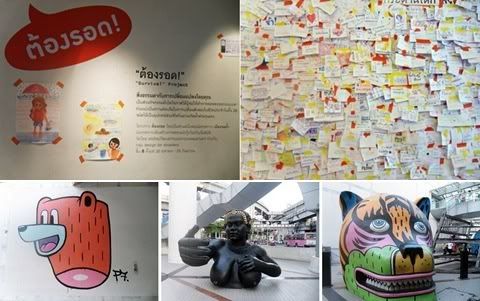 a visit to the art and culture centre was totally unplanned! we chanced upon this place completely by accident when wandering around siam. dont expect to see much of thai culture in there, you would be pretty much disappointed. we managed to see photos taken during the recent flood though. still, i like how free and quiet this place is, especially when it's right in the middle of bangkok.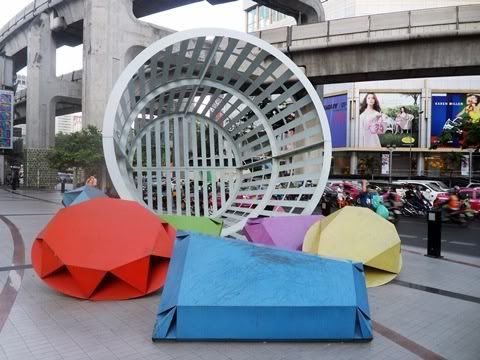 siam square,

the shops are pretty similar to chatuchak's, but a tad more expensive. kinda expected since it's situated right at the shopping district.

we decided to head to patpong
(red light district)
at night, patpong's found around silom. the distance's slightly further than the distance to khao san, so the cab fare was a little tad more expensive, and that's also because the cab driver chose to take the expressway
(we had to pay for the extra fee at the checkpoint)
. also, many cabbies didnt want to send us to patpong using the taxi meter, i think we skipped about five cabs before we took one that was alright w charging us according to meter. the hotel bellboy suggested us not to head to patpong, but we went ahead anyway.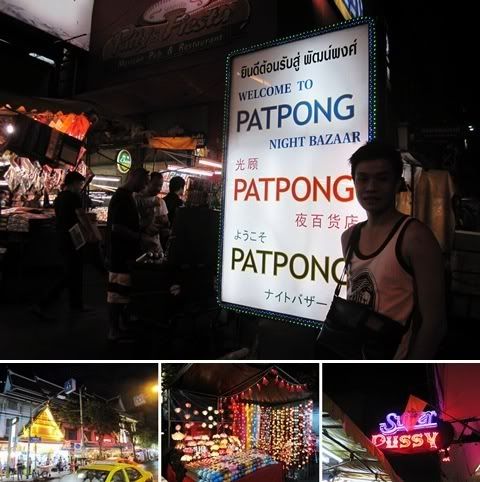 and well, we should've listened to the bellboy. patpong was sucha disappointment.
there wasnt much to buy, gosh there's no streetside food at all! and everyone's just pulling you into the sleezy gogo bars w girls shaking their wares, tiger shows they say. i guess they do serve food afterall, but you got to pay so much since you have to watch the shows if you enter the bars.
(i've heard about ppl spending 1k baht in there for nothing)
but it wasnt appropriate since i'm w my boy? haha i mean if he visits patpong w a group of army boys, and they got all horny and wanna catch those sex shows, i would understand. but definitely, not really ideal for couples lol, i guessed that mr bellboy saw all that coming. combed the street in less than ten minutes... we didnt want to head back so early, so we just took a walk aimlessly and explored around silom before cabbing back to petchburi road, just few street away from our hotel, for some decent dinner.

wantan mee soup! how i love street side food, this bowl of wantan mee's less than 2sgd.

wasted money for bubbletea at the mall, it's so so so bad. thai iced tea ftw!!!
(plus thai iced tea's so much cheaper?? dont be dumb like me)
bought two sticks of drumlets back, got cheated by the vendor here though , he charged us about thrice the original price but oh well...... at least the drumlets are yummy haha.
day three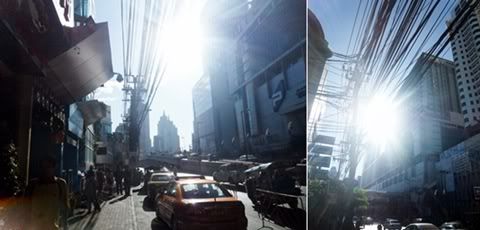 woke up really early on our third day. it happens to be our eleventh monthsary too, and we planned to go on a decent date - w that, i meant decent place to shop, and omit street food. instead, we'll dine at a nicer restaurant.
vertigo
and
sirroco
in mind, but both were out of our budget this time round, sigh. even though i bought quite a lot of clothes the previous day, i did not have any fancy/appropriate dress and shoes for dinner. no choice but to head to pratunam wholesale market and platinum fashion mall right in the morning.
our breakfast and lunch at platinum fashion mall x
so much love for my phad thai
(45baht
) and kfc chicken tenders
(25baht, approx 1sgd)
!!!! i love bkk.

colorful hair accessories and ribbons found in platinum!
it was a wise choice. the mall was packed to the brim with hundreds of fashion shops spread over six levels. well, i spent some quality time there if you wonder x
got back, changed to my new loots before walking to central world and siam paragon.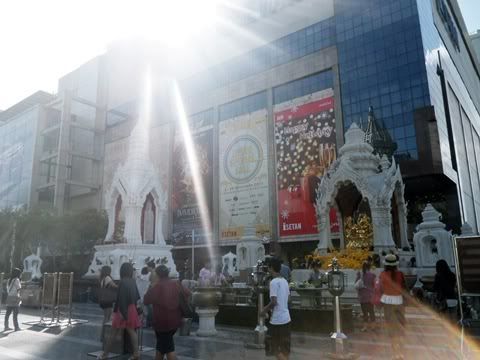 shrines can be found outside every major shopping mall, including central world, where devotees would pray.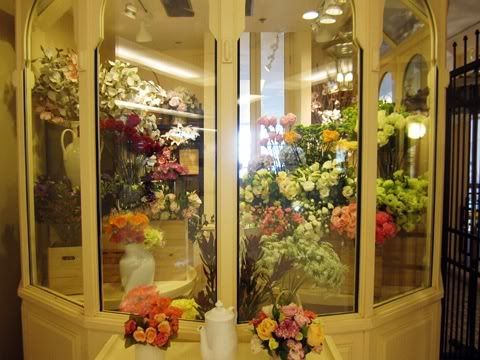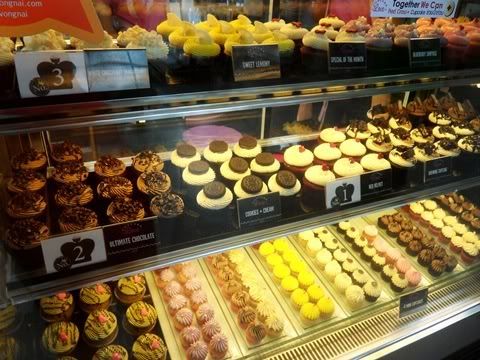 stopped by for cupcakes at cupcake love.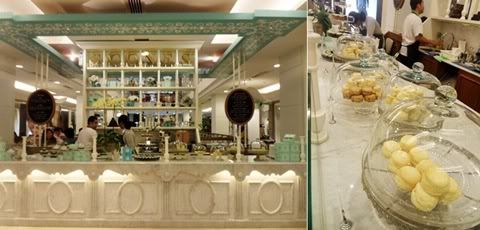 a shop at central world that sells scones, and only scones. so pretty!!

bought these pretty doughs from istean, central world. they had some japanese food fair going on, and i swear everything was looking so good, so tempting!! we bought these, really soft buns and dipped them w condensed milk.......... bliss.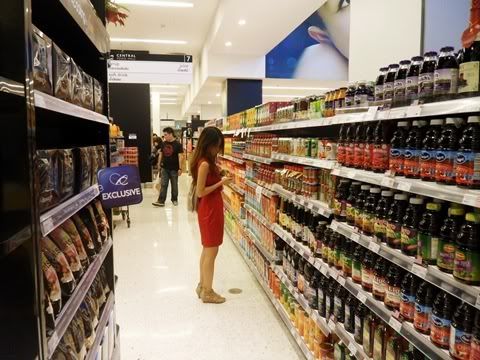 bought a mini pizza to try! but the next minute, it went rolling on the floor... there goes my mini pizza.

we went to siam paragon next, a very upmarket shopping centre - definitely appeals to the upper class more. they have an impressive number of shops and a real huge gourmet market at the ground level! we decided to settle our dinner at siam paragon instead since the restaurants there was pretty decent, in fact we were spoilt for choice.


dinner was at amici by pomodoro,
of cos, food was much more pricey compared to streetside food(30baht can easily get you fried rice/noodles etc). the pasta here cost around 280/300baht (11sgd) well, still cheaper than those in sg!!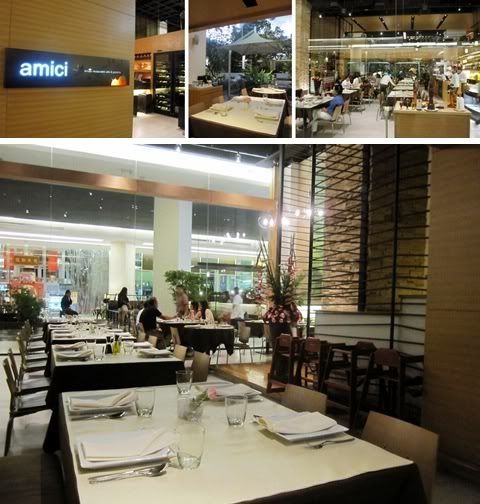 what a lovely place


day four
our last day! since there wasn't much time left for the day, we decided to just head straight to platinum to get my clutches, shoes, as well as gifts for my friends and family.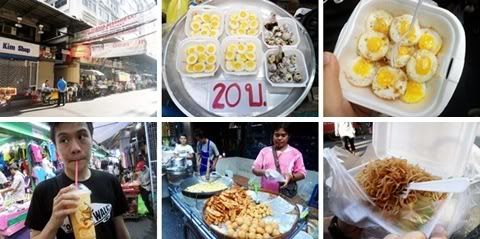 and of cos, breakfast that we gotten ourselves along the way.
quail eggs (this time round, even cheaper! less than a dollar), fried balls, and fried instant noodles (which were so damn good, even though it's only you know, instant noodles) x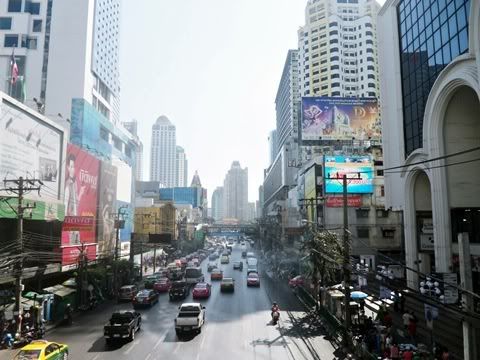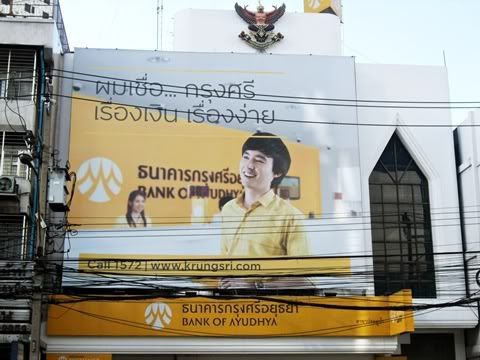 bought lunch back! we had to check out at 12, so we decided to head for early lunch.
these wings are to die for, so crispy! and they are only 10baht each...........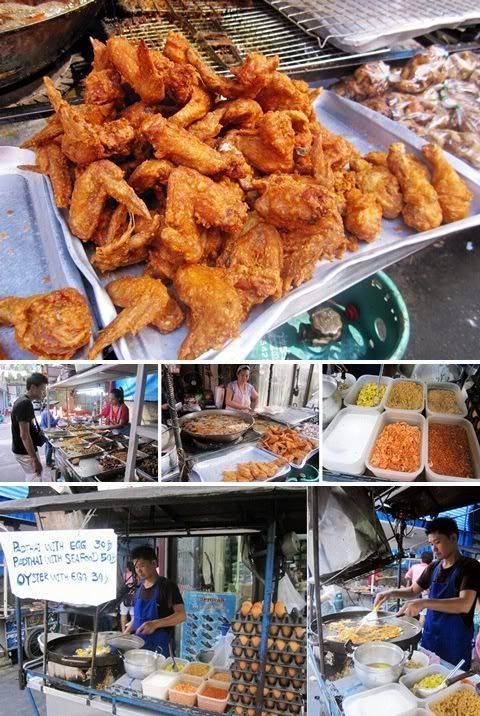 third and my last phad thai in bkk....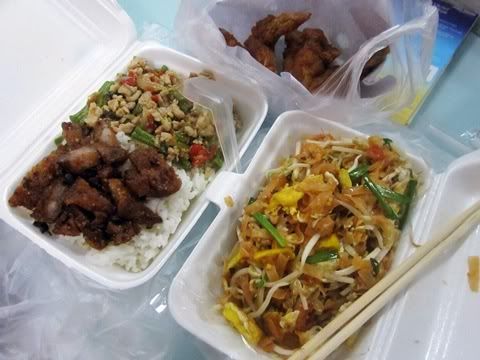 suvarnabhumi airport,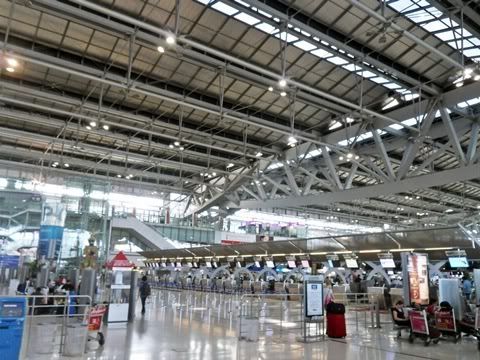 we left bangkok w two luggages full of clothes! bear in mind we came w empty luggages! definitely a fruitful trip. we decided to grab one last meal at the airport since we have some thai baht left. though there was a whole row of nice restaurants, we didnt have much choices left. we spent all our money on shopping and had a couple of hundred bahts left only. managed to find something we can afford though,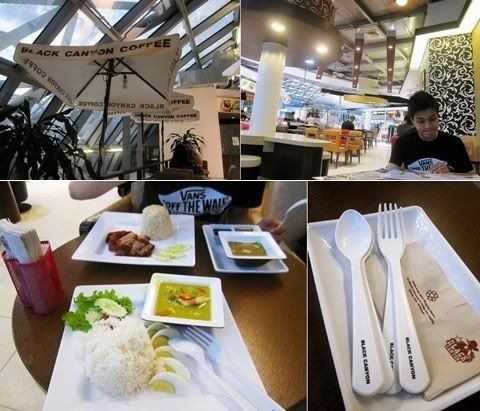 we spent our last 250baht on a cup of thai iced tea
(100baht)
and tom yum rice cookies
(150baht)
. the thai iced tea sold at the airport was almost ten times the price of ones sold along the street, but it's really good. no regrets.

roamed around the airport before we depart, and it's finally time to bid bangkok farewell. it was a fun and memorable trip. traveling's addictive, definitely looking forward to more trips tgt especially after sean's ord. i'm sure there will be, we have a lifetime to go anyways. x