prior to our bkk trip, i did a little research/hunt online on cupcakes in bkk. told myself i had to hunt and have some cupcakes in bkk, and i did. two days in a row in fact. it's not exactly a big deal actually since the cupcakes phenomenon has been around for years since 06
(or even earlier),
but i just had to. these little pieces of sugary bliss are one of those many things that makes me really happy.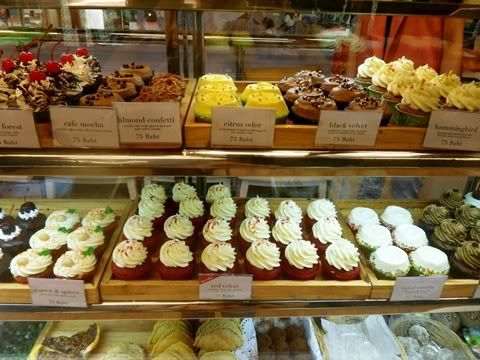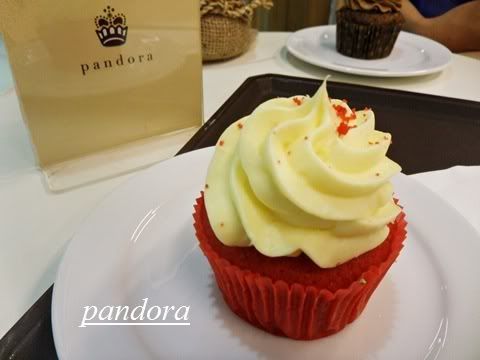 red velvet cupcake from pandora
i was pretty excited about their cupcakes after looking on their website and seeing their amazing flavour selection. they even come in different sizes: S, M, L, XL!!
felt i had to try the red velvet and sean decided to go with the irish coffee cupcake. well, he isnt much of a coffee lover, but i dont exactly like rich chocolate, in fact, anything chocolaty
(oreo and chocolate chips cookie are fine though).
they are really good, the cake was moist yet a little crumbly and the sour cream frosting on my red velvet cupcake was just really different. i really like it.
plus, it was only 75baht each
(approx 3sgd)
! well definitely tasted so much better than some of the cupcakes i've tried in singapore, that cost so much more. this, such a steal!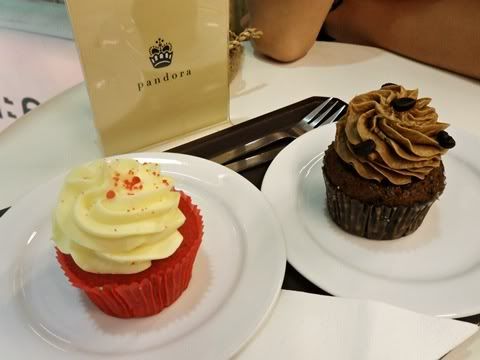 red velvet cupcake, irish coffee cupcake from pandora
Pandora
3F Siam Center/ 5F The Emporium/ the avenue chaengwattana
all stores are in bangkok, thailand
email: info@pandorabakeshop.com
tel: +662 9800950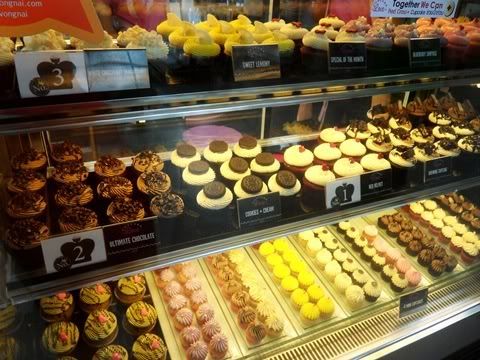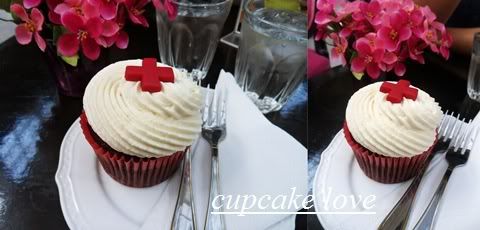 red velvet cupcake from cupcake love
facts first: cupcake love is lead by nisa dachoponchai who crafted her baking skills at le cordon bleu's reputable culinary arts school. most cupcakes are 80 baht
(about 3.30sgd)
, or you can buy four mini cupcakes for 125 baht.
the array of scrumptious looking cupcakes on display makes it a daunting task to choose which ones to try. we decided to pay a little more and go ahead with the red velvet cupcake w a little red cross on the frosting, instead of the usual heart shaped ones - where part of the earnings will go to the victims of the recent flood. they had an impressive assortment and all of the cupcakes looked very appetizing, the decos at the shop too - they were so pretty!!!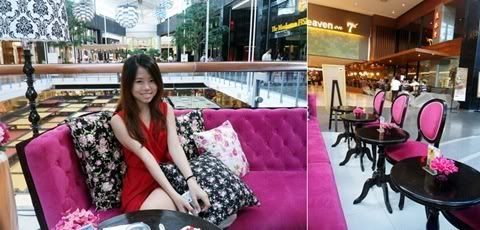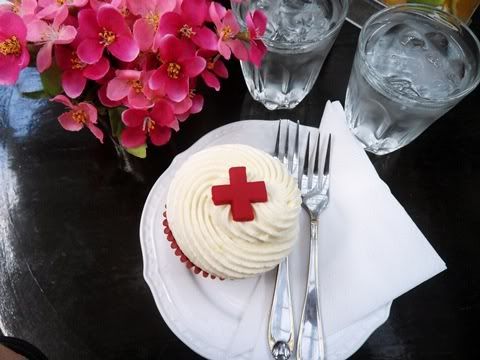 red velvet cupcake from cupcake love
however, where they do a good job in providing assortment, their cupcakes came out too dry. though i thought the frosting was pretty fine, the cupcakes from cupcake love did not exactly leaves me a good impression...
Cupcake Love
3rd Floor Digital Gateway Building and 7th Floor Central World
email: info@lovebakeshop.com
tel: 081-496-3130
also came across a few more other options,
cup-cakerie
,
cupcake carousel
,
sparkles
i really want to try sparkles the next time i head to bangkok, gourmet bakery owned by thai-american, sophie. they have got fifty five flavors to choose from,
omg?
plus, i would really really really want some thai iced tea cupcake now.....
but where can i get it?