just got home from town, almost died on the bus... apparently it took me more than 45min to travel down from dhoby ghaut to far east plaza, which i could do it in less than 20min by foot, wtf. this public transport system in sg's really having some serious issues. yes and i dont really wanna go on on the price hikes for cabs. as much as we wanna boycott them all, we cant.. still got to rely on these public transports. so sad.
on a happier note, i'm finally done w this term. which means another term to go and i'm done w my forth semester in np. time flies. exactly two years in sajc, and now two years in np already. wow..... i cant wait to out of poly though i have no solid plans at all what to do after i graduate. some plans in my head, but still not quite yet..
so i officially turned 20, and entered a new decade last week. oh and that's also my second birthday spent w sean. it's quite a strange feeling not to be a teenager anymore because seriously, i really dont feel like a twenty-something. i'm pretty excited though, this one's quite a milestone, marks a nerve racking stage of life. can you believe we might all probably get married in like what, five years? gosh...
thanks everyone for the gifts, for coming to hang with me and for celebrating my birthday w me, it really meant so much to me. love you all so much.
i was asked to keep the eve and actual day free. right after school on the 5th, i headed over to his crib. i knew he was going to cook me a feast either on the eve/actual day. i mean it's quite obvious because he didnt deny it
(what's there to deny anw)
and he actually took off on both eve/actual day of my birthday. i made a post on it previously trying to guess what was he making in the kitchen. i got 2/4 of it right though, ok good try still haha

first and second course: cream of mushroom, garlic butter shrimps.

comes w a menu too haha!
(and if you wonder how sean's handwriting's like...)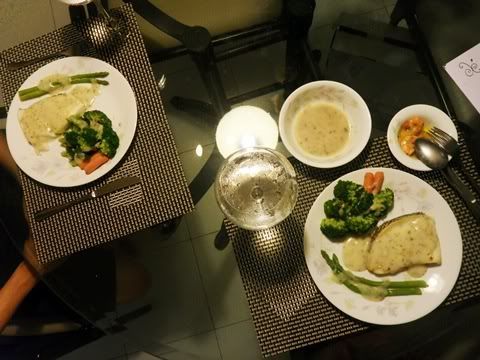 third course: baked cod fish in cream sauce w asparagus and greens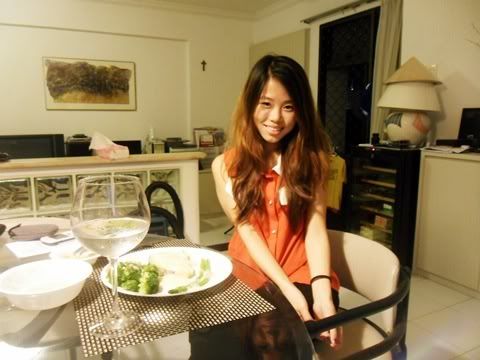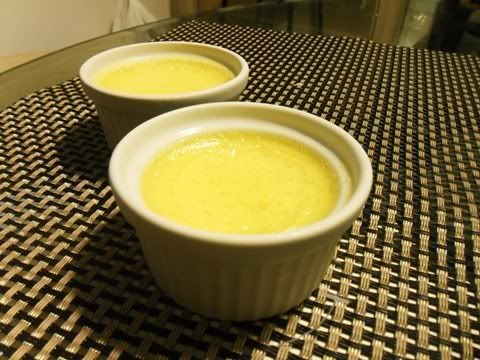 fourth course: creme brulee
so yummy! i love the baked cod fish the best, definitely satisfied my fish craving for that week. i love how my boy could read me like an openbook. oh and he got so addicted to making creme brulee? i knew he spent so much time on it, and i loved how he wanted to amaze me w the blowtorch, but failed because we didnt get gas. how cute. he did it the second time though! so hopeful that sean never gets tired/bored of making them, i'll definitely be a happy girl
(and happy tummyyyyyy too)
the morning of my birthday, i woke up to the doorbell - ok yes apparently my boy's at the door. so me being me, i refused to reach for the door. fyi i dont actually response to the door bell especially in the morning
(srsly hate salesmen trying to push sales at the door, so yeah, learnt to not response at all)
. my mom took quite a while before opening the door
(yes the bell went on, but no one cares. so you know what to do if you should look for me haha CALL MY MOBILE)
. my boy came over and surprised me w homemade breakfast! definitely a great way to start off the day. he stayed on till i got to leave for school.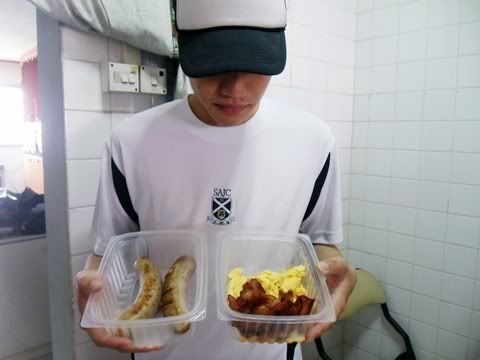 sean brought me up to
ku de ta
at mbs for dinner, i've wanted to go there since forever after hearing how beautiful the view is up there. made a reservation at the outdoor seat - which was even better - since there was some function happening in the indoor section itself. and i must say, the setting was so beautiful. thank god for the perfect weather. i felt like i was on the top of the world hahahaa.
realized that i'm really someone who'll buy into the experience after all these years, really enjoyed the luxury infusion of the restaurant/bar. the food was not bad at all, i'm in love w the curry prawns.... well still, quote zn "the food was good, but the view was even better" 'nough said.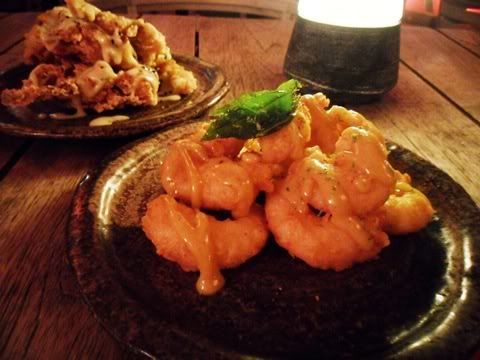 crunchy jumbo soft shell crab
yellow curry crystal prawn tempura
(this is damn good)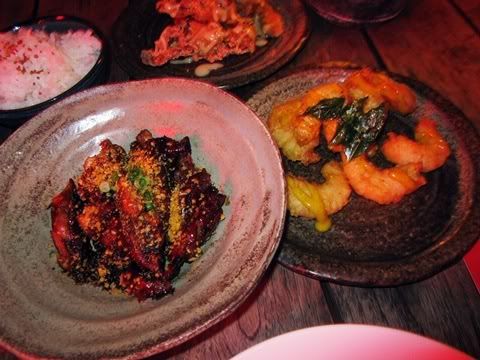 whole baby chicken teriyaki
steamed akitakomachi
(steamed white rice for sgd5)

the meal was kinda filling surprisingly.
and of course, we took a stroll on the observation deck after dinner. apparently you got to pay $20 for the skypark charge, but we omitted it! and the view from the 57th floor of mbs
(200m in the sky)
was magnificent at all angles.... unbeatable. took a view of singapore's skyline at
level 33
previously, got to agree the view from mbs's much prettier! both are still stunning though in my opinion.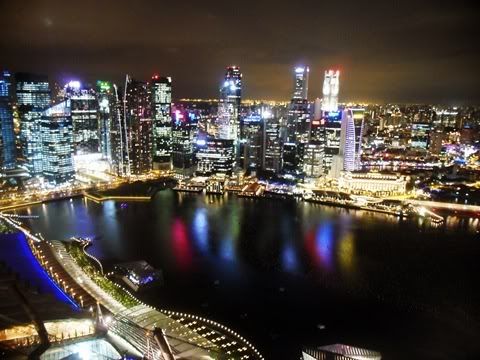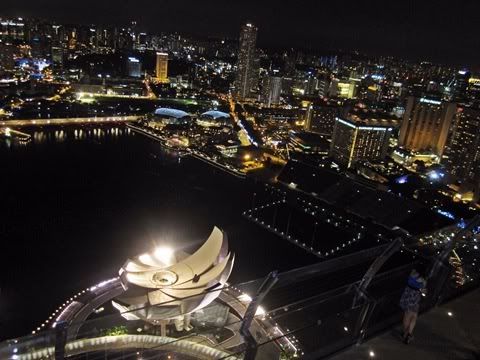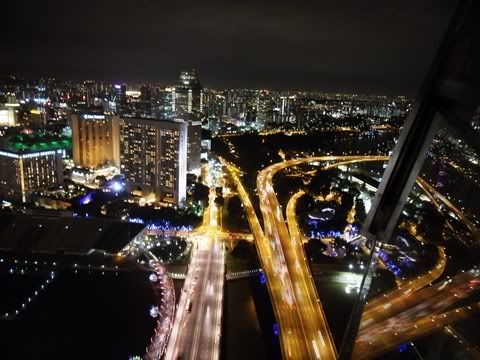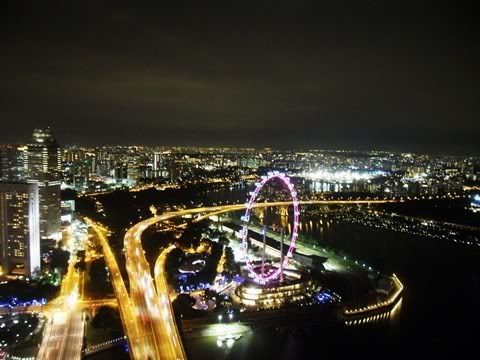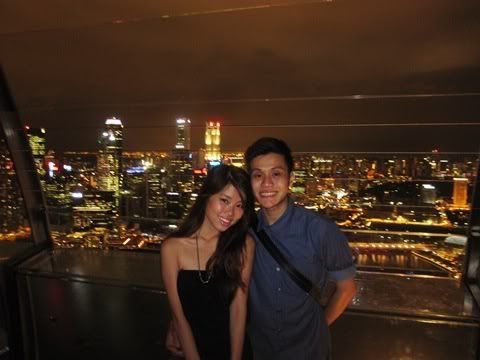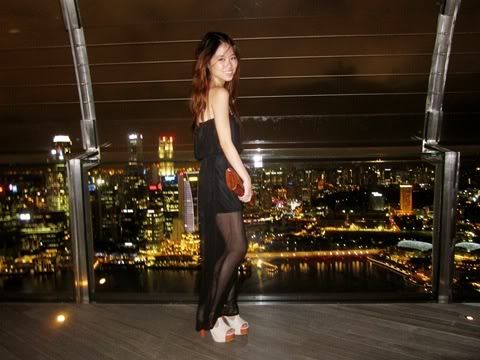 outfit:
black mesh jumper: F21; clutch, shoes: BKK
i thought it would be wise to do an outfit shot right on the top of mbs, haha.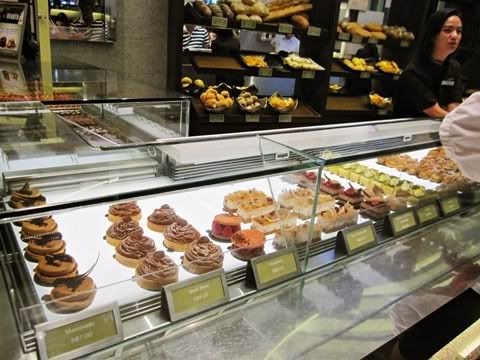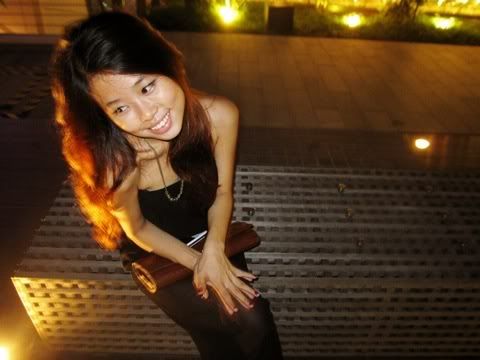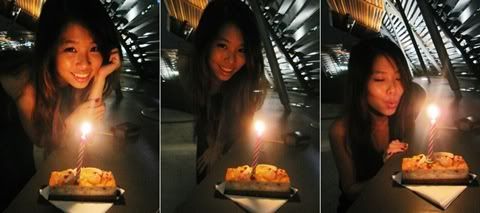 pear cheesecake from sweet spot, it was not bad!
sean sent me back right after since i have got to attend school the next day, sigh. he stayed w me through the night though, so technically i spent the whole of my bday w him
(he left after 12am the night before and on the same night)
felt so loved the whole day, thanks love!! x
celebrated my bday w my girls too! this one's at creation cafe.
we ordered multiple plates of laksa cream pasta and javanese curry pasta, so so so yummyyy. now i get what the hype is all about.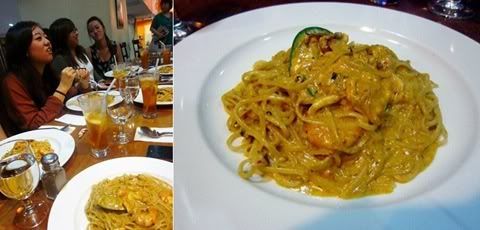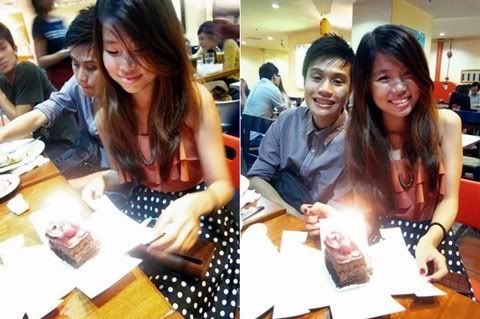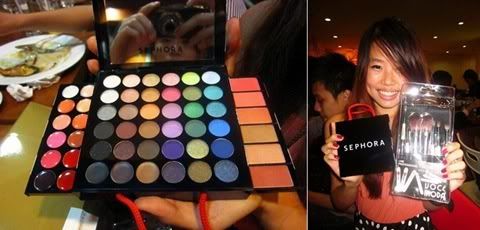 sucha pretty palette from my girls!! and also, a set of brushes i'd need!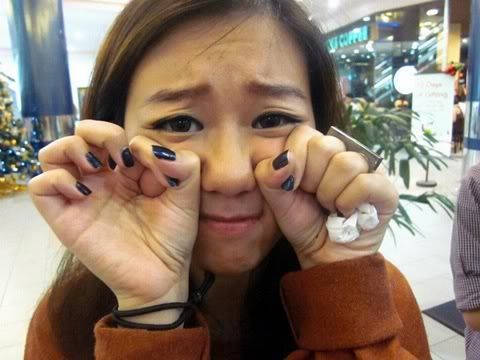 one of the reasons why i love the fact that my birthday falls in december would be because of the pretty christmas lights/decos.
lunch w the usuals the next day, these girls are such sweeties - they surprised me w a bouquet of flowers and a balloon! i love flowers haha, i want a garden in my house in future.. lots and lots of flowers. haha ok stop dreaming alr.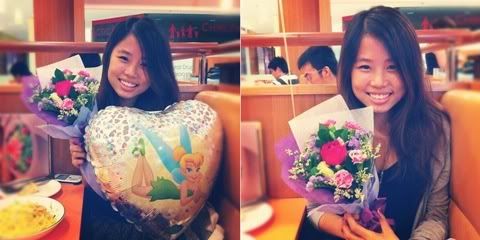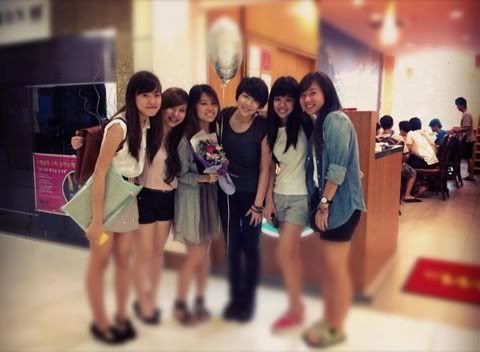 met jm, hy, cj for dinner the same night!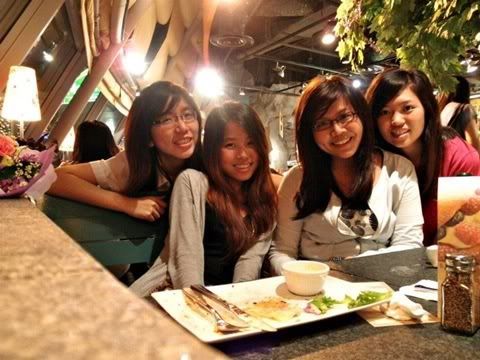 eight years of friendship, wow. two more years to a decade w these girls, can you believe it?? x
vietnam trip w the girls in a day
(ok i still have got packing to do tonight)
. so excited just by googling all the places we could go! will be there for seven days, i'll be back just in time for christmas. might not be blogging on bkk tonight, so probably till seven days later but i hope to post it up before the next year. i'm also thinking of getting a new layout for the blog. short term goal, lol.
made smth for sean's parents,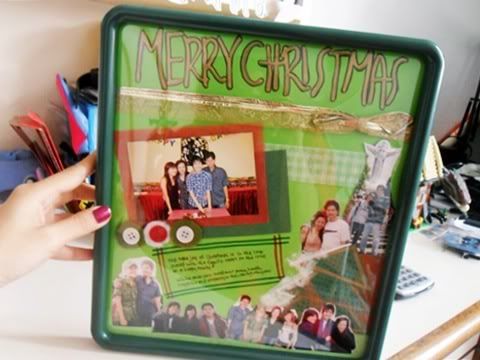 heading off to christmas shopping w the boy tomorrow!! gonna crack our brains still have got no idea what to get for sean's parents and sister, and of course, sean's.....
(biggest headache lor)
till then x