exams are done!
(explains why i havent been blogging much, and that why i'm back to this space again)
had my last paper on wednesday morning, and it was horrible. but i'm more than relief that i'm done w my forth semester in poly. now there's only two more left. if i take a moment to think about it all, i'm still truly glad
(to some extent)
that i took this longer-alternative route even though i started out all alone. afterall i've made some close friends. still, i just want to graduate asap.. because i still have a long way more to go. sigh getting a degree seems so out of reach. wish i was smart. but for now, i guess i have to make my priorities right. make time, time to concentrate on other/important matters.
neways, here's how i spent my vday! saved the date to spend it w my favorite boy and i'm so thankful that he gets to book out. his company was really understanding, everyone gets to book out, everyone gets to spend the special day w their girlfriends :')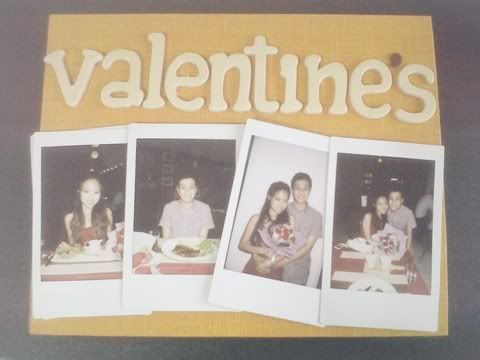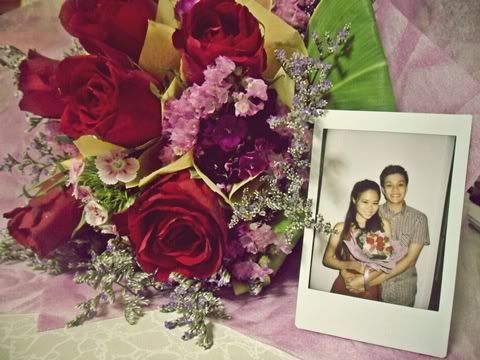 the boy got me a bouquet, a box of violent lips and an usagi. time to have some fun w a decent film camera, hehe i'm excited! gonna get a roll of film soon. sean was really sweet, and i really do appreciate all the efforts he put in for this vday. i felt really bad, he actually took few days off just to head to town to get my gifts, and to make gifts. yet on the same day that he was busy looking for my stuff at town, i told him how upset i was because i thought he didnt plan to make me anything LOL
(well it's supposed to be a surprise, so i cant blame him for not telling me his plans right.....)
i can be such a meanie :(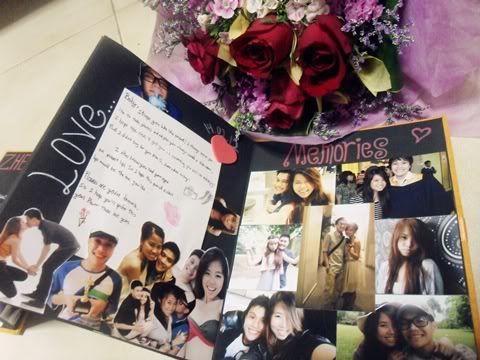 really lovely booklet he made. see that photo at the top right hand corner? that was taken on the second day we knew each other.... hahaha god that was so long ago already.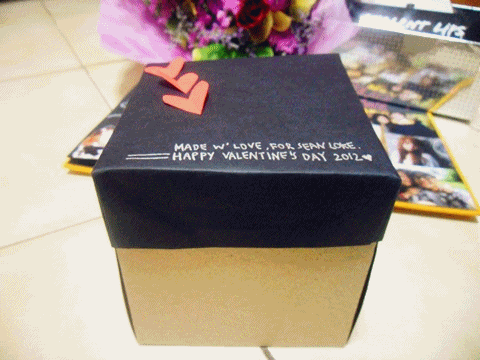 i made an exploding box from scratch, and it took me no more than two nights. two full nights. i had to complete it asap since i was in the middle of exams, and i cant focus when i know i have got smth on hand, and not done you see. the point is, i'd rather spend time doing all sorts of things i like, rather than facing my notes. if you're wondering how i make the box, just google "exploding box" and you can find lots of instructions. haha of course, i did modify quite a lot of it, and i even stuck figurines in the middle of the box, apparently sean wanted that for quite some time. he has been shopping and browsing on ebay using my laptop, so i found out what he wanted through the history tab.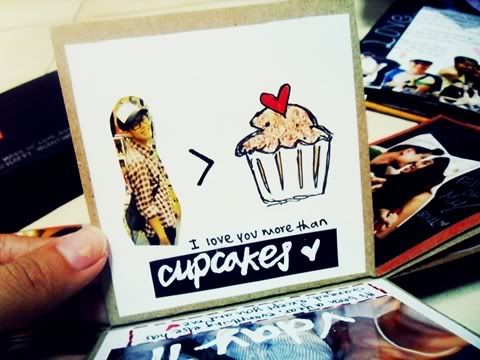 i love you more than cupcakes, and i really love cupcakes haha.....
sean made a reservation at
le bon marche
that evening,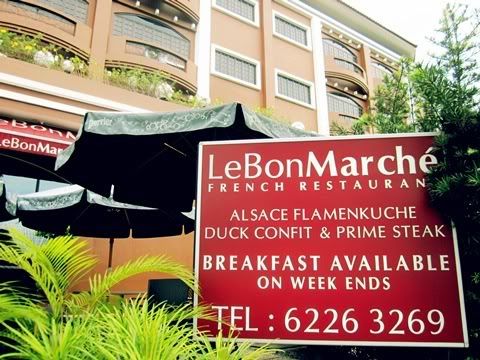 le bon marche's situated along the busy roads of bukit timah. we took a cab down, was quite an unpleasant ride because of the cabbie,
(he took the longer route, he assumed that we dont know our way etc, had some issues)
but the food at le bon marche's and my wonderful date made it up for it.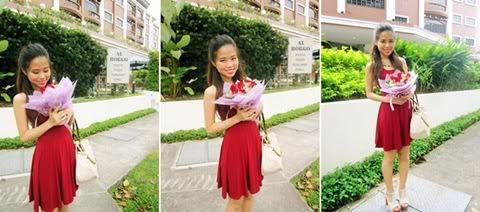 and this happens everytime i receive a bouquet hahaha......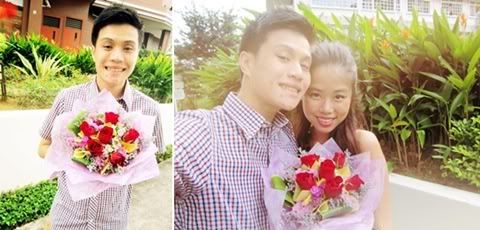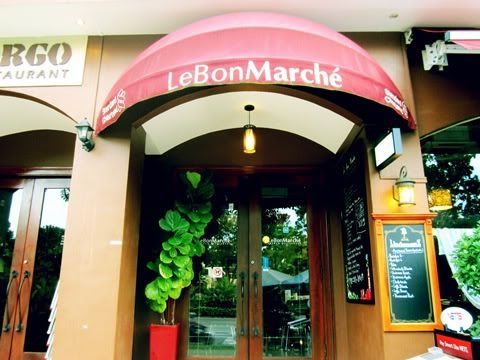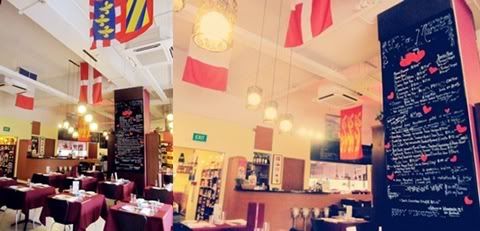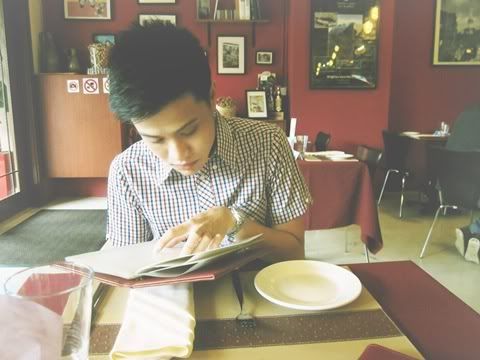 they had really simple set ups, and i love it. simple and nice. neways, here's our complimentary bread. i love the bread! very nice, and my favorite's definitely the cranberry loaf.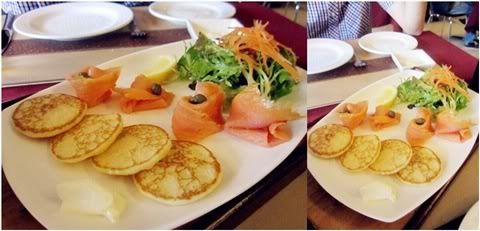 scottish smoked salmon platter
(premium scottish smoked salmon served with warm blinis pancakes, lemon wedge and creme fraiche)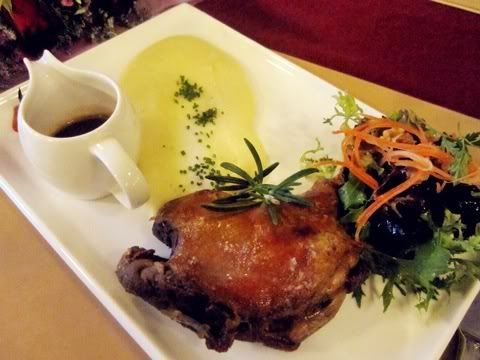 french duck leg confit (w charlotte potato puree served with cassis duck sauce)



sauteed beef onglet steak (w shoestring potato fries, shallots and parsley jus)
apple tart tatin (w creme fraiche and calvados liquor)



hot souffle w grand marnier liquor (served w hot chocolate sauce)

it was an enjoyable meal! massive portions, and service was extremely sincere. starters (smoked salmon and pancake) was extremely tasty. my duck confit was really crispy, loving the mash potato that came w it too. we were surprised when the waitress brought both desserts to the table, we didnt expect such huge portions for desserts! and they were really good, hardly considered overpriced considering the portion sizes and the flavours that went into it. what sweet way to end the meal - left full and satisfied. got to thank my favorite boy for taking me out and esp for taking all the time and effort doing so much research on the restos!

the weekend before vvvvday, i also made matcha green tea toast crunch for sean and his parents. a really simple recipe, and i got the recipe from here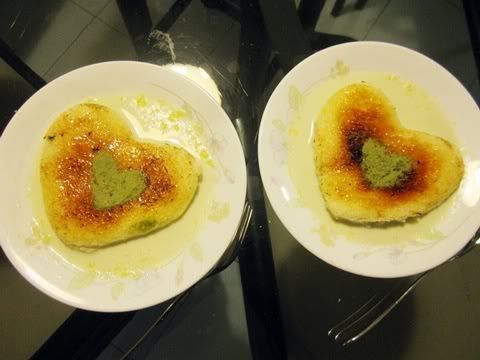 like what the vid-recipe says, this is three best things in one recipe - a combination of french toast, tres leches, and the caramelized sugar crust of creme brulee. yumyum, it's so easy to make, and it's really good! will try it out w cocoa powder instead the next time i make these all again.

also, i have been pretty lucky of late. two weeks ago, i won myself a makeover session, colored contact lenses, shu uemura products, as well as vouchers worth a few hundred $$$. i haven receive photos from the makeover photoshoot session, but it was definitely a good experience - put on contacts for the first time in my life (fyi i have perfect eyesight hehe. and i took half an hour to put it on hahaha)and had the taste of being a model for a day - someone to style my hair, someone to do my make-up, someone to style my clothes, and someone to snap photos of me. it was really fun!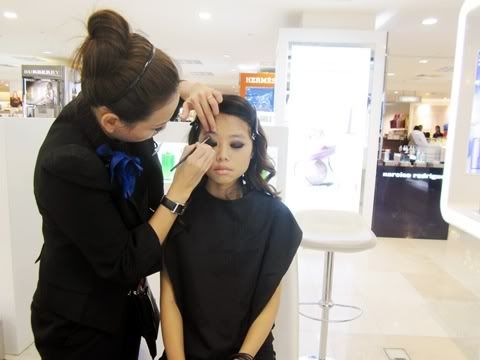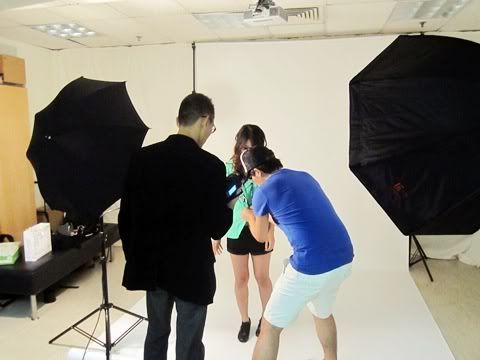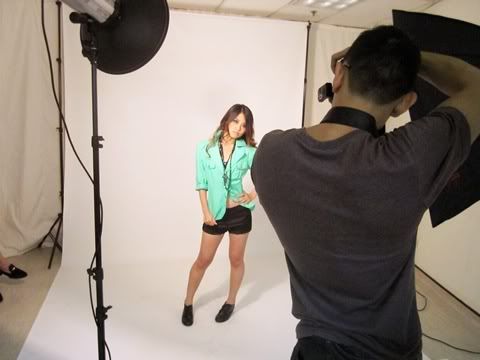 went out for a little photo date w the boy because i didnt want to put that make up and hair do to waste! hah i mean i seldom/almost never had the chance to put on such heavy make up... the blue contacts made me look like an alien, and also an ah lian though. but colored contacts are really pretty, maybe not blue, but i dont mind trying grey.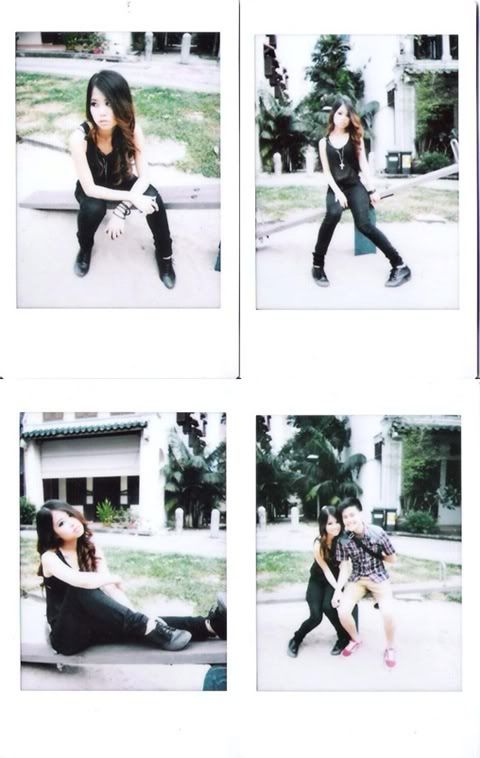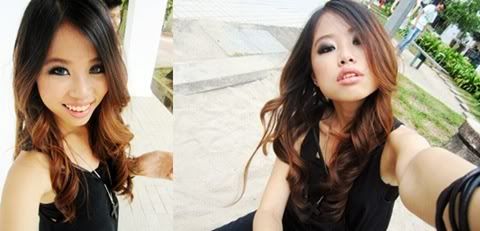 hahaa imma one ah lian that day, totally. sean called me lao lian the whole day, meh :(
photospam, so sorry. haha i'm so vain. i mean everyone knows it... so yeah.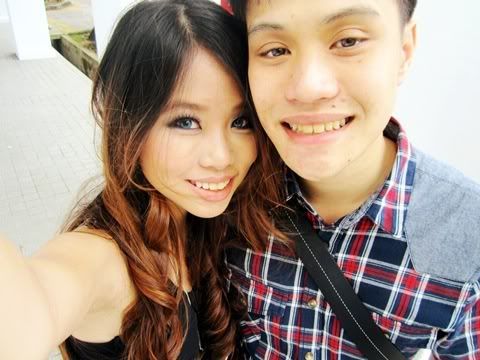 xxxxx

just last week, i won myself yet another pair of invites to dj doze at ku de ta. my second time up at ku de ta - previous one on my bday, and last week's at the club lounge. didnt stay for too long because i have to go back to studyyyy (i have a paper two days after that) sigh such is life. but was lucky enough!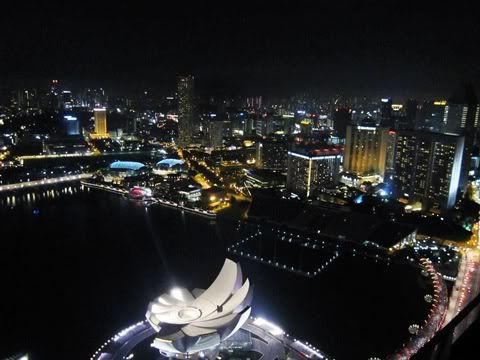 view from lvl 57. slightly different from the previous time we were here, since we were viewing from the club lounge this time round, instead of from the resto.

and yesterday, it was a whole day of fun for sean and i, since i'm done w exams. NO MORE BOOKS(NOTES) on weekends, yay! the plan was to have brunch, then a trip to the shoppes at mbs, before titanic exhibition (finally) at the artscience museum, then dinner at skyve elementary bistro. apparently i won myself a degustation dinner worth $300 back in decemeber last year, and i finally made reservations to have dinner yesterday. the food was really amazing, and i'll blog about it real soon in a separate post w pictures, tgt w pictures from the three 21st parties i attended the past weekends, all my closest friends!
february's really good, every weekend was filled w different events, and dates w my boy. my weekends were lovely, and really productive. am really thankful xx
hoping i'm as lucky too when it comes to exams..... hahaha


i'll be starting internship tomorrow, i hope it's manageable. got to travel quite a distance every day. meanwhile, i'll try to find motivation and also make good use of my free time, try to save up as much as i can. thinking of working part time when i start school all over again in april, i need to fund for my new camera, as well as june's trip. really hope that june's trip will happen. keeping my fingers crossed.