i'm back with another post. that's three in two days. i haven't been posting so frequently in a long time! wow good sign. it's good to pick up this habit of blogging daily again. right, maybe a post in two days sounds more realistic. so i caught the vow and battleship last week, and this weekend, i'll be catching gone, and another flick on dvd.. back to the old routine! at least a movie per week. be it in the cinema or on dvd. the vow wasnt as good as expected.. overhyped. on the other hand, i thought battleship was pretty cool, and i really cant wait for avengers!! purchased this week's 8days
(mr captain america is staring at me right now, hello there!)
, cant wait to see more of him in the cinema. and by then when the merchandises are out, sean and myself would be busy fitting pieces of lego bricks together. hehe
finally some decent updates w photos, before i d i s a p p e a r. haha
in case you dont know, i purchase 8days frequently. and the crave//eat section easily made it to my favorite section from the mag and i usually read ALL their food reviews. so one day, i was reading as usual
(hunger games was on the cover)
and i saw this:
"The Food: Hearty options under their list of 'Egg inspired' dishes include a very delectable Eggs benedict ($18), made with a twist. With two perfectly poached eggs, served not with bacon but robust - flavored shaved lamb prosciutto. And replacing plain old English muffins are kalamata rosemary scones, redolent of the fragrance of the herb, making it a perfect match for the cured lamb."
egg benny and scones - what a combination, i love the idea of two of my favorite things together!! definitely a different take from the usual norm. just reading and looking at the foodtography alone made me all excited, and so i went ahead to make reservations the week after lol. i brought sean along w me since he didnt have to be in camp that day, and i bought a voucher from their promo online, hence a special price of $12 for one of the mains.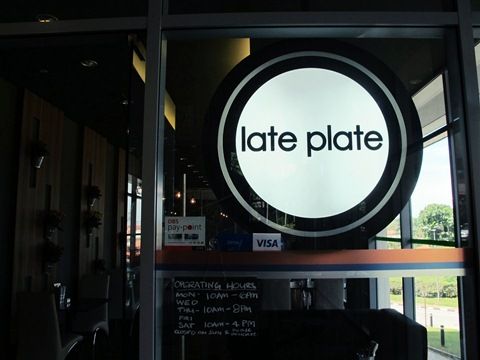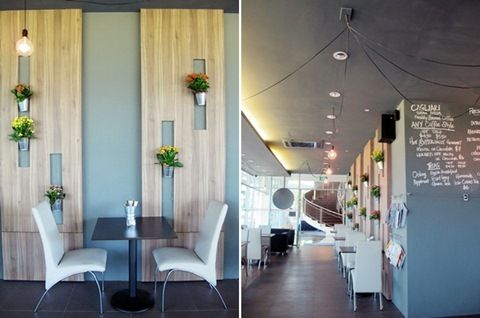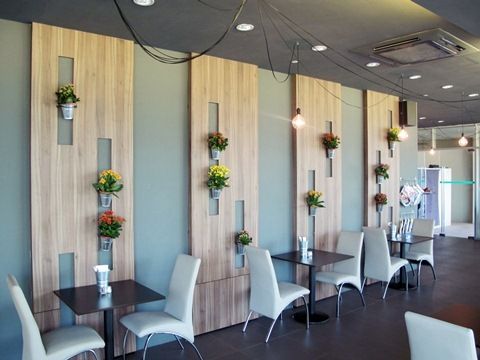 some humble snaps from cammie g!
late plate
is located at the shaw foundation alumni house, inside the NUS campus along kent ridge drive, definitely not the place that comes to mind when you think of breakfast and brunch. it's not too accessible unless you have a car. i took a bus to NUS and alighted at the wrong stop apparently, took quite a while to get to alumni house thanks to all the directional signage.
if you haven't realised, the menu's listed on the wall.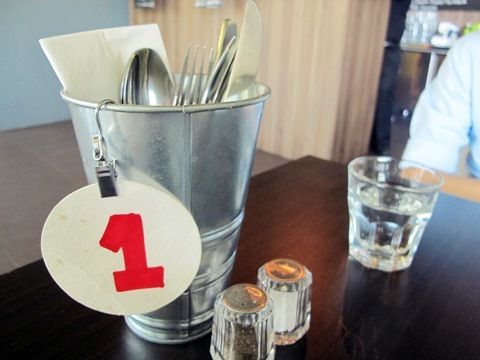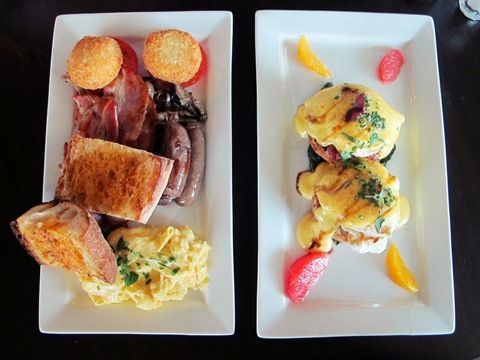 left: chef's fry up ($20) right: egg benedict ($18)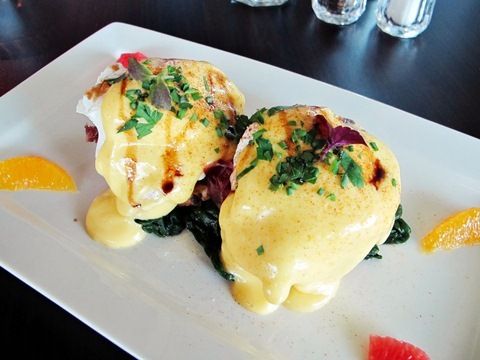 like exactly what's quoted from
8days
, this isnt the usual traditional egg benny. the poached eggs over here at late plate were served on kalamata rosemary scones instead of english muffins, and it comes with a choice of ocean trout or lamb proscuiutto. i had the latter, obviously. and yes what a winner. hollandaise sauce was yummy, poached eggs + scones = excellent combination.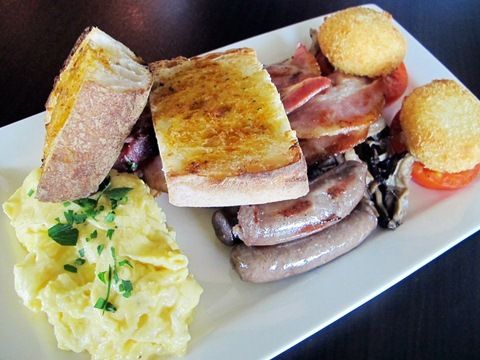 sean had the chef's fry up. it was good as well, especially the croquettes.
Late Plate
11 Kent Ridge Drive, #01-03
Shaw Foundation Alumni House
Singapore, Singapore 119244
FB:
https://www.facebook.com/lateplate
i bet everyone have tried the legendary
kfc double down burger
? this double down burger definitely made a big push right here. i had mine close to two weeks ago, two days after it's debut in singapore? which was also the same day where i dropped by late plate. it was really shiok. i love how it's bread-free,
(even though i love bread)
i love how it consist of just two slabs of fatty goodness, sandwiching bacon, cheese and some sauce - too good to be true hehe yet another combination of my favorite shit.
(yes i know lots of fave food, i mentioned egg benny and scones, and now bacon and fried chicken. these are all my comfort food! there are definitely more down the list, toufu mushrooms pastaz, haha i'm just really greedy.)
god, my love of junk food..... i wanted a second double down to myself after sending the entire shit down my system. it's good, not extremely
yummy-yummy-tummy
, but it's good enough. that's why i dont understand how some girls called it quit after their first
(or second)
bite, or dont even want to give it a try at all. i mean it's actually equivalent to a two-piece chicken meal la srsly, with an additional bacon hahaha. aiya, i know i'm growing horizontally + me so unhealthy but who cares. life is too short to be on a diet yo.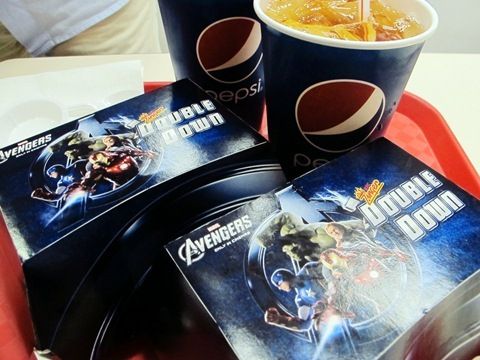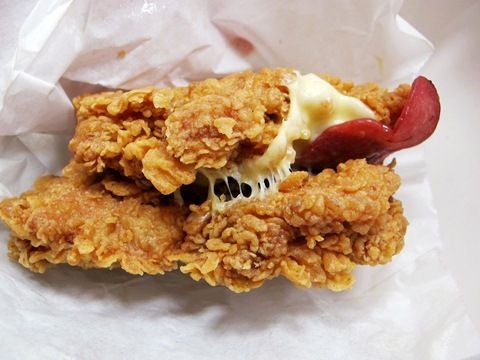 owh....... hi.

made a trip to katong sometime ago, i wanted to check out katong I12. then we decided to walk to old airport road food centre from katong based on instinct, since it's just so near, but we got lost halfway in the shophouses along joo chiat. hahaha okay not really, but we took the longer route, a much longer route and ended up at geylang serai before turning back to katong again. please dont laugh, i'm a westie okay! i took the challenge eh, cant exactly rely on the map on my lousy bb as well, yet i wanted to walk. i love to walk. however, we chanced upon a hidden gem along the way, blessing in disguise? :)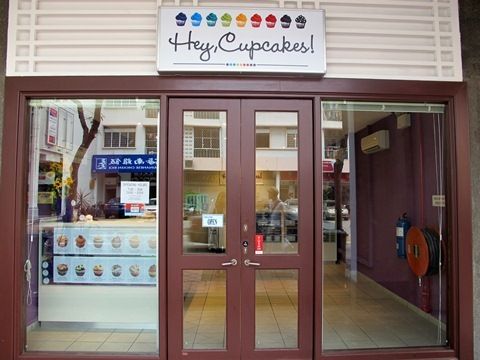 we walked in straight upon seeing the signage. afterall, if you have a sweet tooth and love taking photos, visiting a cupcake shop's one of the greatest places to be. click
here
for their menu x
couldn't resist getting the rainbow cupcake upon seeing it on the rack. look at the colors.... i just had to. sean's picked cookies and cream. well sadly, we chanced upon hey, cupcake! in the late afternoon close to evening, and most of the cupcakes were gone. i would love to have a red velvet cuppie anytime. they also have special flavored frostings on cupcakes; maple frosting, milo frosting and ribena frosting. apparently, they do customizations as well.

over the rainbow - cream cheese frosting on rainbow cake, sprinkled w rainbow bits ($4)
cookies&cream - cookies&cream frosting on chocolate cake, sprinkled w oreo bits ($3)
Hey, cupcakes!
428 Joo Chiat Road
Singapore 427645
T: 63450113
FB:
http://www.facebook.com/HeyCupcakes.SG
alright so right now, i'm still quite determined to post up photos from
full house, mint museum
and
pique nique.
ok i hope to do so soonish, they're like approx two months backdated? whut... sorry to bore you guys w sean's and my face in almost every posts. as you can tell, he's the best part of my life. of course, in a good way.