this week has been nothing short of amazing, though i'm feeling super lazy. i've got so so so much more work to complete before my aussie trip next week, sigh i have no sense of urgency at all. shame on myself but i've been idling and doing nothing relating to school work. ok, drop that. last weekend was almost perfect, happy birthday again my dear boy! and i've got so much to share on his whole birthday weekend. pictures, the planning, the screw ups, oh the screw ups are interesting. the happy stuff, things that went well, so so much. but not today. for sneaks, you can view the photos here,
x
.

as i mentioned earlier, this week's been pretty awesome so far. sean and i kinda have the whole house to ourselves since sean's sis and parents are out of town, and will only be back next week. don't get me wrong, i've always felt that travelling is a privilege, so of course i am really happy that they got to travel and enjoy themselves overseas, especially sean's sister. i mean newyork bound for two weeks, alone! how fucking awesome is that? well, but what i loved about the week so far's that sean and i got to spend lots of time together, lots of quality yet fun time together. doing work (or rather, pretending to start on my work), watching movies/dvds, lots of cuddling and play time, sleeping, solving bag it and play scramble w friends together, feeding the rabbits, collecting mails from the post office, thinking and brainstorming inexpensive ways to enjoy yummy meals and still have fun together, getting groceries, cooking meals together, cleaning the kitchen and washing the dishes together (!!! guys please note, never ever let girls wash the dishes ALONE - unless...oh well you can choose to wash them all), washing clothes, couple time and all, fixing lego, and even cleaning the house - together. just got reminded that we've spent seven days, from dawn to dusk, together already. though i don't stayover every single day, i felt like we're pretty much like a young married couple, living together, just the two of us, everything was good.
like i said previously, we've been thinking of ways to cut down our expenses on food, i wish we had unlimited funds to stock up and spend too, but we don't. so we decided to get some simple groceries from the grocery store and fix our own meals. i'll bring breakfast over to sean's in the morning if i did not stayover, and we also made good use of whatever we have at home
(canned food, rice etc)
. i think we're really good when it comes to searching and planning our meals for the week. so w less than $25
(ok technically, less than $5 because have a $20 voucher to spend on)
we managed to get eggs, meatballs, sausages, prawns, cheese toufus, drinks
(because we dont drink plain water)
and even SNACKS. ikr, lots of snacks. well and that could last us for a week! haha why do i sound like i'm filming a cooking show - budget meals/students eating on a budget, shit. lol.
some visuals:
(yeah i know these are just some cheap eats, and home-cooked food. nothing amazing, but they're made w love you know hahaha fuck this is cheesy.)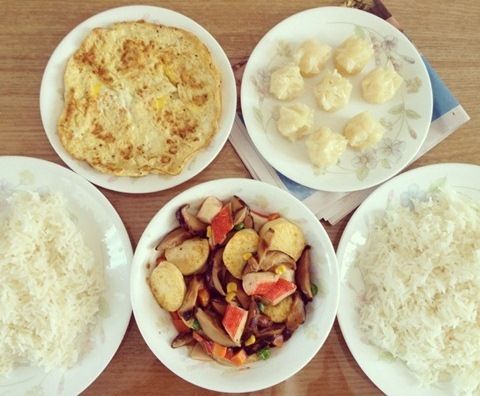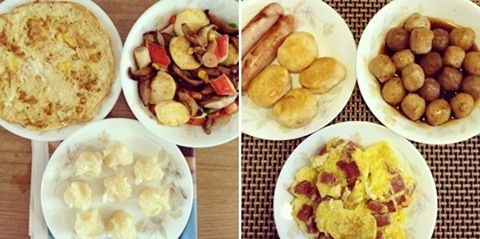 today's lunch on the left, and today's dinner on the right.
(and of cos, both meals coupled w rice)
lunch was good, stir fry toufu/crabmeats/mushrooms, fuyong egg, and steamed prawn siewmai.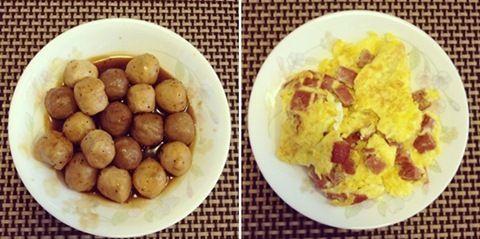 dinner was really cheesy - cheese toufu, cheese sausages. dinner was pretty unhealthy too, nothing but just fried food, meatballs and more meatballs, and luncheon meat..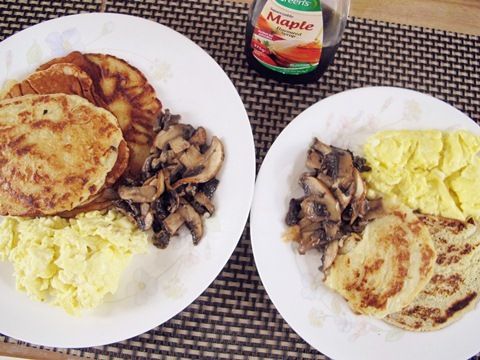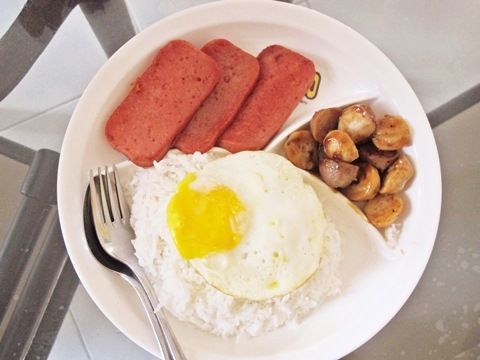 sean surprised me w breakfast food on tuesday, i love breakfast food! so we had pancakes, scrambled eggs, and sauteed mushrooms
(w maple syrup)
for lunch on tuesday, and apparently the pancakes looked like pratas LOL
tuesday's dinner: pan fried luncheon meat, stir fry assorted meatballs and an egg.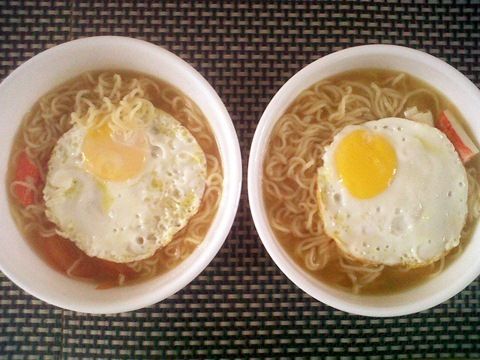 monday's lunch: instant nooz w fried egg, ok this is nothing amazing. but just to prove that we are really on a tight budget... haha life of poor students :(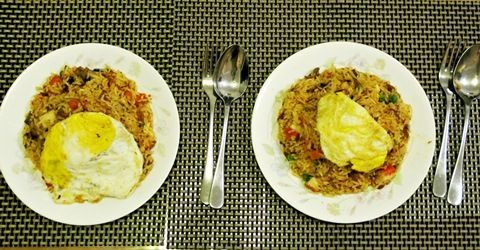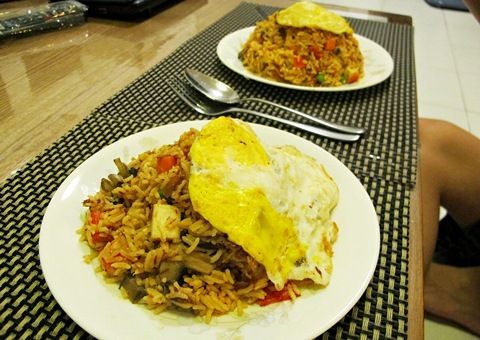 lastly, sunday's dinner: spicy tuna fried rice (canned spicy tuna, frozen peas and crabmeat) w fried egg. yeah, sean fried the eggs.
so that sums up our little cooking adventure! i'll make sure my future husband and myself will make meals together at least twice a week. did you notice we cooked eggs every meal? i love eggs, i have been eating eggs everyday since JC i swear, every single day. but sigh our meals seemed so sad haha but i guess we're really trying to make good use of whatever we have without spending any money. the next time round, we're gonna make lists of what we want to cook together, and make sure we learn and recreate it. i do have a list for myself though, but i guess it's means so much more when you get to enjoy the fruit of labor w someone else, no? having a day off from cooking tmr since we're finally leaving the comforts of home. heading to town to do some shopping and probably settling w fast food, idk. i need fries in my system!!! no i mean, i should probably hit the gym soon, sigh.
[edit] **** neways, additional picas to this post haha! total noobs. oh well, here's picas to our last three meals fixed together before sean's parents return back to sg,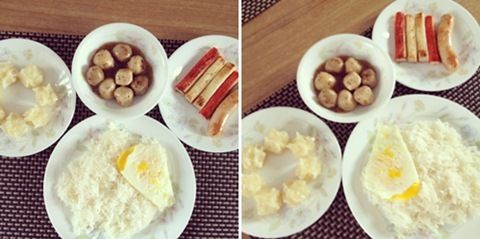 last saturday's lunch.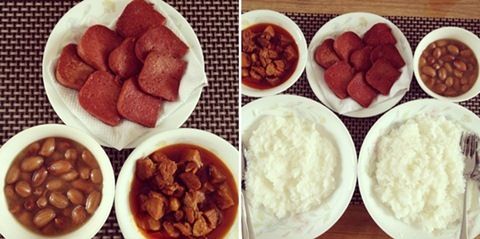 last friday's lunch - most unhealthy lunch ever! all canned food sigh hahaha but all we need to do is to panfry the luncheon meat and heat up the rest. we decided to make porridge instead, since the meal's unhealthy enough lol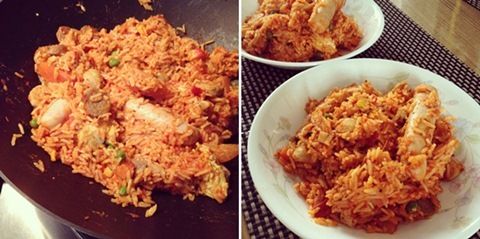 dinner - basically this is pasta sauce fried rice or whatever. hahaha
[/edit]
oh i don't usually post images on the lego items that sean purchased. i mean i wouldnt have the time and patience to as well, he has got few cupboards of it. adding on, five big boxes of lego are flying back from new york in a few days' time. haha and the thing is, i enjoy fixing these little pieces so much that i snatch from sean most of the time when he got something new. well getting back on track...., this series's so cute! i love every single one of them.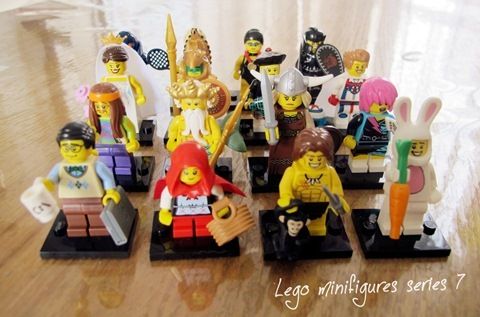 omg i love the rabbit man, too cute!! so apparently the four minifigures on the first row are my favorites.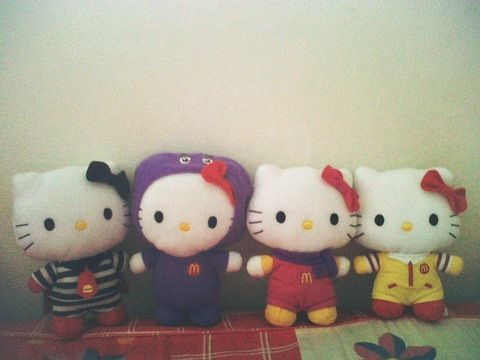 ending off the post w my little kitties! hammie, grimmie, birdie, ronnie. ok i know i suck at giving names, but these four little homies are too cute, i cant give them names like what, jessica? candice? lol, definitely no.