AUG 1;
the night we all knocked out..............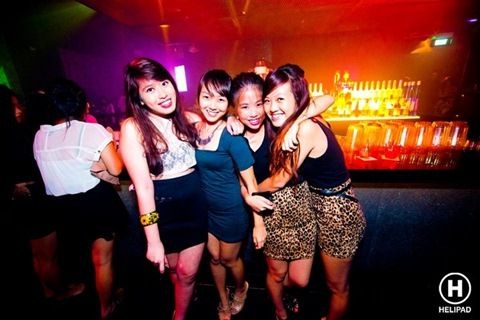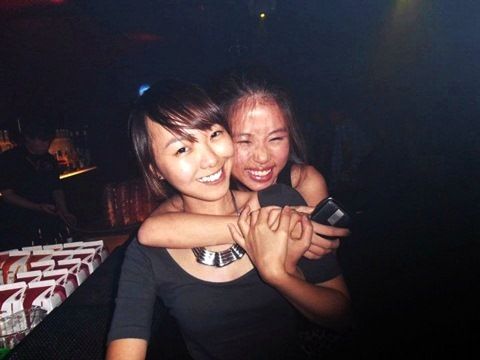 alright..... maybe not all, but i did. so we wanted to start august w a bang by clubbing hahaha ok not really, but we just wanted to hang out. also, to spend time together before i start studying for my papers - which obviously defeated the whole purpose because i screwed them all up. but anw, that night was....shit. i puked a whole lot as far as i can rmb, and i knocked out even before we started dancing. wenshit had to take care of me + sean had to come all the way to heli to pick me up because i couldnt even sit up or walk properly, felt really bad because he was actually studying for his exams. he even stayed over that night to look after me, and then guess what? the next day, the same bunch of us met up again and head to the beach! i really wonder how we even managed to get up in the first place...
AUG 2
;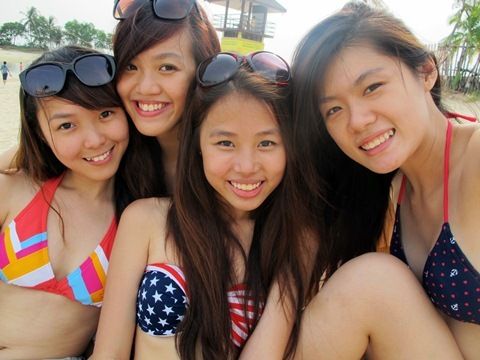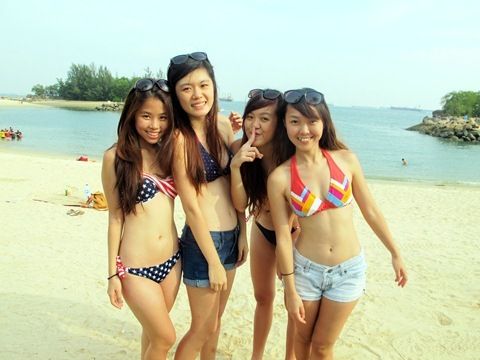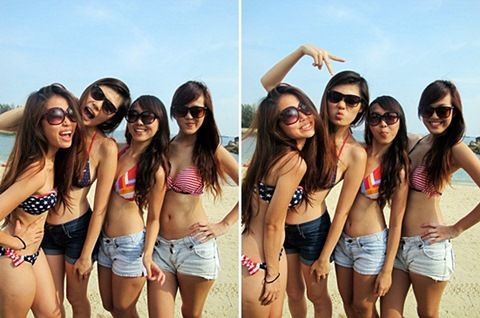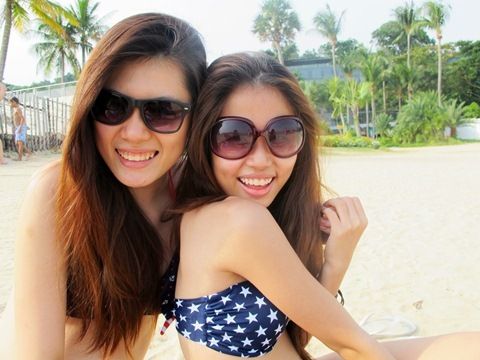 goodfren~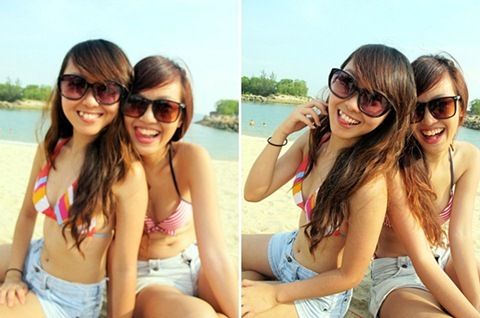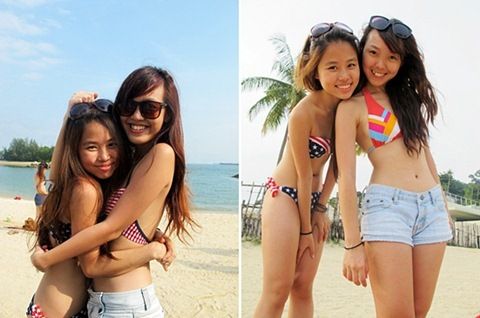 w gag and wenshit hehe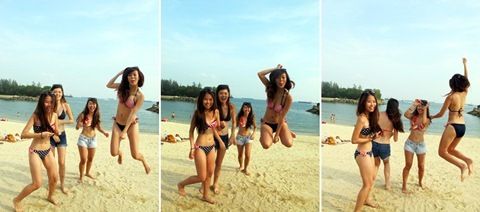 failed jumpshots lol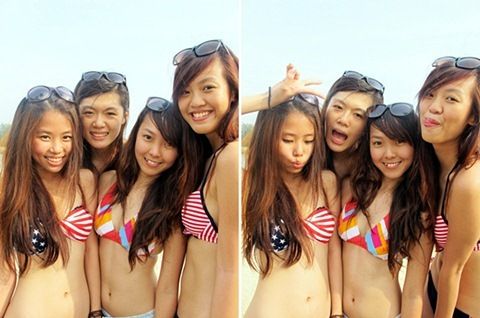 what's summer without the beach and bikinis?
sun soaked lovely afternoon w the girls as usual. summer at it's finest! i can never get sick of meeting these girls. we had a little picnic over at sentosa - think lots and
lots of sushis, sashimi, cherry tomatoes
and yes we even bought
one whole honey glazed chicken
to have it by the beach. such gluttons seriously.
AUG 7
;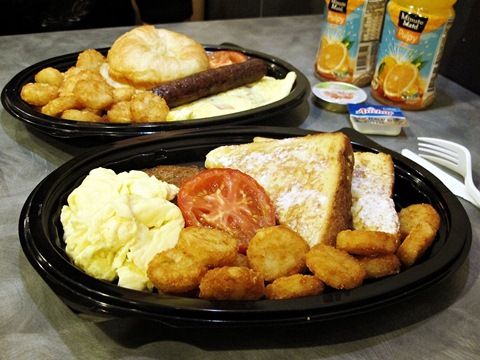 BK breakfast w the bf one day, they're pretty worth it! quite cheap too, less than 12bucks for this two platters? and they're not too bad
(i'm serious)
i'm satisfied at least.
AUG 8
;
and so i decided to prepare lunch for sean after one of his papers, i can be such a diligent girlfriend.... lol i even designed a menu, you can view it
here
,
x
.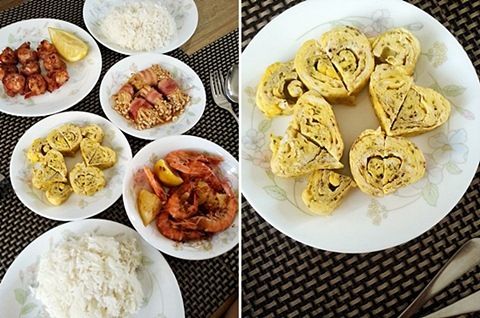 left: meal for two. right: heart shaped tamagoyaki
got inspired by
this video,
go take a look! i did a pretty bad replica of it though.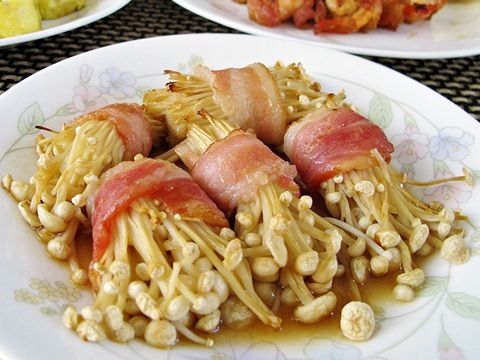 army of bacon wrapped enoki
bacon sluts!! this was good, pretty easy to prepare too. cut the bacon into halves, put some enoki mushrooms in each slice and wrap it. then put them all in a tray and bake it. that's all! we made this one again few days later. for the sauce btw, you can choose to go w teriyaki sauce. but i decided to make my own: using light soy sauce, dark soy sauce, sugar and some lemon juice. it's so much better than teriyaki sauce
(imy)
you can view the recipe
here.
bacon rolled shrimp saute
similarly, cut the bacon into halves. then wrap the bacon around shrimp and secure it w a toothpick. of course, the shrimps were seasoned w white wine, salt and black pepper. saute the shrimps in a frying or a grill pan, till golden brown and that's it.
x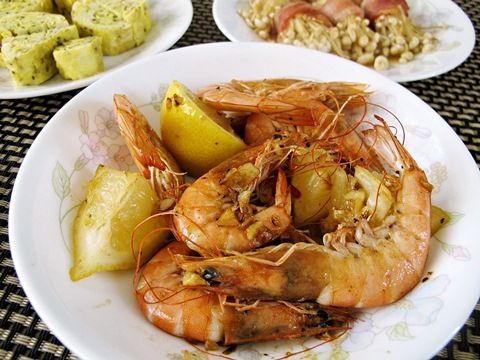 pan fried butter and garlic prawns
south african dish, that's what i wrote on the menu. actually, im not too sure of that. but it definitely tasted very different from the usual chinese dishes we have at home. all i used was butter, two cloves of garlic, lemon wedges, and of course, prawns!
x
right. it's 4am and i'm hungy.... why oh why