food never fails.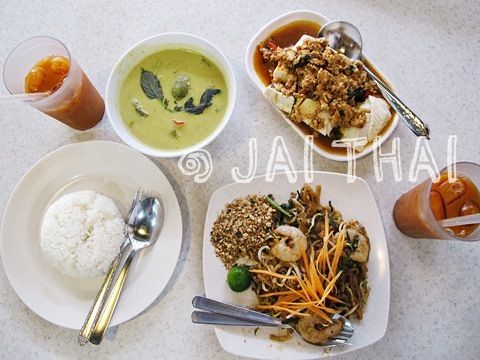 the other day, at jai thai
(@ purvis street)
where i had super strong cravings for phad thai, and i decided to inject more thai food into my system.
here's some from insta
(not all made it to the cut though, but i'm gonna share em' here; food cheers me up)
1. made my first attempt at eggs benedict one fine sunday. my hollandaise failed, neither smooth nor creamy. but i'm sure it tasted quite alright, shall make another attempt some day but this time i'll go w egg royale.
2. korean for dinner.
3. tom's palette w the girls and of course, i usually order that scoop of green
(matcha).
not too hard to guess which is mine. and of course, i went ahead w salted egg yolk too, yummyballz.
4. granola from rolling oats - had all these goodness for supper and breakfast mostly last week, they're so good! - check out their page:
https://www.facebook.com/rollingoat.page
5. pasta cravings satisfied @ talent cafe.
6. marks and spencer goodies to myself; the cranberry and orange cookies were so perfect.
7. triple-O's w @weijieismullet.
8. my bacon cheddar burger from the same joint, i can never get enough of bacon, i swear.
9. bk shots for breakfast.
been so smashed the past few days, i don't even know what i talk, or what to talk about anymore. looking at the bright side, well at least i know who to turn to, for a chat or two.
"do more of what makes you happy."
oh yes, paying a visit to the dining heaven and architecture trove next week. tummy's gonna be so satisfied.