oh loren loren, you sexy beast. she totally nailed that track. flawless, even xtina gave her the standing ovation. i cannot stop listening to loren's part, i must've replayed this for more than 50 times now. and over and over again. cannot get enough of it! so happy that she sang before nicole, it's easier to go back to the start and replay her performance, but then again nicole was boring, no offense. you're beyond amazing loren, and so fucking sexy. love adam's eargasmic reaction, and the way he's moving to this, even though he looks like he's jacking off while watching and wanted to fuck her at that moment she hit those high notes.
xfactor is bullshit
(haha irony but i'm still gonna watch it)
i'm only looking forward to lyric145, beatrice and carly, and that's about it. the judges screwed up and sent some of the most wonderful people back home, david correy, really? bullshit. and demi's turning paige thomas and cece frey into like what, lady gaga? horrible. thank god thevoice's judges dont screw their team up.
recent picas from my instagram:
@zhengningng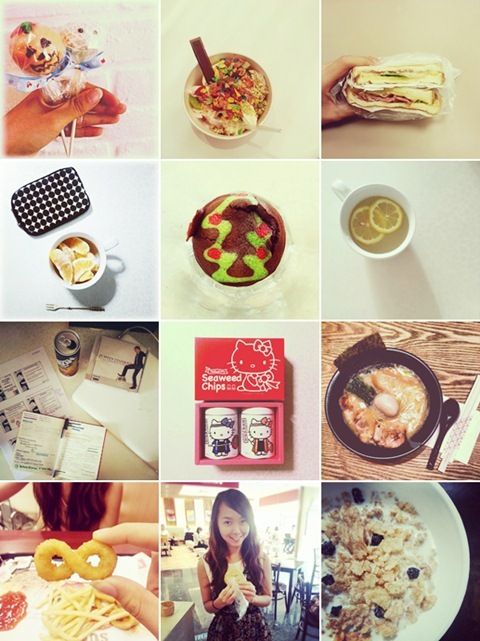 1. cutesy halloween cake pops from dearest @lishwen, definitely cheered me up so much after a rough night.
2. comfort food fix w @lishwen again, unfortunately a housefly wanted to have a share of it too and flew right into our cup.... hahahaha
3. my favorite sandwich in school; here's bacon and cheese meltz.
4. a cuppa orange wedges to snack on that night. unfortunately, i usually eat more than what i snap.
5. our xmas molten lava cake sample!! i got to try it first hand. so good! i'm sure everyone'll love it!
6. a cuppa homemade lemon barley drink to soothe the throat.
7. timberlake for lunch the other day. hahah no i'm kidding. fell in love w that dude during my younger days, and i'm still in love.
8. dearest @g_jpei dropped by to pass me these seaweeds! such lovely packaging aww.
9. special tonkotsu ramen at ramen champion for dinner sometime back.
10. met up w @wenshi15 for lunch and there, we've got an infinity onion ring! cool huh
11. another random day @wenshi15 decided to visit me at work! love this girl hehe
12. handsdown one of the best cereals ever! fyi i love blueberry morning + honey oat crunch..
looking forward to accomplishing more in november. ho-ho-hopefully.