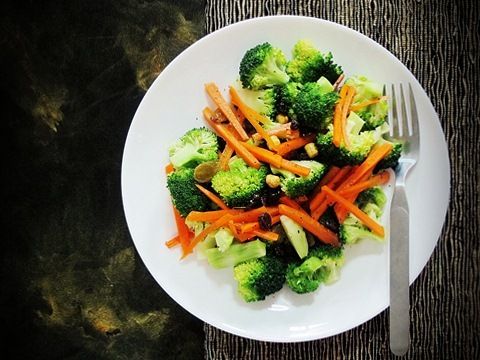 i felt like i was in need of some healthy food tonight since i will be feasting the entire next week. i was also trying my best to help demolish
(haha)
all the vege left at home - i still have lots of mandarin oranges from cny though, thinking of ways to help clear them. neways, i made broccoli, carrots, and raisins salad. this was extremely easy to make, super refreshing, and such a feast for the eye. all you need is broccoli, carrot
(sliced)
, and raisins. i added in raw garbanzo beans since i have them at home as well. just combine the broccoli, carrots and raisins in a large bowl. add in olive oil, lemon juice, some honey to sweeten things up, and of course, salt and pepper. toss them all together till well coated. that's all! love the bite and crunch of broccoli, contrasted w the sweet tang of raisins. and btw that's an entire head of broccoli to myself!! just so you know, broccoli's my favorite vege and is most certainly welcome at my table anytime. watch the video recipe
here
.
(source:cookingguide)
throwing in another recipe that's perfect for breakfast, dessert, or just a snack in between meals,
this was taken back in december, but liked i said, this is really good anytime and i make these very often since making it requires minimal time, and it's so delicious. all you need to do is to layer your glass with some yogurt
(i used strawberry nonfat yogurt here)
, followed by diced strawberries and top it with granola or cereal. repeat the layers another time, and serve! there's a lot of variations you can find online, but basically, just make it your own! throw in your favorite fruits, nuts, raisins, or even drizzle it w maple syrup or top it off w cool whip, anyway you want it.