previously from my
nana's green tea post,
i mentioned about wanting to check out the various japanese cafes that has landed their feet on our shores not long ago, and yes i'm still on that mission to check them all out. i love to eat japanese, so i dont have any complaints at all
(plus increasing ramen trend? hell yes!!!)
i dropped by a few cafes, and some not-so-new bistro/restaurant too. well, here's a mash-up of some local japanese eats from some of my previous visits
(some even months ago, but uh, better late than never i guess)
maccha house 抹茶館,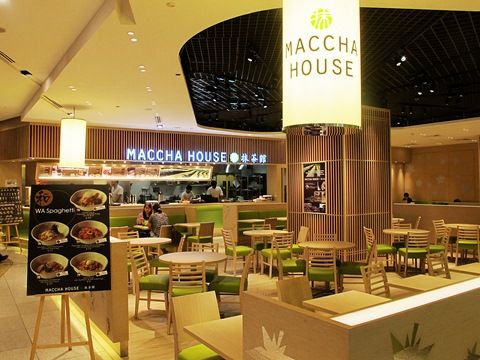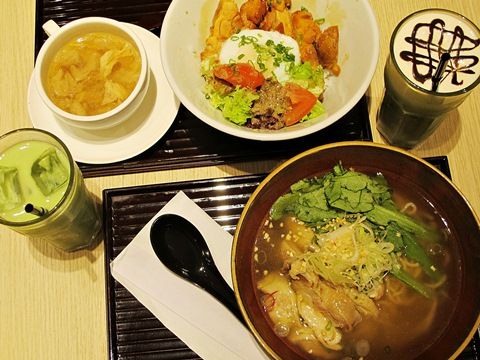 another one of those new kid on the block's maccha house, located at orchard central. so i wanted to relive some awesome foodie moments in japan
(this one's pretty recent)
, but i totally made the wrong choice. the menu was pretty deceiving as the food looked really appetizing on their menu. we decided to go w just two drinks and mains before ordering desserts. the matcha latte i had was so bad, worst matcha latte i've had ever. i'll choose nana's green tea, or even starbucks to this anytime. then it came the mains, gosh i wasnt even sure if this was japanese food at all or was it chinese food. even if so, that was some really horrible chinese food i had. i couldnt even finish the ramen, it was
that
bad. so thankful i didnt order any desserts
(which garnered pretty bad reviews too btw)
am not returning definitely.
Maccha House
Orchard Central #B1-40
181 Orchard Road
dolce tokyo,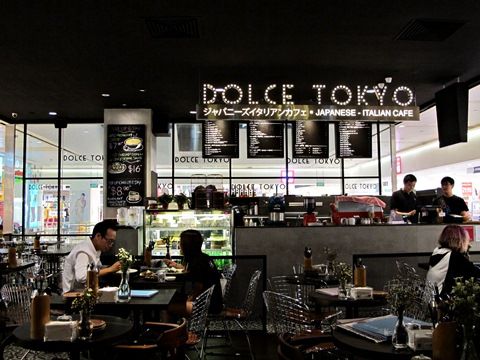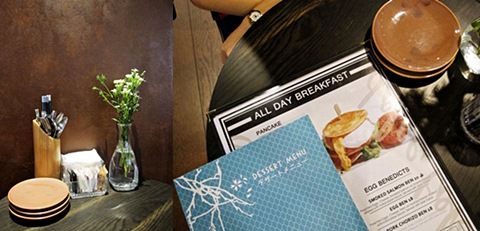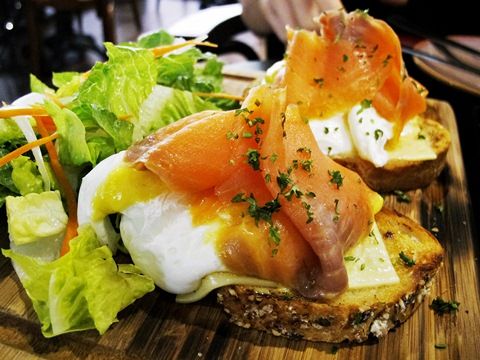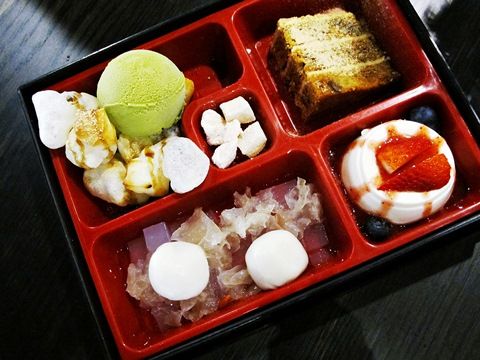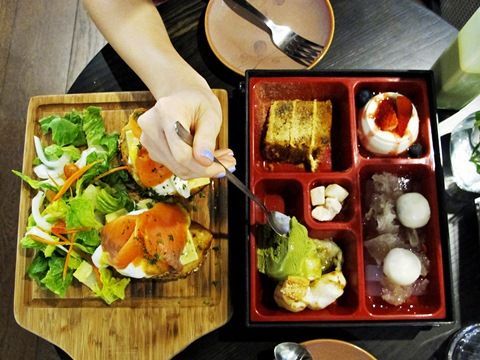 this was before my japan trip; had dinner w geraldine eons ago. we decided to order the smoked salmon eggs benedicts from their all day breakfast menu, and also a dessert to share. picked the dessert bento, which also was the perfect option for people like myself - i'll take forever to decide what to eat, and i always cant make up my mind. as usual, i took a long time just staring at the menu because the cake-in-a-cage looked interesting, yet we wanted to have smth chilled. so, a mix and match of desserts in tasting portions seemed legit. in the dessert bento was shiratama w kantan jelly, panna cotta w mixed berries, abekawa mochi, green tea icecream, and also a slice of carrot cake.
Dolce Tokyo
313 Somerset
313 Orchard Rd #03-23
hoshino coffee 星乃珈琲屋,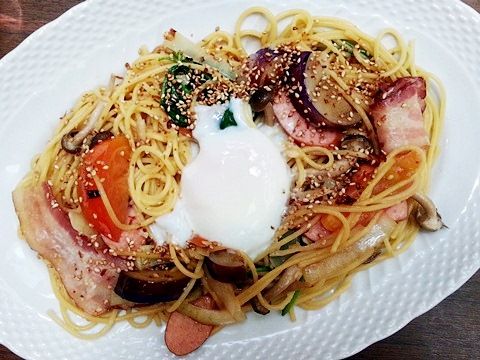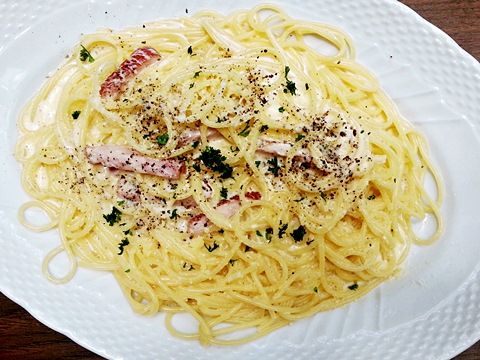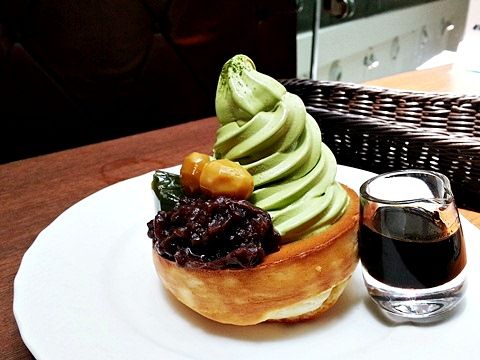 cant remember the reason why didnt i take my camera out that day
(usually i'll have my camera w me)
, even though my phone's image quality aint not too bad after all, i still feel more like it when i post images from my trusty camera on my blog.
i admit, i found out about hoshino coffee from instagram, i was randomly looking at spaghetti photos from the hashtags, and someone posted a photo of the hoshino spaghetti somehow. damn, i was drooling all over just looking at it. wonderful combination of colors, i can see my favorite bacon and the runny egg, and of course, that particular iger took a awesome minimalistic photo, perfect. well, but there are always long queues everytime i pass by, wanting to try it. no wonder they are so popular across japan. so that one day, we decided to drop by at around tea time for lunch, just to avoid the queue. of course, it was hoshino spaghetti for me, and it was super yummy. think spaghetti, aglio olio styled, w eggplants, greens, hotdog, bacon, shimeiji mushrooms, and of course, a well blend of sauces and sesame seeds - much different from the usual spaghetti and definitely worth trying. i enjoyed it tremendously. just this plate of spaghetti alone, i knew why there's always a queue uh. the carbonara on the other hand wasnt impressive, so do go w their omu rice or other recommendations that people raved about. for desserts, we ordered the souffle style pancake w matcha and ogura bean paste. the souffle pancake was freshly made on the spot, we had to wait up to fifteen minutes before it was served. tip, do place your order early if you dont want to spend so much time waiting. that worked for me since i aint a fast eater. the pancakes were indeed fluffy, not too bad at all. in all, the hoshino spaghetti was a two thumbs up
(will return just for this)
, other pretty stuff on their menu includes the french toast, as well as the fuwa fuwa souffle.
Hoshino Coffee
Plaza Singapura
68 Orchard Road #03-84
Singapore 238839
hifumi,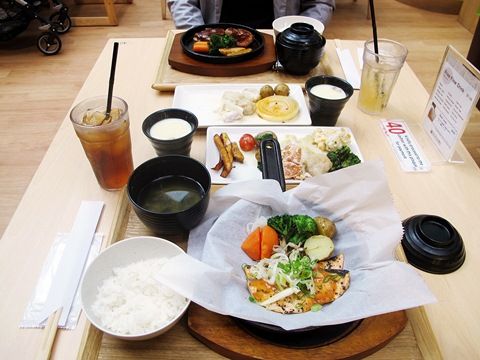 took the bestfriend out for his belated birthday meal
(again, this was so long ago!)
we wanted to check out hoshino coffee, but the queue was.... you know what i mean, and we didnt have time to brave the queue. changed our plans and checked out another new japanese joint instead, since they were all located at plaza sing itself. service was pretty inefficient, we waited so long at the door and no one came to serve us. we got in and were told that the appetizers were of buffet style, meaning we have unlimited access to it. i love potato salad, chawanmushi, and broccoli, so i took quite a bunch of those. they were mostly just okay. the salad was not bad though. our mains wasn't too satisfying, portion was less than sufficient, but no complaints since appetizers were free flow
(and i liked the appetizers more than the mains hahaha)
nothing much to rave about this place, even though it's inexpensive. i'll definitely choose my ramen to this anytime.
Hifumi
Plaza Singapura
68 Orchard Road #04-68
kazokutei 家族亭,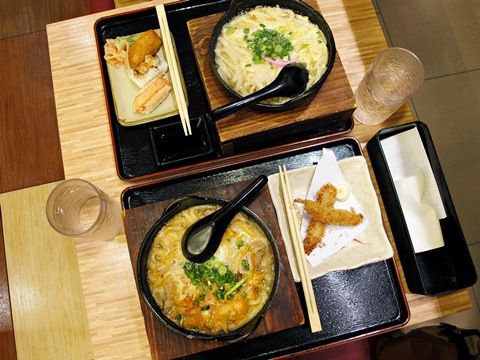 i was wondering how come this place seems more familiar than usual, i mean other than the fact that i visited this joint, but actually had a meal at this joint this one at osaka itself! now that i realise. so kazokutei originated from osaka, and it is renowned for their handmade udon noodles. frankly speaking, i'm not a huge fan of udon noodles, you can tell from my blog anyways
(from the amount of ramen posts)
that i'm more of a....
"ramen girl"
okay what a horrible description by the way, but you get my point. we were spoilt for choice but since the main star of the resto's their handmade udon, we went ahead w their udon. pork kimuchi nabeyaki gozen w fried prawns, as well as the chicken toji nabeyaki gozen w assorted sushi
(just because a bowl of plan udon noodles itself would be too plain for me)
they have a wide variety including udon dishes, sukiyaki and shabu shabu.
Kazokutei
Tokyo Walker, #04-01,
Plaza Singapura
68 Orchard Road