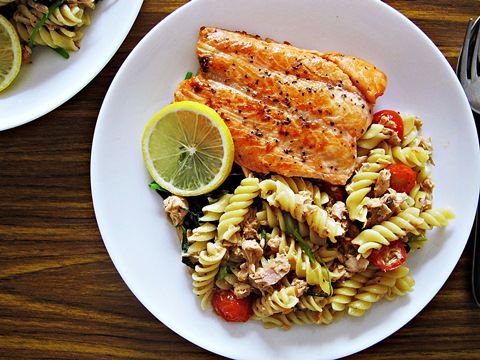 i whipped a simple meal
(actual day)
to celebrate christmas. it's really easy to prepare! well pan seared salmon is a no brainer. just remember to season it with salt and cracked pepper before cooking it. for the pasta, i decided to go with spinach and toms - think christmas colors! i'll throw the recipe below, thank you
finecooking.com
for the inspiration.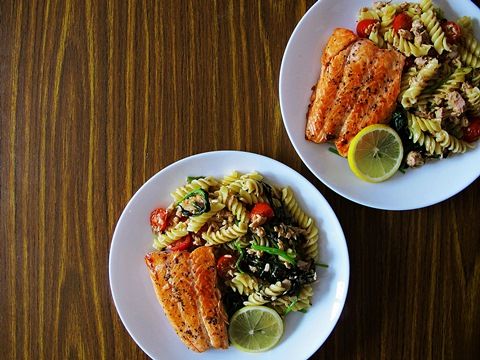 fusilli al tonno
ingredients:
tuna flakes in extra virgin olive oil
drained and chopped cherry tomatoes
blanched spinach
parsley and italian herbs
(i used mccormick's)
fusilli for two
(pasta of your choice)
a squeeze of fresh lemon juice
garlic powder
(you can use chopped garlic)
garlic salt and cracked pepper to taste
directions:
add salt to a large pot of boiling water, and cook the fusilli until al dente. drain the pasta.
meanwhile, in a large skillet, heat up the tuna flakes. add in tomatoes, blanched spinach
(i had it blanched separately)
, lemon juice, and garlic powder and cook for an additional two minutes. season with a little salt, parsley and italian herbs. pour the drained pasta in the skillet, and stir everything together for 30seconds to allow the flavors to combine. top it with more cracked pepper as you wished, chilli flakes or even grated cheese!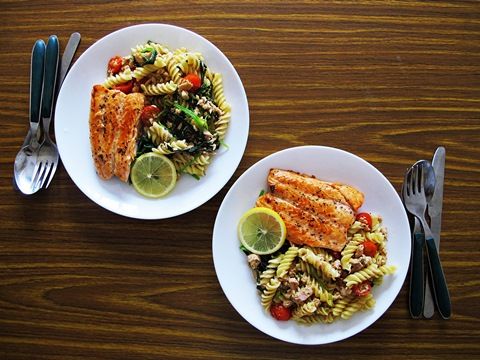 also lately, i cant stop snacking at all - thanks to CNY. my favorite cny snacks are seaweed crackers
(deep fried crispy seaweed)
, deep fried crispy crabstick, and roasted cashew nut. haha not so cny-ish after all, but my house has plenty of them snacks! we have gifts from different families every year. too much bak kwa and pineapple tarts at home right now oh well, i'll be back soon. happy chinese new year all!