made this glorious breakfast for sean and myself last weekend, only because donal skehan mentioned that my partner will love me more and treat me well the whole weekend if i made this
(hahahaha)
went on to make extra portions for sean's parents
*hope it works*
hhaha well i think food bribery is actually effective most of the time. and check donal skehan out, he is an absolute dreamboat.
and holy shit, who doenst love nutella? fuck them calorie count.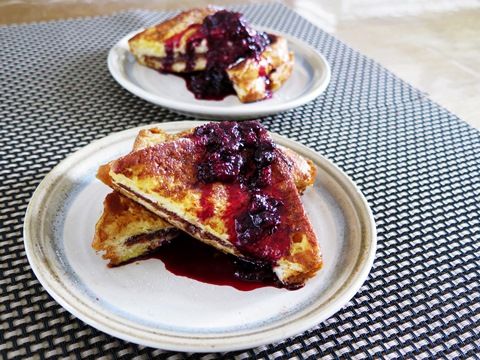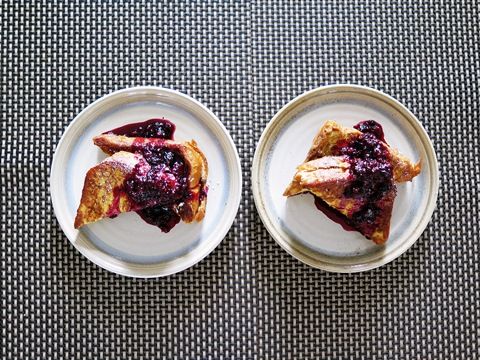 serves 2
2 large eggs
60ml milk
1 tsp vanilla extract
nutella, for filling 4 large slices of brioche
1 tbsp softened butter
icing sugar, for dusting
for the sweet berry sauce:
100g frozen berries
1 tbsp caster sugar
to make the sweet berry sauce, place the berries and caster sugar in a small saucepan with 50ml of water. bring the mixture to a steady simmer and cook until the berries are soft. blitz with a hand-held blender or mash with a fork.
in a large flat dish, whisk together the eggs, milk and vanilla extract. spread the nutella on each slice of brioche and then make two sandwiches.
melt the butter in a large frying pan over a medium-high heat until it is foaming. soak the brioche sandwiches in the eggs and milk and place straight in the pan to cook for 2–3 minutes on either side until golden.
remove from the pan and slice in two. place on two warmed serving plates and drizzle with the berry sauce and dust over the icing sugar.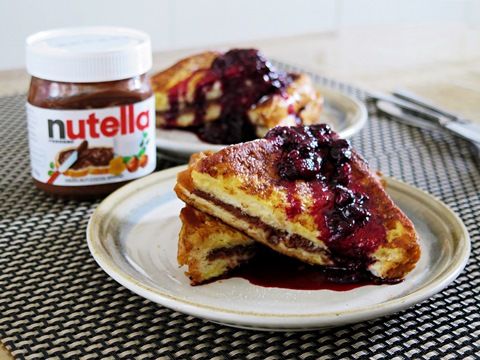 you could substitute the brioche away with just normal white bread or your choice of bread. but i'll recommend you to go with brioche
(friends from singapore, you can get it at swissbake or tiong bahru bakery)
sweet bread worked so fine.
get the full recipe
here
.
watch the video recipe
here
.